Sponsored • Infection Prevention
Trusted cable systems
Ever more imaging devices are characterised by very extensive movement sequences while simultaneously being compact. Both device manufacturers and suppliers must consider mounting dynamic requirements when developing their products and ensure their long-term system integrity.
Furthermore, antimicrobial products are of interest not only for minimally invasive or invasive applications because of the increasingly discussed risk of nosocomial infections, but can also close unwanted gaps in the hygiene chain of medical devices. Systems supplier Leoni reports that it supports customers '…as early as the development phase of their medical devices with cable routing, specification, design and manufacture of complex cable systems and ready-to-install subsystems. These solutions for imaging processes decrease installation time while supporting the device properties in providing maximum patient safety, excellent image quality and long-lasting dynamic operation.'
Incorporated components conform to either national or international standards, the firm adds, with proven reliability in numerous tests. Leoni adds that the firm itself executes verification and documentation in standard and increasingly complex customised testing procedures as an add-on service for its customers.
Comprehensive testing proves reliability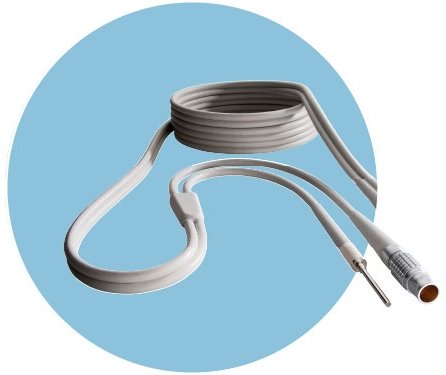 In addition to transferring a growing bandwidth, cables and cable systems for imaging devices nowadays must cope with an increasing range of movement. 'Devices are becoming more mobile; horizontally, vertically and orbitally,' Leoni points out. 'Cable breakage and consequently required service calls are as unwanted as ever.
'The best preparation for durable wiring is optimum routing, as well as the corresponding specification of individual components and the whole system. Involving a solution provider like Leoni in the development phase of an X-ray machine can minimise the interference on the wiring at an early stage.' As a systems provider, the firm reports that it scrutinises the long-term manoeuvrability of its solutions in extensive tests. 'Alongside using standard set-ups in compliance with national and international standards (such as UL), Leoni will, on customer request, simulate non-standard movement sequences with prototypes or device models designed in-house. A Leoni add-on service – basic or complex test set-ups can be established in 2-D or 3-D, and individual components can be rapidly produced by means of 3-D printing. Leoni is thereby able to document and verify the system integrity of its solutions when subjected to customised movement sequences in long-terms tests.' Leoni's antimicrobial cables and systems can help to enhance the hygiene of imaging procedures and patient safety. The integration of only a small quantity of a metal oxide to the sheath material significantly reduces contamination to >99.99% on the surface. Similar to the skin's protective shield of acids, germs, bacteria, viruses and fungi are killed at a pH level of <4. 'During normal handling (involving contact with sweat and proteins), the antimicrobial effect is retained well, throughout a range of times and concentrations,' Leoni continues. 'This is an important difference compared to conventional methods using silver or copper.'
Profile:
Tobias Höft is Team Leader Sales of Leoni's Business Unit Healthcare
Telephone: +49 4491 291 124
Mobile: +49 160-90192902
E-Mail: tobias.hoeft@leoni.com