News • LITMUS vs NAFLD
Towards better diagnosis and treatment of liver disease
A pioneering European research project designed to develop new diagnostic tests to assess patients with Non-Alcoholic Fatty Liver Disease (NAFLD) has expanded giving access to more patients.
Liver Investigation: Testing Marker Utility in Steatohepatitis (LITMUS) funded by the European Innovative Medicines Initiative 2 Joint undertaking, brings together clinical scientists from international research-intensive universities and some of the world's leading pharmaceutical companies with the goal of ensuring that patients are accurately diagnosed and that therapies currently being developed are tested in the most appropriate patients.
Initially involving 47 partners, the partnership has now increased to 53, all working towards the common goals of developing, validating and qualifying better biomarkers for testing NAFLD. Affecting 20 – 30 % of the population worldwide, NAFLD is caused by a build-up of fat in the liver cells, which leads to inflammation, scarring of the liver and ultimately cirrhosis. It is strongly linked to obesity and type 2 diabetes.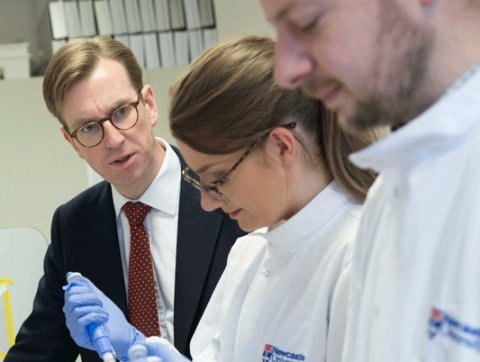 Professor Quentin Anstee, from Newcastle University's Institute of Cellular Medicine and a Consultant Hepatologist at Newcastle Hospitals NHS Foundation Trust, is co-ordinating the LITMUS consortium. He says: "Although many people have NAFLD, less than one in 10 will come to harm as a result. The challenge is to identify those people that will be most severely affected so that appropriate care can be targeted to those that need it most. At present this requires a liver biopsy, which can only be done in specialist hospitals, so there is a need for better diagnostic tools.
"LITMUS now has a critical mass of partners and access to a cohort of over 6500 well-characterised patients recruited into the European NAFLD Registry. This is a fantastic resource that we have already used these to good effect – by showing that people with NAFLD experience many more symptoms of ill health than had previously been appreciated and by testing a range of new biomarkers as we continue to seek the best tools for use in the clinic. We would not be able to address these issues without the expertise of the LITMUS partners and the generosity of the growing number of patients that have agreed to join the Registry."
Uniting clinicians, experts and pharma
The six new partners are:
Echosens (France)
Resoundant Inc. (USA)
Bristol-Myers Squibb Company Corp. (USA)
HistoIndex Pte Ltd (Singapore)
Allergan Ltd (UK)
LITMUS which has seen its budget grow since its launch in November 2017, to €46.5m, is co-ordinated by Newcastle University, working closely with the lead EFPIA partner, Pfizer Ltd. The work aims to develop and validate new highly-accurate blood tests and imaging techniques that can diagnose the severity of liver disease, predict how each patient's disease will progress and monitor those changes, better or worse, as they occur.
This project has received funding from the Innovative Medicines Initiative 2 Joint Undertaking and from the contributing industry partners. This Joint Undertaking receives support from the European Union's Horizon 2020 research and innovation programme and EFPIA.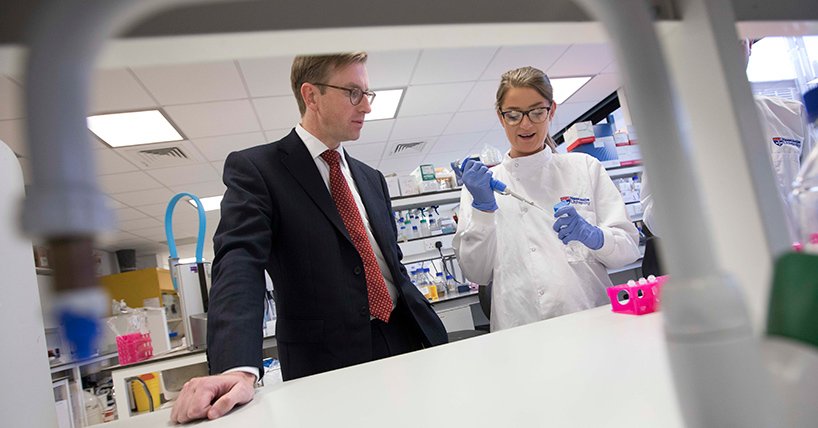 Source: Newcastle University
Céline Fournier, Chief Medical Officer at Echosens SA said: "Early diagnosis and management of NAFLD patients is becoming a global public health concern. There is an urgent need to define and validate a set of non-invasive biomarkers for diagnosis, prognosis, prediction and monitoring of the disease and its treatments. Echosens is proud to be part of and support the LITMUS project which is a key initiative to bring together NAFLD/NASH recognized experts from academic institutions, pharma and diagnostic industries as well as regulatory agencies to achieve this goal that will transform research and care."
Michael Kalutkiewicz, MA, Vice President for Policy and Communications at Resoundant Inc., producers of magnetic resonance elastography (MRE) tools said: "Resoundant looks forward to participating in this ground-breaking, multi-stakeholder project to help address one medicine's greatest challenges of the next decade and beyond. As an official partner, we will provide access to advanced MRE acquisition and analysis software that is not yet commercially available for all LITMUS MRE sites, including a version of Advanced Multiparametric 3D MRE that is being developed specifically to address the unique needs and challenges of clinical trial sponsors.
Resoundant will also support LITMUS with technological expertise and training support for both MRE hardware and software applications. For the assessment of liver fibrosis, 2D MRE is already well validated, widely available and recognized in existing clinical guidelines for assessment of patients with suspected liver disease. In clinical trials, MRE also provides biomarkers that serve as objective endpoints in multiple contexts of use. Resoundant looks forward to assisting the work of dedicated clinical scientists, industry partners and national health systems working collaboratively towards a treatment for NAFLD/NASH."
Dr. Melissa Harris, PharmD, Development Team Lead, Fibrosis, Bristol-Myers Squibb, a global biopharmaceutical company whose mission is to discover, develop and deliver innovative medicines that help patients prevail over serious diseases, said: "Patients with NASH and hepatic fibrosis have an urgent need for validated, non-invasive biomarkers to diagnose and monitor their disease. Bristol-Myers Squibb is proud to partner with LITMUS with the goal of creating easier, more broadly accessible methods to identify patients with NASH who require treatment."
Dr Gideon Ho, Co-Founder & Chief Commercial Officer of HistoIndex, an AI-based digital pathology company in the field of stain-free tissue assessment for Non-alcoholic Steatohepatitis (NASH), said: "The company's cutting-edge technology incorporates Second Harmonic Generation (SHG) imaging and an advanced algorithm, and is used for the continuous measurement of fibrosis, steatosis, inflammation and ballooning. In addition, this technology is currently used in multiple FDA Phase II/III NASH clinical trials. HistoIndex will actively work alongside the LITMUS consortium for the development, validation and qualification of biomarkers, so as to efficiently diagnose, risk stratify and monitor NAFLD/NASH progression and treatment."
Dr Laurent Fischer, Allergan's Head of the Liver Therapeutic Area and SVP, said: "Allergan is proud to support the LITMUS NASH biomarker consortium's goal to improve and simplify the diagnosis of NASH for patients and physicians. There is a high unmet need to identify biomarkers that can replace liver biopsies to reduce the patient burden of invasive assessments while helping to support and accelerate NASH drug development. Consortia such as LITMUS, where academia, diagnostic companies, and the pharmaceutical industry work collaboratively, are critical to achieve these goals."
Source: Newcastle University