Top billing for cardiac MRI
Today, magnetic resonance imaging receives top billing in cardiology next to the co-star computed tomography while much hailed single-photon emission computed tomography (SPECT) plays but a minor role.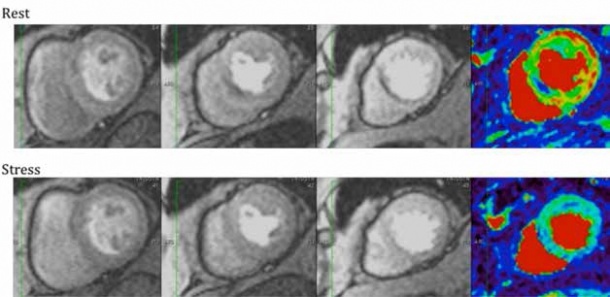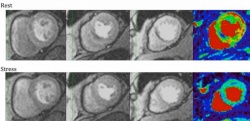 [Bild-1Professor Stefan Schönberg MD, Director of the Institute for Clinical Radiology and Nuclear Medicine at the Medical School Mannheim, University of Heidelberg explains the new imaging star's rise – functional and perfusion analysis in a single examination offers a marker for clinical endpoints and thus increases the predictive value of diagnostic imaging.
'While ECG triggered computed tomography allows us to completely exclude a coronary artery stenosis', Professor Schönberg explains, 'despite all technological progress, we can determine the degree of a stenosis only with 70 to 80 percent precision'. Indeed it is the radiologist's job to determine the degree of stenosis as precisely as possible and adenosine stress MRI, Prof. Schönberg adds, can provide important information on the haemodynamic relevance of a stenosis prior to elective revascularisation (Fig. 1). Today, MRI, which has been improving technically over the last decade, 'offers better results than SPECT, the competing functional modality that many cardiologists nevertheless still consider the gold standard'. Research results corroborate the professor's thesis.
More sensitive than SPECT
For example, lead investigator Juerg Schwitter, associate professor at the University Hospital Lausanne, recently published the results of the MR-IMPACT trial, which analysed 515 patients in 33 centres who underwent SPECT as well as MRI to detect ischemic coronary artery diseases (CAD). The prevalence of CAD in the sample was 49 percent. With a score of 0.67 MRI had a higher sensitivity than SPECT (0.59) while in terms of specificity SPECT (0.72) yielded better results than MRI (0.61). Superior sensitivity and lower specificity confirm MRI as safe alternative to SPECT to detect perfusion deficits in coronary arteries [Source: Eur Heart J (2012), doi: 10.1093/eurheartj/ehs022].
More than an ischemia detector
With the help of suitable MRI sequences, MR contrast agent enhancement in a cardiac structure can be visualised after 10 to 15 minutes. It has been known for some time that this so-called delayed contrast enhancement (DCE) can show myocardial infarction scars no matter how old they are. Moreover, the analysis of the DCE distribution pattern in the heart provides vital information to differentiate CAD from other forms of cardiomyopathy.
Prof. Schönberg is even going one step further: 'In cooperation with the cardiologist Professor Martin Borggrefe, a specialist in structural heart diseases, in Mannheim we were able to show that in hypertrophic cardiomyopathies (HCM) the extent of DCE, and thus the anomalies of the myocardial structures, correlates with risk factors of sudden cardiac death and with the likelihood of inducible ventricular tachyarrhythmia under programmed stimulation.' [ Source: J Cardiovasc Magn Reson 2010;12:30] (Fig. 2). Furthermore, Professor Papavassiliu et al found that in 87 patients with HCM with (n=37.42%) and without atrial fibrillation (AF) HCM patients with AF displayed significantly more DCE than those without AF [Source: J Cardiovasc Magn Reson 2009;11:34]. While this method is not as reliable in predicting AF than measuring the left atrium, Prof. Schönberg points out: 'in imaging we have to learn to not only use phenomenology for differential diagnoses but also to look at predictive values with regard to clinical endpoints.' Severe ventricular tachyarrhythmia, for example, is such a parameter, which means that MRI is increasingly becoming a marker for patient outcome.
High evidence
'Coronary stenoses which are not relevant do not require stenting – a simple guideline which also saves costs,' Prof. Schönberg says and emphasises it is 'crucial for us radiologists to understand these clinical endpoints. A young athlete who has severe arrhythmia for the first time requires a cardiac MRI scan because it tells us more about the risk of life-threatening tachyarrhythmia. This is the kind of endpoint we have to use in order to convince the payers.'
What he is concerned about is the exclusion of severe events, of the evidence implied in the radiological finding: 'In many cases cardiac MRI helps us to recognise and delineate the proarrhythmogenic substrate, which allows us to risk stratify each patient and initiate a suitable therapy. When I can safely say that a patient shows a certain DCE, which indicates a significantly increased risk of severe arrhythmia and thus requires a defibrillator for prevention purposes we clearly prevent mortality, which is quite legitimately evidence grade I.' A single important precondition: radiologists and cardiologist must work as well together as they are doing at Mannheim University Hospital!
The future?
Preliminary studies with 7-Tesla systems indicate that MRI might even become more precise and might be able to show even more minute structural changes. Sodium imaging, for example, is becoming a routine procedure with 3-T scanners. Developed in the 1980s, diffusion tensor imaging provides increasingly better insights into the deeper structures of the heart. Prof. Schönberg is convinced: 'We do need high standardisation with good precision and robustness before new methods can be integrated into clinical routine in a meaningful way and can be widely used. We have now reached that point. Today 3-T can generate high-resolution perfusion maps' -- a fact that secures top billing.
PROFILE