Video • "Stormram 4"
This 3D-printed robot could be the future of cancer treatment
'Stormram 4' fits inside MRI bore and enables 'nearly real-time imaging guidance' to achieve sub-millimeter precision in reaching targets
Cancer surgeons perform an estimated 1.7 breast biopsies each year, according to the American Association of Preferred Provider Organizations. This makes the procedure a significant proportion of cases referred to anatomic pathologists. This surgery, however, is time-consuming and not always accurate due to shortcomings in existing surgical technology and to human error. Now, a 3D-printed MRI-guided robotic biopsy system under development by researchers in the Netherlands may change how biopsies are performed and lead to more accurate biopsies and breast cancer diagnoses. Successful conclusion to this research could impact surgical pathology and medical laboratories worldwide. "The Stormram 4 is a stimulus for the entire diagnostic phase of breast cancer," the University of Twente (UT) stated in a press release. "Medical robotics is sure to become standard procedure in hospitals in the near future."
Source: University of Twente
The manual MRI-guided breast biopsy procedure is time-consuming and ineffective

Vincent Groenhuis
The robotic system, dubbed Stormram 4, would be used to remove biological specimens during an MRI scan, not unlike today's current biopsy procedures. However, the robotic system allows for sub-millimeter precision control of a single, thin biopsy needle.
The robot was developed by Vincent Groenhuis, MSc, Francoise Siepel, PhD and Stefano Stramigioli, PhD, from the University of Twente's Robotics and Mechatronics lab, in collaboration with Ziekenhuis Groep Twente and Machnet BV. Billed as the world's smallest 3D-printed biopsy robot, Stormram 4 offers major advantages over conventional MRI-navigated biopsy techniques, according to Groenhuis. The robot offers sub-millimeter precision, which was achieved during tests conducted on models of breasts. "The manual MRI-guided breast biopsy procedure is time-consuming and ineffective," Groenhuis told Digital Trends. "It uses a thick needle, extracting large tissue samples, often in multiple attempts, to extract a representative biopsy sample."
In contrast, he explained, "The robotic system can manipulate the needle more precisely toward target coordinates of the lesion inside the body, on the first attempt. This will improve the accuracy of the biopsy procedure compared to the current manual practice. Secondly, the needle insertion can be performed inside the MRI scanner itself, so that the needle can be followed under nearly real-time imaging guidance. The required time to perform the biopsy is also shorter, allowing more effective use of the MRI scanner facilities."
Building a robot compatible with MRI environment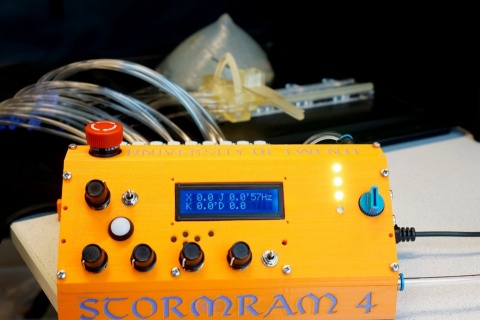 Creating a robotic system that would be compatible with an MRI machine was the first hurdle researchers had to overcome. It meant metallic materials could not be used within the magnetic chamber of the MRI scanner. Researchers turned to 3D printing to create the Stormram 4 entirely from plastic. And they powered the system using "rectilinear and curved air pressure motors."
"Current robotic systems cannot be used inside the MRI due to the high magnetic field," Groenhuis explained in the Digital Trends article, "and therefore we initiated the development of an MRI-compatible robotic system for breast biopsy." It took several attempts to build a version of Stormram that would fit inside an MRI bore. The fourth iteration succeeded. Operators control the robot using five-meter-long air pipes operated from outside of the scanner to prevent the metal air valves used to drive the robot from interfering with the scan. Though the device is in its final stage of development, Groenhuis told Digital Trends the Stormram 4 will need several years of additional development and trials to receive regulatory approval.
Robotics expected to improve surgical outcomes
Stormram 4 recently won a prestigious award in the 2017 Surgical Robotic Challenge at the international Hamlyn Symposium in London, the university noted in its press release. But the Stormram 4 is not the only surgical robot making headlines. MRI-compatible surgical robots offer the promise of becoming revolutionary tools as researchers develop machines to improve a range of surgical outcomes. For example, at the Automation and Interventional Medicine (AIM) Robotics Research Laboratory at Worcester Polytechnic Institute (WPI) in Massachusetts, other MRI-guided medical robots are under development. These robots are designed to automate lead placement for deep brain stimulation during stereotactic neurosurgery for Parkinson's Disease, and brachytherapy seed implantation for prostate cancer therapy, the WPI website notes.
These and other technology breakthroughs are changing the practice of surgical pathology. Consequently, clinical laboratories and In Vitro diagnostics (IVD) developers should expect be impacted as well.
Source: DarkDaily/Andrea Downing Peck