Head and Neck
Therapy with radioactive beads used for tumors
Researchers at University Medical Center (UMC) Utrecht are developing an innovative cancer treatment with the help of a grant from Alpe d'HuZes/Dutch Cancer Society (KWF) of nearly 300,000 euros. The treatment involves the injection of radioactive beads into tumors, thereby enabling a very precise localized radiotherapy.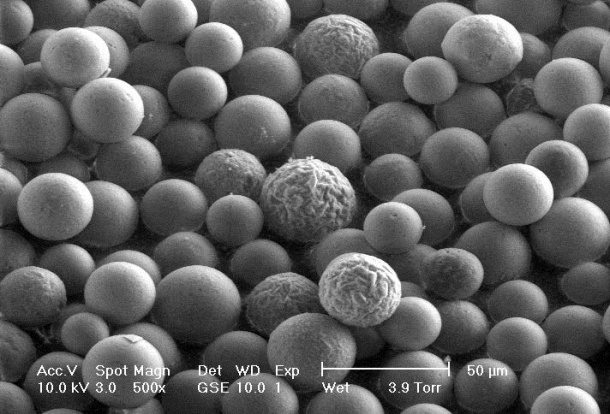 Direct injection of radioactive beads may be an effective treatment of tumors that are difficult or impossible to remove surgically. This is the basic principle of medical biologist Dr. Frank Nijsen, dental surgeon Dr. Robert van Es and nuclear physician Dr. Marnix Lam of UMC Utrecht. They are working together with Dr. Bas van Nimwegen of the Faculty of Veterinary Medicine of Utrecht University to treat head and neck tumors with radioactive beads.

Radioactive holmium microspheres
The treatment involves holmium microspheres that appear on an MRI or a nuclear scan. Using image-guided injection, the microspheres can be inserted into a tumor in a highly precise and localized fashion. In the first three millimeters, the holmium microspheres emit ninety percent of their radiation. The treatment is radically different from similar approaches involving radioactive yttrium microspheres. Holmium microspheres can be located using MRI, CT and nuclear imaging techniques. This enables improved monitoring of the holmium treatment's safety and effectiveness.

Cats and dogs
In collaboration with the Faculty of Veterinary Medicine of Utrecht University the treatment is now being tested in pets with tumors. The preliminary results are positive. Over the past four years, fifteen cats and dogs have been treated for predominantly aggressive tongue tumors. The treatment was effective in the majority of animals. On average, tumor size was reduced by eighty percent and the tongue could still be used. "The results in these animal patients are very promising," says Dr. Ron Koole of the Department of Oral and Maxillofacial Surgery of UMC Utrecht. "That is why I brought together scientists working on this subject to make the treatment available to human cancer patients as well."

Patient studies
The recently awarded grant from Alpe d'HuZes/KWF will be used by the Utrecht researchers to expand their activities in this field. This should result in a phase I clinical trial studying the safety of the treatment in cancer patients. One of the most important questions is how these microspheres should be injected in order for them to effectively spread within the tumor and produce maximum effect. Possible side effects of the treatment should also be identified. "Head and neck tumors are of course only one application of this treatment," says Dr. Frank Nijsen of UMC Utrecht. "In principle, it is possible to treat any fixed tumor that can be reached with a needle with holmium microspheres. However, we first need to prove that we can inject tumors repeatedly and in a controlled manner."

Liver tumors
UMC Utrecht has been working on the innovative treatment of cancer with holmium microspheres for twenty years. Patients with liver tumors already undergo this treatment in a scientific setting. Fifty patients have already received palliative holmium treatment at UMC Utrecht. Last year, UMC Utrecht spin-off company Quirem Medical was established to make this treatment available to patients across the globe.
Quirem Medical focuses on the treatment of liver tumors with holmium microspheres. Liver tumors have their own blood vessels as it were, which makes them easy to reach through an injection. The microspheres block the tiniest blood vessels in and around the tumor. Their radiation is therefore only emitted near the tumor. Since the microspheres appear on an MRI scan, a test dose can demonstrate whether the microspheres are indeed ending up in the tumor.
The "Unique Opportunities" grant from Alpe d'HuZes/KWF is specifically intended for promising, but high-risk research that is not supported by the current cancer research funding sources.

Source: Press release UMC Utrecht