Scanner
The world's first digital clinical path lab
The field is so new that the annual Digital Pathology Congress (3-4 December in London) was held for only the second time. Yet, Philips Healthcare could announce a world-first – in partnership with the Netherlands-based LabPON, the company has created the first clinical pathology laboratory to be completely converted to digital diagnosis.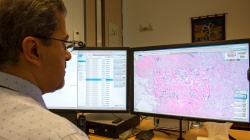 'No one has written a book on how this can be done, but now it can be done and is going to help people who are still down the road deciding about digital pathology, it is going to make the journey easier for them,' said Bas Hulsken, Chief Technology Officer for Digital Pathology Solutions with Philips Group Innovation.
Philips and LabPON installed and deployed the IntelliSite Pathology Solution, which has CE Mark in the EU for in vitro diagnostic use and is also approved for in vitro diagnostic use in other regions including Canada, Singapore and Middle East.
'We designed a scanner for pathology that requires no interaction by the technicians,' Dr Hulsken explained. 'You load the system, you close the door, and you don't even need to press the start button. Everything runs automatically. We have made it as easy as watching television, and this is the basis for our vision of digital pathology, because if it's not that simple, then it won't happen.
'We believe in digital pathology. That, while it brings radical change, it also will bring enormous improvements over current clinical practice.' Hulsken continued. 'What we have learned is that there is not one thing that will decide the success.
'Whilst there various challenges, there are also a variety of benefits seen with the first successes, when the pathologists see improvements to their work and the business. It enhances the sharing and distribution of work. Work becomes faster, more efficient thanks to improved logistics and some features in the digital workflow that can help to speed up diagnosis, such as instant access to previous cases, side-by-side viewing of slides with different staining, measurements, counting, and annotations, as well as simplification of internal and external consults. We expect that future use of image analysis software could help pathologists to further accelerate diagnosis.
Next to efficiency, digital pathology could also improve the quality of diagnosis by enabling cross functional integration and aggregated views of a patient's clinical work-up for better informed decision making. Ultimately digital pathology will open up new ways to get more information from tissue samples. These unique insights may enable the development of predictive analytics to help further personalize patient care for complex diseases, including cancer.
Even the process of writing their experiences is part of the continuing journey for the pathology group, he added. 'They will transfer lessons from their practice and from this we will learn, so that together we will be able to further improve processes as a partner.'

PROFILE:
Dr. Bas Hulsken is the Chief Technology Officer of Philips Digital Pathology Solutions. He received an M.Sc. in physics and an M.Sc. in biophysics from the Radboud University in Nijmegen. He received his PhD in physics from the same university, on the development and subsequent application of scanning tunneling microscopy to study chemical reactions with atomic resolution one reaction step at a time. He joined Philips corporate research in 2008 to explore the application of Philips' optical storage technology to the field of digital pathology. Four years later he joined Philips Digital Pathology Solutions as their CTO. His areas of interest include: digital microscopy, image analysis, image processing and compression, and big data analytics.
More on the subject:
More on companies: