The world's first 4D Curved Matrix Array probe for prenatal screening
GE's latest and most advanced Voluson system to date offers clinicians completely new ultrasound views thanks to three pioneering innovations, the company reports.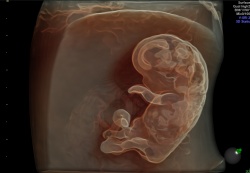 These open up new screening prospects, which include the world's first 4D Curved Matrix Array probe, which has been especially designed for pre-natal screening. The system also enables a simultaneous display of two perpendicular sectional planes in real time. Consequently, the detection of complex malformations of the foetal heart is far easier and more accurate, GE Healthcare reports. 'Thanks to the Curved Array technology, a superlative level of spatial resolution is achieved at all depths.'
With HDlive Silhouette mode, the foetus and the inner structures and organ complex are displayed with vitreous clarity, the company adds. 'During the first trimester especially, these new insights are extremely helpful when it comes to assessing brain and organ development.
'The Radiance system architecture, with four times the speed of parallel processing, means that the level of detail and discernibility of close neighbouring structures is even greater than what has been achievable with the Voluson equipment available to date. This is due to a significant reduction in background noise coupled with a further enhanced spatial resolution, producing impressive 2D, 3D and 4D images.
'This exceptionally realistic imaging, which has reached new heights with the Voluson E10, has increased the accuracy and therefore the significance of pre-natal screening even further,' the manufacturer adds.
More on the subject:
More on companies: