The whole diversity of breast cancer diagnostics
'Diagnostics is not diagnostics, not even when it relates to a specific indication such as breast cancer,' says Professor Walter Heindel MD (right), who heads the Munster Mammography and Breast Centre Reference Centre at Munster University Hospital, focusing on the dissimilarities among patient groups and their peculiarities.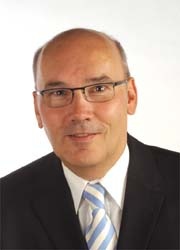 Modern senologic imaging comprises different radiological procedures and image-guided examination/clarification of the female breast. The three important imaging procedures are: X-ray mammography, increasingly carried out as digital mammography; ultrasound of the breast and all its different, enhanced forms, and finally contrast media enhanced MR mammography.
This basic spectrum, brought together at these centres, facilitates the following services: many hospitals now offer a special breast advisory surgery for women who want a second opinion. This is different from symptom-oriented diagnostics, the clinical or curative imaging of the
female breast.
The third area that has developed is image-guided breast biopsy. The trend across Europe is to confirm an image-based diagnosis histologically, even if the image fairly clearly indicates a tumour. These days – and this is something that we heavily emphasise at our centre – results, whether image-based and histological or pathological, must be correlated and have interdisciplinary evaluation to work out the best possible surgical and treatment plan.
Another important topic is risk-adapted early detection, which particularly concerns women with an individually increased risk of breast cancer – about 25% of all cases. This includes genetically-based risks, for example based on the BRCA1 and BRC2, which, for the affected female constitutes a significantly increased lifetime breast cancer risk of up to 80%. Certain breast centres offer special imaging protocols and programmes for these women. As this group tends to develop the disease at a younger age, from age 25 they are entitled to regular mammography, ultrasound and MR mammography for early detection. This is different from the mammography screening programme for all women without symptoms from 50–69 years old.
Finally, we must care for women who have already been treated for breast cancer and for whom imaging plays an important part in aftercare.
In terms of imaging methods, it has transpired that, not least due to the screening, Germany is currently among the leading nations in digital mammography on a European level. Private surgeries and hospitals have invested a lot in modern equipment.
The development of different digital procedures is changing and, currently, significant progress can be seen. Industry and scientists are looking into subjects such as required radiation dose, spatial solution, as well as the usability of equipment for screening. We have seen that screening, due to the high number or cycles involved, puts a lot of pressure on equipment. Some storage plates soon reach their capacity and have to be changed for quality reasons. This was a new issue for manufacturers, as well as the doctors. Currently, there is definitely a lot of technological progress and development that should be observed.