The joint AACC/AACB conference
Laboratory medicine - into the future
The American Association for Clinical Chemistry (AACC) and the Australasian Association of Clinical Biochemists (AACB) are joining together for the second time for a conference on major changes facing laboratorians in coming years, under the banner Laboratory Medicine - Into the Future.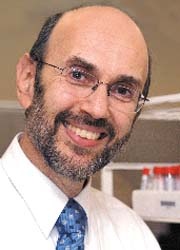 The AACC has organised this biannual conference for 12 years. In 2006, the AACB co-sponsored the event, which took place in Cairns, Australia.
Leslie Burnett PhD, AACB President and Director and CEO of Pathology North in Sydney, Australia, said: 'We live in exciting times: the era of genomics, proteomics, personalised medicine and molecular diagnosis has arrived, but at a time of accelerating professional workforce shortage, environmental concerns and financial instability. We face risks of pandemic and terrorist threat from outside, and of obesity and re-emerging infectious diseases internally. While some of the challenges facing laboratory medicine are global and will affect us internationally, our different national pressures, environments and competencies have resulted in subtly different responses to these common challenges.' The meeting will explore these topics in great depth and help to gain international perspectives on ways of planning responses, he pointed out.

In focus will be public health, clinicians, IVD industry and the clinical laboratory. For example, David Hickey, Senior Vice President at Siemens Healthcare Diagnostics*, will present the IVD perspective on the evolution of clinical laboratory technology and services. 'This updated view of diagnostics will require a new perspective of the traditional roles held by diagnostic departments such as pathology and radiology,' he explained. 'It's very important for these two disciplines to recognise their shared diagnostic strengths and the collaborative power they have to advance patient care.' After covering topics such as emerging omics and molecular technologies, infectious diseases, accreditation and more, the day will end with a hot topics panel discussion on key factors affecting the labs of the future.
On the second day, complementary topics will be aired on quality, e.g. ensuring quality across the network, quality use of pathology resources, as well as patient safety and the greening of laboratories.

* The programme is supported by Siemens Healthcare Diagnostics.