The fall and rise of cardiac surgery innovations
Grandly announced, the da Vinci became the must-have of any self-respecting cardiac surgeon, only to sink into obscurity as quickly as it had risen to stardom. Once the wunderkind of robotic surgery, today this surgical system is merely collecting dust on many a hospital cupboard. A whole slew of methods and technologies were launched with varied fanfares over the past ten years. European Hospital asked Professor Johannes Maximilian Albes of the Heart Centre Brandenburg in Bernau, about the hypes and the has-beens of cardiac surgery – and, of course, about the workhorses that are here to stay.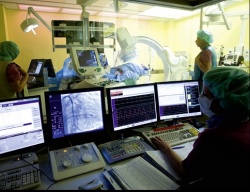 'da Vinci,' Johannes Maximilian Albes reflects, 'was not sufficiently aligned with the "human being" bio-system with its complex individual makeup.' Adjusting the surgical system to the patient's body took too much time. 'You spent four hours harvesting the mammary artery via the posterior thoracic wall… Expensive and time-consuming.'
That's an alarming assessment of any medical device. The final blow struck when it became evident that the robotic surgery system did not improve patient outcome. Worse: several complications were made public and the technology virtually disappeared from the cardiac surgical scene.
Patients suffer
However, da Vinci is not the only case of hyped medical technology turning sour. Remember transmyocardial laser revascularisation (TMLR) in the mid-1990s? Another technology that disappeared, because it turned out that holes cut by the laser in the right ventricle, to transport oxygen-rich blood into the heart muscle, closed far too quickly and also because lacerating the ventricle with fine needles proved equally effective.
Does that mean new devices need to be tested more thoroughly before release for clinical use? The professor is sceptical: 'A difficult issue… When products are launched too early, patients will suffer; but when innovations take too long, patients will also suffer.' Transcatheter aortic valve implantation, short-form TAVI, shows that an over-cautious healthcare system might miss out on innovations. The US-American FDA approved TAVI for clinical use only in November 2011, conditioning the approval on the Edwards Sapien valve and the transfemoral, not transapical approach. In Germany both approaches are allowed.
The data of 78 German Heart Centres are collected in a registry and published annually by the German Society for Thoracic and Cardiovascular Surgery (DGTHG). Drawing on these data, Professor Albes highlights the TAVI success story in Germany: the number of these procedures rose from 78 in 2006 to 6479 in 2012. After only six years of clinical application TAVI accounts for 35% of all isolated aortic valve implantations per hospital. At the same time, the number of conventional valve surgeries remained stable: 11,603 in 2006 and 11,779 in 2012.
This development indicates that TAVI expands the range of available tools and opens up new patient cohorts. In Germany, this is the procedure of choice for over 80-yearolds where a conventional procedure is too risky. Age explains the rather high mortality rate among TAVI patients: 5.4% compared to 2.6% in conventional heart valve surgery. 'However, when you account for the higher risk profile of these patients, mortality is hardly higher,' Prof. Albes points out.
Questioning TAVI
He expects TAVI will soon be used in more than 50% of the aortic valve implants because more and more older patients will opt for the procedure. Nonetheless, conventional valve surgery is here to stay. In terms of quality, TAVI is still considered inferior to the conventional method due to paravalvular leaks associated with the implant: by pushing the calcifications to the side in the original valve, holes may be created that prevent proper sealing. Moreover, it remains to be seen whether the TAVI bioprosthesis, which has been in use for merely seven years, will match the conventional bioprosthesis in terms of durability (ten years) and performance.
The DGTHG statistics also show a significant increase in univentricular assist devices: 766 such implants in 2012 meant an increase of 21.5% over the previous. Due to the extremely limited availability of donor hearts and the increasing age of the patients, Prof. Albes expects ventricular assist devices to gain further ground rapidly.
MIS for mitral valves
Minimally invasive mitral valve surgery has also become an established technique in Germany. Since 2007 the number of conventional procedures in isolated mitral valve surgery decreased by 24%, while the minimally invasive interventions increased by 65% in the same period. Today, minimally invasive isolated mitral valve surgery accounts for 44.7% of all such interventions. 'The figure will level out at around 50 percent,' he predicts, 'because not every patient is suited for this isolated procedure.' The patient cohort can also explain the difference in mortality –6% in conventional and 1.7% in minimally invasive procedures. Unlike TAVI, which focuses on older patients, minimally invasive patients are usually younger.
According to Professor Albes, off-pump coronary artery bypass (OPCAB), despite being controversial, has stood the test. The number of these procedures increased continuously since 2007 by about 1% per year, from 10% to roughly 15% in 2012. A mortality rate of 2% is recorded for off-pump and of 3.1% for on-pump procedures. Since patients who undergo surgery without a heart-lung machine are usually younger and in a better state of health, Professor Albes underlines that the difference in mortality does not provide conclusive evidence regarding the quality of the method as such.
DGTHG data are published annually in The Thoracic and Cardiovascular Surgeon, the official journal of the German Society for Thoracic and Cardiovascular Surgery. For additional TAVI reporting see John Brosky's interview with John Webb on page 12 of European Hospital issue 4/2013.
Profile:
Since 2003, Professor Dr Johannes Maximilian Albes has been Medical Director of the Department of Cardiac Surgery at Immanuel Klinikum Bernau/ Heart Centre Brandenburg near Berlin, Germany. After graduating from the Medical University in Hannover he joined the German air force as medical doctor. As resident and senior resident focusing on cardiac, thoracic and vascular as well as trauma surgery he worked at the Medical University of Hannover, at Landeskrankenanstalten Salzburg, Austria, and the University Hospital Tübingen, Germany. In 1999 Dr Albes was appointed Deputy Director of the Department of Cardiac, Thoracic and Vascular Surgery at Friedrich Schiller University in Jena, where he has also been adjunct professor since 2004.