tennessee - The convenient one!
The new ulrich contrast agent injector for MRI - accumulator free!
ulrich medical is an independent medium-sized company with worldwide sales of innovative products in the field of medical technology. For 25 years ulrich contrast agent injectors are reliable partners for radiological clinics and practices. They ensure optimal contrast agent injection for computer and magnetic resonance tomography.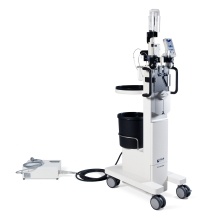 In 2007 a new injector joined the product family of ulrich medical. The new convenient tennessee is accumulator free and ready for use at any time. tennessee is not only applicable for MRI but also for CT and includes the comfortable touch terminal. The injector avoids permanent time-consuming charging and handling of heavy accumulators, therefore the daily routine is not interrupted. Due to a smooth workflow the injector is absolutely dependable for both patient and user.
Just like the other ulrich injectors tennessee is based on the special roll pump system. Therefore a previous loading of syringes is not necessary. The injection is directly made from media containers. Due to ulrich's sensor technology for air detection and check valves in the patient hose of the two part hose system a safe examination is guaranteed.
tennessee is throughout flexible, comfortable and safe and will ease up your daily workflow!