Taxus
"Safe for coronary artery disease"
France - Four studies of three TAXUS paclitaxel-eluting stents have demonstrated their safety and efficacy, according to the maker, Boston Scientific Corporation of Natick, Maryland, USA.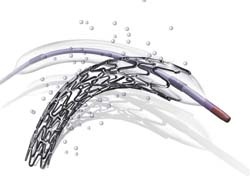 Paclitaxel is a multi-functional microtubule inhibitor that controls platelets, smooth muscle cells and white blood cells, all of which are believed to contribute to restenosis. The proprietary polymer on the stent allows for controlled delivery of paclitaxel.

Speaking at the annual Paris Revascularisation Course (the largest interventional cardiology conference in Europe), Dr Mary Russell FACC, Medical Director and Vice President of Boston Scientific Cardiovascular Clinical Affairs, said that the studies included expansion into higher-risk patients, and showed a benefit to patients over two years. Dr Russell added that this provided further evidence that polymer-based paclitaxel-eluting stent technology is a safe and effective treatment for coronary artery disease.

TAXUS I - This randomised, double-blind, multi-centre, feasibility study was designed to assess safety of the firm's slow-release drug-eluting stent platform. The trial involved 61 patients and results supported safety based on a reported 3% major adverse cardiac events (MACE) rate at two years. No new MACE events were reported in either group in 1-2 years. (One additional intervention did not meet the clinical or angiographic definition for MACE. This occurred between a study [drug-eluting] stent and a non-study [bare] stent and was not attributable to in-stent restenosis.) The data demonstrated excellent performance by the TAXUS stent at six months with respect to vascular healing, incomplete apposition and edge effect following detailed intravascular ultrasound (IVUS) analysis.

TAXUS II - This trial involves 536-patients in a 15-country, randomised, double-blind, controlled study of the safety/efficacy of a TAXUS paclitaxel-eluting coronary stent, in which two sequential cohorts of patients with standard risk, de novo coronary artery lesions were treated with different dose formulas. In March, the firm announced one-year follow-up data supporting safety/efficacy, and has now given additional results based on more in-depth analysis of higher risk patient subgroups, including diabetics and patients with longer lesions and smaller vessels. The results demonstrated that the reduction in target lesion revascularisation (TLR) events for the TAXUS II subgroups at one year was equal to, or better than, that of the general study population. For example, diabetics reported an overall TLR reduction of 85%, compared with a 75% reduction in the general study population.

'This is an important body of data with a near complete follow-up in 89% of all TAXUS II patients, and it offers us the unique opportunity to systematically study restenosis and vascular healing and to assess safety concerns after placement of drug-eluting stents,' said Dr Patrick Serruys,
of the Thoraxcentre, Rotterdam. 'Using IVUS technology, and an innovative analysis algorithm, we were able to analyse, millimetre by millimetre, how the vessel responds following implantation of a TAXUS stent. Our results showed that the vascular biologic response along the entire length of the stent as well as the edges is consistent and beneficial, providing further assurance of the safety of TAXUS technology.'

The analysis of incomplete apposition (separation of stent from vessel wall) showed no correlation between these occurrences and adverse clinical events. The rate of late acquired incomplete apposition (develops subsequent to the baseline procedure) in TAXUS II was 8.8% in the slow-release formulation and 9.5% in the moderate-release formulation
compared with 5.4% in the combined control group. The difference was not statistically significant between the TAXUS and control groups. No new MACE events were reported in this group between six months and one year.

TAXUS VI - This involves 448 patients with complex coronary artery disease at 44 sites, and is designed to establish safety/efficacy of the moderate-release formulation TAXUS stent as a treatment for longer lesions. The trial - which includes the use of multiple stents - has a primary endpoint of nine-month target vessel revascularisation (TVR).

30-day safety results have now been released. Although the trial is divided into two groups (A, B), it remains blinded to treatment assignment through the nine-month endpoint. The demographics, baseline lesion characteristics and procedural results were well matched between the two groups. The 30-day MACE rate was 5.3% for group A and 7.3% for group B. This rate is consistent with the high-risk profile of the patients enrolled, including those with multi-vessel disease and a mean lesion length of nearly 21mm. About 35% of patients needed multiple stents. Nine-month data will be announced this autumn.

WISDOM - The firm reports that this transitional registry, initiated in 2002 as part of a limited commercial launch of the Company's TAXUS Express2 paclitaxel-eluting coronary stent system, is an international, multi-centre, prospective, observational registry, which collects and analyses real-world data in 19 countries. Of the 500 patients involved, safety results for the first 100 have shown safety based on site-reported clinical outcomes at six months (3% including death, myocardial infarction and TVR). The diabetic patient base for WISDOM is 33% and 61% of the lesions were longer than 12mm.

The TAXUS III trial, which studied the treatment of in-stent restenosis, confirmed safety and reported no thrombosis at one year. The TAXUS IV trial is designed to assess safety/efficacy of a slow-release formulation to support regulatory filings for US product commercialisation. It has completed enrolment and nine-month follow-up is underway. The TAXUS V trial is an extension of TAXUS IV, and studies higher risk patients, including those with smaller vessels and those with longer lesions needing overlapping stents.

In February, Boston Scientific launched the TAXUS Express2 paclitaxel-eluting coronary stent system in Europe and other international markets. The product's US launch is expected later this year.