Sponsored • Trailblazers in medical solutions
Taiwanese excellence on display at Medica
From Augmented Reality to Robotics, and all exciting technologies in between, the Taiwanese companies present at Medica always manage to impress visitors with health tech innovations.
In co-operation with the Bureau of Foreign Trade (BOFT) of the Taiwanese Ministry of Economics and the Taiwan External Trade Development Council (TAITRA), 20 elite healthcare companies put on display their achievements in Artificial Intelligence (AI), Virtual Reality (VR), 5G and more.
Growing economic importance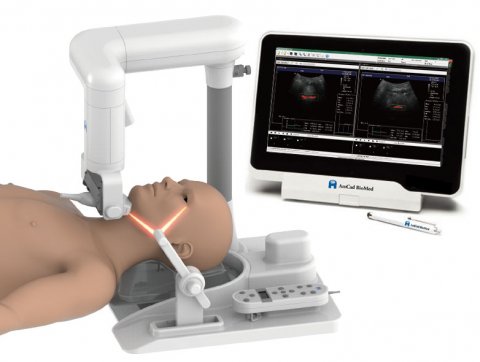 At Medica, Taiwanese companies showcase their focus on innovative manufacturing and in-house ICT, which have increased the efficiency and quality of production. Today, Taiwan has become the market leader with its concept of 'Asian Silicon Valley'. The government wants to further strengthen this key position by independently developing medical products that meet the high demands of international markets at attractive terms.
The future of healthcare relies on Big Data and its collection, transmission and evaluation. The development and implementation of 5G networks now enables the immediate transfer of large image and monitoring data sets to specialists at remote locations. This reduces the amount of travel required for patient care. The AI supports the time-consuming and expensive data evaluation that is becoming increasingly important in the diagnostic process. The enormous potential of AR/VR offers advantages in the training of medical staff, the performance of complicated operations and the treatment of mental disorders. Robotics has also made the jump into the realm of healthcare and is now used for the benefit of patients and care-givers.
Recommended article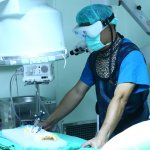 Sponsored • A country encouraging intelligent medical innovations
Health tech Made in Taiwan is among the mainstays of every MEDICA; this year's fair is no exception. In co-operation with the Bureau of Foreign Trade (BOFT) of the Taiwanese Ministry of Economics and the Taiwan External Trade Development Council (TAITRA), 20 world-class healthcare companies are demonstrating innovative medical solutions based on national advances in Artificial Intelligence…
Medica visitors will have the opportunity to meet – among others – the following innovative Taiwanese manufacturers and their products:
AmCad BioMed
Artificial Intelligence innovation expertise company with professional clinical experience, AmCad BioMed has created an ultrasound-based obstructive sleep apnea (OSA) detection system, AmCAD®-UO.
According to a recent survey, around one billion people in the world suffer from OSA, 80% of them remain undiagnosed. The most common method of diagnosis is a polysomnography (PSG), which requires an overnight stay at a sleep center. However, the limited availability of sleep tests may lead to long waiting times.
While PSG helps diagnosing sleep disorders through physiological index overnight, AmCAD-UO provides efficient anatomical OSA detection for patients within 10 minutes – without the need for the patient to be asleep. With laser-guided positioning, the device precisely scans the upper airway and analyzes the difference between normal breathing and Müller's Maneuver (mimicking snoring model). AmCAD-UO system standardizes ultrasound transducer scanning to make the assessment more consistent and avoid highly operator-dependent variations.
The president further pointed out that "through our patented laser-guided system, intra-observer variability is largely reduced."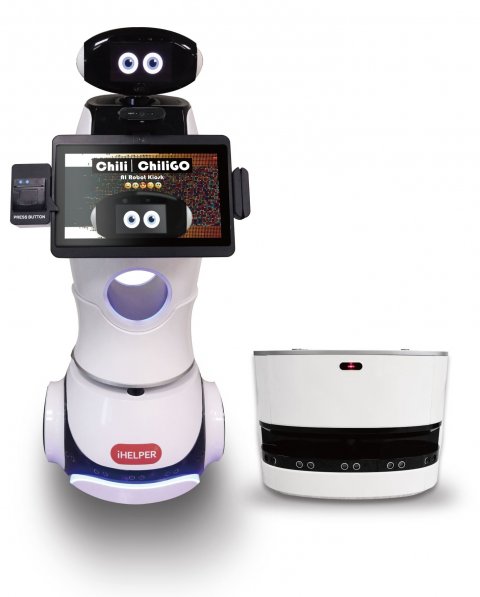 iHelper
ChiliGO AI Robot Kiosk and iCart from manufacturer iHelper offer many advantages and more useful features than other mobile kiosk robots. With its pleasant robot design and intuitive user-friendly interface, users of the ChiliGO will have a faster and more satisfying experience getting the information they need, while the iCart handling robot can be used in hospitals or all other fields where items need to be transported.
The ChiliGO uses facial recognition technology to analyze user information like gender and age, which can be used to enhance a company's marketing based on key consumer demographics. It also features AI voice interaction.
iCart operates independent of tracks, instead using optical radar (LiDar) and ultrasonic sensors with AI self-optimized path correction technology to achieve automatic navigation and smart obstacle avoidance, to quickly complete equipment delivery tasks.
IEI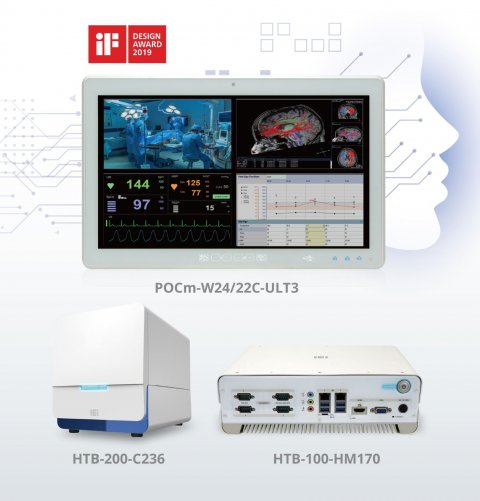 Industrial computer provider IEI Integration Corp., presents its solutions for AI in healthcare at Medica. These include a global platform for health management and real-time medical data collection to offer a flexible way and enhance work efficiency for daily hospital routine.
This year at Medica, IEI will showcase its latest AI ready hardware – a POCm Series Panel PC with hot-swapped batteries, a box PC solution for endoscopy and AI an all-in-one terminal. Further new products include solutions for big data management, AI training (machine learning and accelerator cards) and AI decision support.
Conclusion
Take advantage of this unique setting during the upcoming Medica to feel the pulse of these leaps forward in 5G, AI, VR/AR and robotics. Medica is a premier opportunity for Taiwanese companies to develop relationships throughout the year. Staff and representatives of these innovative companies welcome the chance to engage, exchange and demonstrate their advances in hall 17, stand A40.
For more information, please visit: https://www.taiwanexcellence.org/de
Taitra is at Medica
Taiwan Pavilion Hall 17 / A40