Article • TAITRA at Medica 2019
A vision of Taiwan innovation
A popular proverb in Mandarin goes 'Hearing something a hundred times is not as good as seeing it once' (百聞不如一見). Visiting the Taiwan pavilion at this year's Medica, it's clear to see that the Bureau of Foreign Trade (MOEA) from Taiwan, together with the Taiwan External Trade Development Council (TAITRA) and its foster companies, have taken this sentiment to heart.
Report: Wolfgang Behrends
Seeing virtual and augmented realities through a VR headset, watching AI in digital pathology through the eyepiece of a microscope – the power of images was clearly on the exhibitors' side. They showed their guests some of the innovations that have propelled Taiwan from former manufacturer nation to one of the leading developers in medical technology and healthcare solutions.
'We are looking at a new wave of Taiwan innovations to transform the medical world', announced Karen Pai during the 'Taiwan Excellence' press conference. As Deputy Executive Director she underlined the ambitious expansion of med-tech TAITRA promotes as 'Best Made in Taiwan' with its impressive growth rate of 10.73 percent in 2018. It is hard to deny the nation's global impact. 253 Taiwanese companies presented their products at Medica 2019. Every year, 20 of this country's manufacturers are awarded the 'Taiwan Excellence' accolade to acknowledge their outstanding approaches to VR/AR, 5G, AI and robotics in medical applications.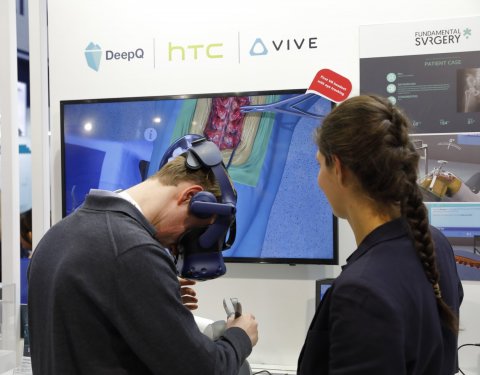 At Medica, manufacturer HTC DeepQ presented the latest refinement of their virtual reality set, the Vive Pro Eye, as well as a 5G hub. Whilst both products may be geared towards entertainment, their use in healthcare is also apparent. With new eye-tracking features, the Vive Pro Eye analyses the wearer's attention and focus areas. 'This creates a whole new level of immersion, for example in augmented reality surgery training', explained Lewis Chang, Product Development Manager at HTC DeepQ. At this point Richard Vincent, CEO of FundamentalVR joined the conversation. The company's software – a 'flight simulator for surgeons', as Vincent put it – now supports the advanced features of the Vive Pro Eye. This is complemented by the HTC 5G hub, which provides the high-speed mobile data infrastructure for advanced wireless medical equipment, VR and telemedicine.
Virtual realities are also the domain of Taiwan Main Orthopaedic Biotechnology, another 'Taiwan excellence' winner. The firm's CEO, Min-Liang Wang PhD, brought improved versions of the company's smart surgical glasses and virtual anatomy table. The new editions expand the application areas from medical education and intricate procedures like spinal surgery to minimally-invasive techniques. A new 3-D endoscopy system, coupled with smart glasses, provides detailed insight into a patient's body via augmented reality, with critical anatomical structures and instrument position superimposed on the viewer's glasses. 'The additional information shortens procedure duration, improves the overall outcome and puts less strain on the surgeon', Wang PhD explained.
Counting on AI counting
Artificial intelligence in medicine is a definitive mainstay at Medica, so the great enthusiasm for aetherAI's digital pathology solution was hardly surprising. Their AI model, named Hema, specialises in the automatic differential cell counting of a bone marrow smear – a vital task to discern specific forms of leukaemia. 'Five years ago, this was an impossible challenge for imaging solutions', aetherAI CEO and co-founder Joe Yeh. 'With the help of AI, we now can.' Trained with a dataset of 300,000 annotated bone marrow cells, the Hema AI can perform in five seconds what might otherwise take up to half an hour – even for a well-trained haematologist.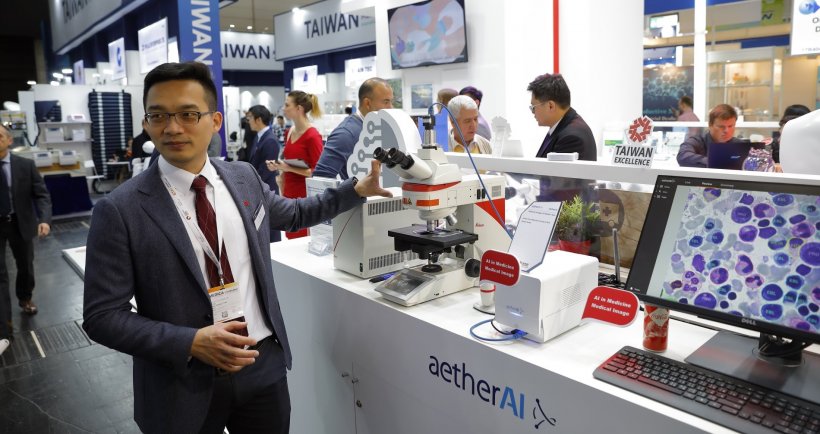 The spread of knowledge is the driving force behind the wireless medical camera developed by Taiwanese manufacturer Faspro. This head-mounted device can record up to 24 hours of video footage and enables live streaming. This is more than just a GoPro for doctors, company representative Adam Horng stressed. 'Instead of providing a wide "fish-eye" perspective, our camera features a narrow field-of-view – 10 to 28 degrees – and autofocus with low minimum distance, to accommodate for surgery and dentistry settings.' Other than sharing videos for educational purposes, the system is designed to reduce the burden of procedure documentation. Accessories for the camera system include an advanced light source and foot pedals for hands-free recording control.
An advanced video streaming solution was presented at Medica by Advantech. Based on the company's expertise as a provider of integrated computing systems, the system, named AVAS, manages video inputs from multiple 4K sources. This allows for combination and simultaneous display of up to four different camera feeds, vital monitors, radiology images, virtual 3-D patient models and more, while integration into the hospital information system (HIS) ensures compatibility of many different formats.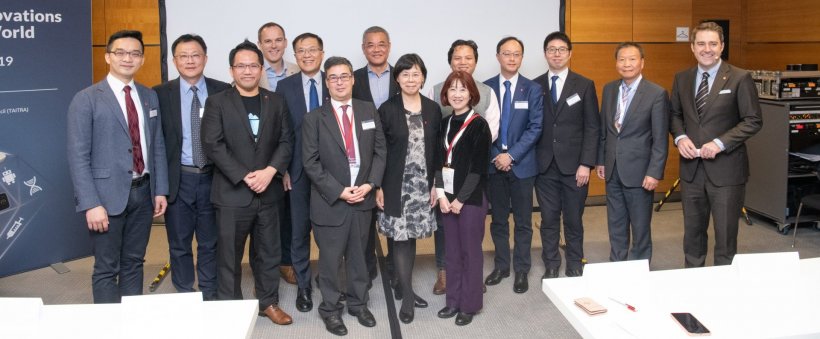 Strengthening relations
The relationship between Taiwan and Germany is growing stronger

Juan Carmona-Schneider
In addition to the five 'Taiwan Excellence' winners highlighted at the Taiwan Excellence press conference, the Taiwanese pavilion at Medica presented an impressive range of novel and improved healthcare products, from robotic clinical assistants and rehabilitation helpers to point-of-care and monitoring solutions. 'The relationship between Taiwan and Germany is growing stronger', concluded Juan Carmona-Schneider, senior consultant for healthcare at the European enterprise networking organisation ZENIT. With the continued support of their respective governments and increasing number of innovative products, it is just a matter of time until Taiwanese healthcare solutions gain a strong foothold in European hospitals and doctor's practices.