Source: Taiwan Main Orthopaedic Biotechnology
Sponsored • A country encouraging intelligent medical innovations
Taiwan innovators shine at Medica
Health tech Made in Taiwan is among the mainstays of every MEDICA; this year's fair is no exception. In co-operation with the Bureau of Foreign Trade (BOFT) of the Taiwanese Ministry of Economics and the Taiwan External Trade Development Council (TAITRA), 20 world-class healthcare companies are demonstrating innovative medical solutions based on national advances in Artificial Intelligence (AI), Augmented Reality and Virtual Reality (AR/VR), 5G and Robotics.
Growing economic importance
'This reflects the growing economic importance of medical technology for Taiwan as well as the manufacturers' ambition to expand their visibility in the European market with cutting-edge healthcare products,' TAITRA reports. 'Government support programs, known as the 5+2 Major Innovative Industries policy, enable companies located in Taiwan to invest substantial time and money in the research and development of new solutions from the "Asian Silicon Valley".
'Taiwan also embraces the opportunity to showcase its major advantages as a superior location for medical industrial development. TAITRA designates these advantages as "top medical technology", "comprehensive technology industry supply chain", and "sufficient energy of biotechnology manufacturing industry".
'Politics and business in Taiwan are closely connected to quickly and flexibly respond to current healthcare trends. Taiwan is already the most technically-advanced country among its peers when it comes to the development and use of state-of-the-art technologies. Now the dividends of these investments are clear: As the world of healthcare delivery makes the next leap to digitisation, Taiwan is at the forefront.'
Taiwanese manufacturers at Medica 2019: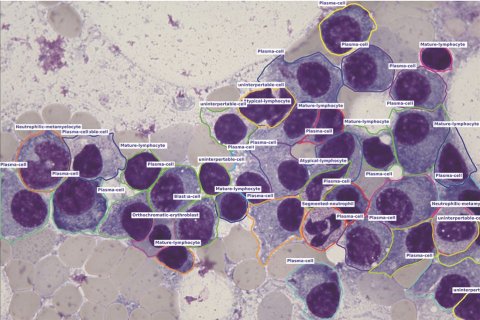 aetherAI
'aetherAI is a shining example for the forward-thinking mentality of Taiwanese companies,' TAITRA observes. 'Partnering with the National Taiwan University hospital, it has built large datasets to leverage the possibilities of artificial intelligence for medical purposes. One of the promising outcomes is the world's first bone marrow smear differential counting model. Using artificial intelligence, aetherAI's modelling to evaluate tissue transforms diagnosis delivery from a laborious and time-consuming task into an actual mouse click.
One aspect that makes cell counting such a demanding process is that bone marrow images need to be set to 1000x using oil immersion so the cells can be clearly identified. Even for a well-trained haematologist, or medical technician, this can take up to 30 minutes per case. By using the AI model deployed on aetherAI's Digital Pathology System, the counting result of one high-power field is available within 5 seconds. The model is trained with a dataset of over 300,000 annotated bone marrow cells, classified into 12 major and 40 minor categories. 'We believe this achievement can benefit not just hospitals but, eventually, all leukaemia patients,' the manufacturer explains. 'Therefore, we are seeking partnerships, especially with local distributors, or medical device vendors, to help serve the needs of hospitals internationally. aetherAI aims to ease the burden of healthcare professionals and improve the quality of medical diagnostics by bringing top-quality AI into clinical practice.'
Taiwan Main Orthopaedic Biotechnology
For seasoned Medica visitors, Taiwan Main Orthopaedic Biotechnology is a well-known name: the company's VR solutions have gathered considerable attention in prior fairs, and reliably succeed in presenting new solutions and upgrading their established tech with state-of-the-art features, demonstrating increasingly refined products. 'The merit of this approach can be witnessed in the company's smart surgical glasses. Designed to augment the skills of surgeons during complicated procedures, it improves outcomes through reduced procedure times and greater surgical accuracy. Traditionally, surgeons use fluoroscopy in concert with a display away from the incision to guide live anatomical orientation. With the smart glasses, surgeons can now focus on the procedure both physically and optically as the same graphic orientation is displayed directly onto the patient through mixed reality.
'The key products are mainly divided into two generations: Foresee-X and Caduceus. Foresee-X specialises in traumatic orthopaedics. Equipped with the glasses, an orthopaedic surgeon has an intuitive vision and can perform the operation without turning the focusing on screens during surgery. Foresee-X has obtained CE, FDA, TFDA certifications. Caduceus provides a powerful image-guided system for use in spinal surgery. It has been delivered to 510k and expected to obtain FDA certification in early 2020. Since the introduction of the product in 2017, it has won nine awards including CES award, R&D 100 and Edison Awards.
'The 2019 version of the Caduceus smart surgical glasses features improved reduction of radiation exposure while using C-arm fluoroscopy for spinal surgeries. Without the need to focus on multiple separate screens, surgery time can be shortened by up to 70%.'
Taiwan Main Orthopaedic Biotechnology states: 'The smart glasses, with mixed reality, offer navigation with high precision,' confident that the firm's powerful surgical guidance system will be the standard in the near future.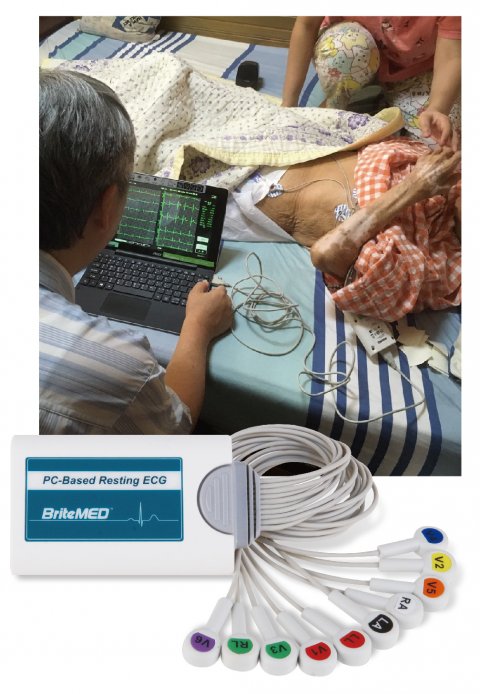 BriteMED
'Portable vital signs technology is the strong suit of BriteMED. The company's main product is a mobile 12-lead ECG machine, aimed to provide medical professionals with efficiency and bring quality medical care to patients,' TAITRA reports. 'Compared to the bulky traditional 12-lead ECGs, BriteMEDs device features palm-sized design and a light weight of 157.5g, bringing benefits in medical care service to rural areas. It also enhances nursing workflow efficiency, with easy integration on medical carts.
'The intuitive software displays ECG waveforms in real-time and offers management of individual patient profiles and ECG reports. Its built-in defibrillator protection and pace-maker detection increases safety of operation in emergency situations. 'The report is saved as an electronic file, facilitating the integration to telemedicine systems and electronic medical records. Advanced features include simultaneous measurement of ECG, blood pressure, SpO2 and temperature, convenient for ward-round use and tele-diagnosis application.'
WiseChip
'Even with virtual and augmented reality around the corner, the need for advanced technology in conventional displays is not about to end any time soon. One of the innovators in this area, WiseChip is developing OLED displays with multiple advantages for medical applications. Due to the elimination of the need for passive matrix OLED (PMOLED) to be embedded with a touch sensor, screens are more flexible and can be developed and implemented into new devices more easily. These In-Cell touch systems feature enhanced brightness, ultra-thin design and wide viewing angles – both patient and practitioner benefit from these improvements.'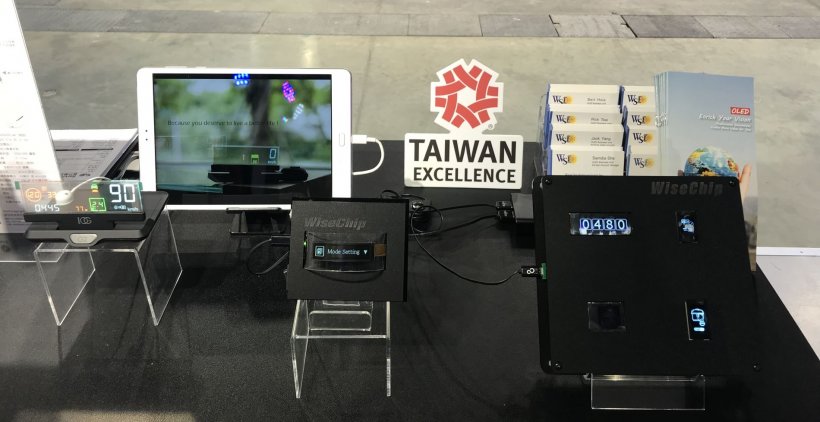 Faspro
Visual recording and transmission of procedures is increasingly important in modern healthcare. It is used to document procedures, allow interaction with off-site specialists and for experts to transfer their knowledge in educational settings. As an experienced developer of IT and camera systems, Taiwanese company Faspro Systems promotes this development with the release of MediCam, a sophisticated video recording and transmission headset. Its ergonomic design, visual capture quality and wireless capabilities combines the benefits of a reliable video recording and transmission device while not interfering with established workflows and procedures.
Conclusion
'Double-digit export growth rates of 10.73 percent in 2018 underline the important role and prove the success of Made in Taiwan medical technology,' TAITRA points out. 'Taiwan has successfully completed its transformation from a manufacturing industry to a leading developer of digital solutions and applications to drive the positive development of medical treatments. Even though Taiwanese technologies are already being used globally in everyday life and are already playing a key role in European healthcare systems, the Taiwan Excellence stand in Hall 17 (A40) invites every visitor to explore tomorrow's technologies, get in contact with today's innovation leaders and learn about the direction of current developments.'
A press conference on Tuesday, November 19, at 10:00 am in Hall 8b, room 814A will present a detailed briefing and provide a collegial setting for thought-leaders to receive further information about these developments.
Further information: https://www.taiwanexcellence.org/de
Taitra is at Medica
Taiwan Pavilion Hall 17 / A40