Sponsored • From the "Asian Silicon Valley"
Taiwan's R&D centers deliver continuous innovation in MedTech
From an initial focus on innovative manufacturing, in-house ICT technologies drove production efficiency and quality. Today, Taiwan has advanced to become a leader with its "Asian Silicon Valley" concept.
The government also wants to further strengthen Taiwan's key position by independently developing medical products that meet the high demands of international markets – at attractive conditions. Taiwan's companies provide hardware and software for intelligent operating theatres, AI-supported clinical diagnostics and new systems to train the next generation of healthcare professionals.
HTC DeepQ, a globally recognized consumer electronics company, engages students and doctors with its VIVE Pro Eye – a VR surgical simulation platform. VIVE Pro Eye offers robust, convincing, and efficient training technologies that help surgeons and medical students hone and improve their skills as well as collect invaluable data on surgical proficiency.
aetherAI, another company at the technological forefront, in partnership with National Taiwan University Hospital, has built large datasets to leverage the possibilities of artificial intelligence. An important outcome is the world's first bone marrow smear differential counting model. Once a process requiring vast inputs within the laboratory, aetherAI's modeling for evaluation of tissue allows diagnosis delivery with an actual mouse click.
Companies like Taiwan Main Orthopaedic Biotechnology offer concrete examples of focused solutions. Their 'Caduceus' smart surgical glasses are designed to augment the skills of surgeons during complex procedures. Traditionally, surgeons use fluoroscopy in concert with a display away from the incision to guide live anatomical orientation. With Caduceus, surgeons can now focus on the procedure both physically and optically, as the same graphic orientation is displayed directly onto the patient through mixed reality glasses – improving outcomes through reduced procedure times and greater surgical accuracy.
Recommended article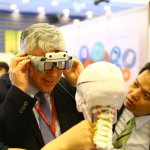 News • Tech from Taiwan
Physicians have been performing surgery with the assistance of x-ray technology for almost half a century. While this technology has been progressing steadily, its limitations continue to be a major challenge. Thus, many professionals agree: it's time for our method to be changed. Taiwan Main Orthopaedics Biotechnology introduced the worldwide first smart surgical glasses.
Especially in operating theaters, the power of imaging is driving positive outcomes and allowing new procedures. However, to be beneficial, systems must be well integrated and allow interaction with surgical teams. Advantech, Taiwan's leading embedded platform provider, now offers complete digital visualization ecosystems for multiple settings. Its AVAS-200, 400 and 60 series complete a portfolio of options for management of visual assets, intuitive control systems and accuracy and impact of 4K graphic quality.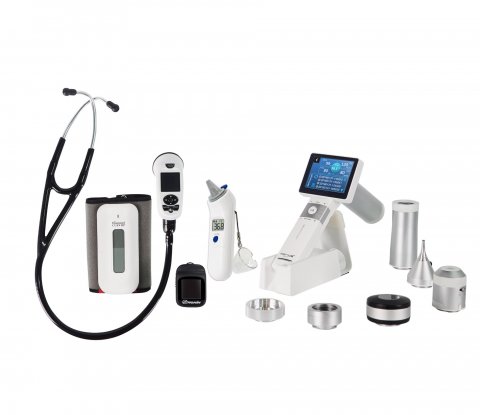 Whether within massive medical institutions, rural clinics or independent ambulatory settings, staff must remain agile and connected. Horus 3 provided by Medimaging Integrated Solution, Inc. (MiiS) is a platform designed to meet these demands. This suite of wireless patient data-capture devices gives nurses and doctors the ability to quickly complete exams and to upload critical information into the medical record. Horus 3 consolidates a stethoscope, thermometer, sphygmomanometer, oximeter and camera on a single platform – opening opportunities and enhancing efficiency in examination suites via improved data collection.
Take advantage of MEDICA 2019 to experience leaps forward in 5G, AI, VR/AR and robotics. MEDICA is a premier opportunity for Taiwanese companies to develop relationships throughout the year. Staff and representatives of these innovative companies welcome the chance to engage, exchange and demonstrate their advances in Hall 17, Stand A40. A press conference, on Tuesday, November 19, at 10:00 am in Hall 8b, room 814A, will present a detailed briefing and provide a collegial setting for thought-leaders to receive further information about these developments.
For more information, please visit: https://www.taiwanexcellence2019.de/pc/
Source: Taiwan Excellence