Article • Trade fair presence
Taiwan blends tech and tradition at Medica 2023
AI features for automation, integrated systems and more: the role of medical technology has never been as vital as today, and MedTech companies from Taiwan are putting their best foot forward to contribute. At the 2023 Medica trade fair, visitors of the Taiwanese pavilion not only had the opportunity to see the latest medical products on display, but also get acquainted with Taiwanese culture in a five-senses experience.
Report: Wolfgang Behrends
The "Taiwan Excellence" press conference, which was jointly hosted by the Taiwan External Trade Development Council (TAITRA) and the International Trade Administration (TITA), again highlighted outstanding examples of the island nation's ingenuity, showcasing award-winning products and their manufacturers.
Digital technology has become indispensable in healthcare. This brings new possibilities, but also new challenges, with our industry providing solutions to bridge these gaps

Pei-Yu Lin
'We are confident that these products will bring positive change for healthcare,' said Mr. Franz Huang, general Director of the Taipei Representative Office in the Federal Republic of Germany, in his introductory speech. He further highlighted the importance of the longstanding strong trade relationship between Taiwan and Germany. 'With an export value of US$ 7.51 billion in medical products in 2022 and Germany as our top market, we are well positioned to meet the growing global demand in the healthcare sector.'
This was confirmed by Pei-Yu Lin, Deputy Director of TAITRA, who praised the fast and efficient production method and innovative ideas her country has become known for. 'Digital technology has become indispensable in healthcare,' she pointed out. 'This brings new possibilities, but also new challenges, with our industry providing solutions to bridge these gaps.'
Solutions for better vision and stronger cartilage
First of the four companies highlighted in the "Taiwan Excellence" presentation, handheld diagnostic device specialist Medimaging Integrated Solutions, Inc. (MiiS) showcased its "Horus Scope", an AI-enhanced retinal image analysis system. 'Expanding on our portfolio of optical diagnostic solutions, the device is designed to enable GPs to conduct retinopathy eye diagnoses without the need for an ophthalmologist,' explained Mr. James Peng, who presented the new MiiS products, including 5G solutions for ophthalmology, ENT, and dermatology. Another addition to the company's portfolio is a micro camera module (MCM) designed to enhance the flexibility of endoscopic systems.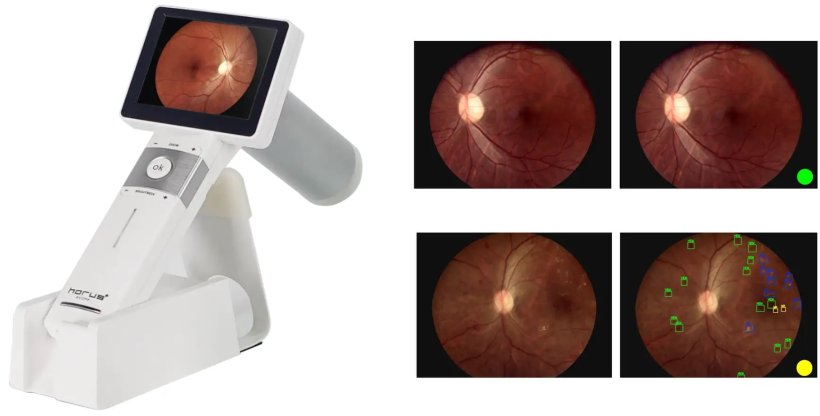 The growing demand for cartilage regeneration in an aging society was addressed by BioGend Therapeutics. Mr. Po-Wei Lee, the manufacturer's Research and Development Manager, showcased their "RevoCart" system, an autologous transplantation solution that regenerates durable, hyaline-like cartilage. Using finely-ground cartilage from the non-weight-bearing side of a patient's joint, the material is enriched using a special enzyme and implanted into the damaged cartilage with a bioresorbable scaffold (chondroplug) – a procedure with proven long-time success in clinical trials.1
Heart-centred computing and AI assistance for CT lung imaging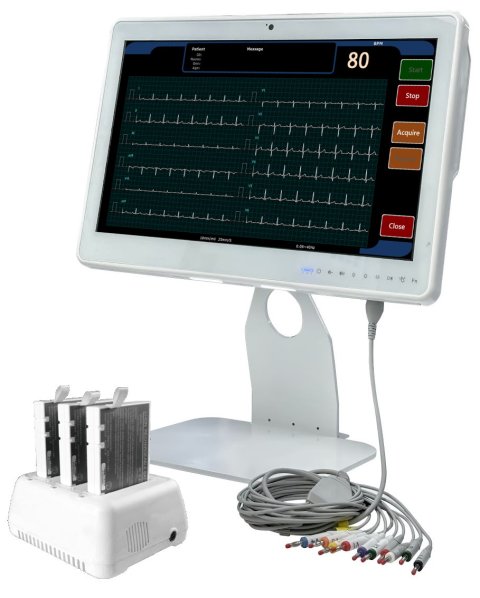 An example of successful collaboration was demonstrated by Taiwanese manufacturers Wincomm and Acme Dynacardia. The specialists for embedded medical PCs and advanced cardiac biosignal detection combined their expertise to build a telemedic workstation with streamlined ECG workflows. 'Our product addresses the growing problem of cardiovascular disease by providing an integrated hardware and software solution specially designed for these cases,' said Ms. Francesca Chao, Director of Strategic Sales and Healthcare Business at Acme Dynacardia, at the trade fair presentation. Additional features such as hot-swappable batteries to ensure continuous operation, anti-bacterial housing and DICOM compatibility further contribute to the workstation's appeal.
Artificial intelligence (AI) was a major topic at Medica, and Taiwanese company V5 Technologies showcased a diagnostic system that capitalizes on the potential of the technology. Their solution is designed to improve diagnosis of lung cancer and lung fibrosis – a condition which greatly increased during the Covid-19 pandemic – on low-dose computed tomography (LDCT) images. 'Currently, LDCT is the only recommended modality for lung cancer screening, but image-based diagnosis remains a challenge – AI can help with this,' Mr. James Lee, Vice President Business Development at V5, pointed out. The AI interpretation software, which has already demonstrated its benefits in a large-scale clinical trial,2 helps in lung nodule identification, accelerates the reporting procedure through PACS and HIS implementation, and helps monitoring treatment progress by comparing nodule growth across different scan times. The AI system will be made available as local solution or through subscription and pay-per-scan models, Mr. Lee reported.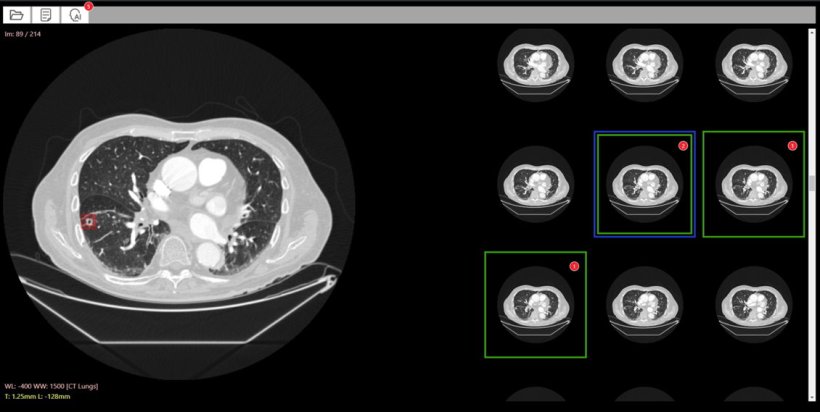 Image source: V5 Technologies