Article • Innovation from Spain
Tackling an epidural anaesthesia complication
Four potentially game changing solutions selected for the annual commercial acceleration program of the Spanish foundation for innovation and prospective in healthcare (Spanish: FIPSE), included Duralock, a system that could ease post partum pain by avoiding postdural puncture headache (PDPH), a common complication of epidural anaesthesia.
PDPH occurs when the anaesthesiologist punctures the dura mater, an act that can generate a breach through which spinal fluid escapes. Being able to seal this breach by placing an implant can help prevent the occurrence of invalidating and sometimes long lasting headaches, according to Carlos García Vitoria, an anaesthesiologist from Valencia, who long thought about a way to get past the problem.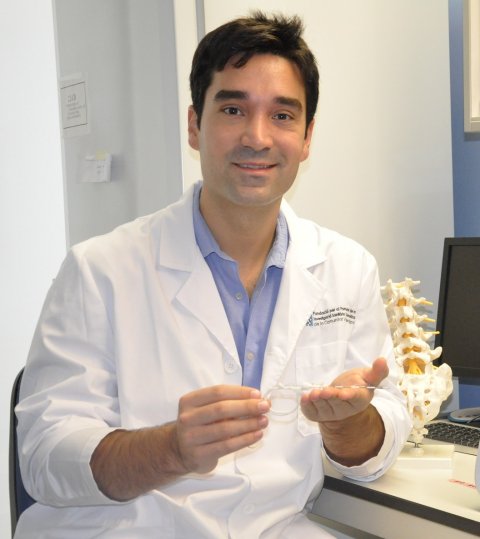 Epidural puncture aims to relieve pain, but paradoxically in 2% of cases it can cause a more intense and lasting pain than the original discomfort, which motivated drug administration. We need to evaluate how to act before headache occurrence to discard this invalidating clinical scenario,' said García, who led a team of anaesthesiologists and engineers from Dr Preset University Hospital and Valencia Biomechanical Institute to develop Duralock, a sealing system that can help avoid PDPH. The system comes in a kit that includes an implant and tools necessary for its insertion through a needle that is conventionally used in epidural puncture. The implant can be applied in 30 seconds with just one hand in a completely sterile way, and does not present any risk of additional dural perforation, García pointed out.
Besides impairing the patient's life, PDPH can extend hospital stay by five days and generate higher healthcare costs. In 2005 in Spain, accidents occurred during 3,425 dural punctures. García estimated that Duralock could help to save as much as €10,500,000 annually for the nation's health service. Due to the award, received in March in Madrid, the product can benefit from the medical industry's expertise to help speed up release to market, notably by helping recipients to remodel strategy and business plans. Among the winning initiatives, Duralock will be featured at BioBoston 2018 and JP Morgan Healthcare 2019 in San Francisco, to boost its visibility in the North American market.