Strategies for radiation dose reduction in contrast enhanced CT
Recent years have seen growing awareness among radiologists about the radiation burden delivered by computed tomography. And the amount of exposure is continuing to grow, despite the ability of modern CT scanners to provide good image quality at lower dose.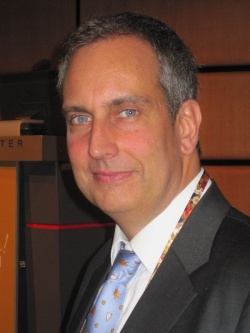 Some of the issues surrounding that subject were outlined at a Satellite Symposium organised by Bracco on Friday entitled "Strategies for Radiation Dose Reduction in Contrast-Enhanced CT" with tips on how to reduce the dose without losing image quality.
Professor Mathias Prokop from Radboud University Medical Center in Nijmegen, The Netherlands, said that radiation dose reduction always requires lowering the mA or kV settings, though that increases noise if all other parameters are kept constant. He said mA settings need to be adapted continuously to get the best results.
Professor Prokop added: "Tube voltage reduction uses another principle for reducing dose while keeping image quality acceptable: at lower kV the attenuation of iodine or calcium is increased, which leads to higher contrasts."He also stressed the importance of adjusting the window width to accommodate increased contrast enhancement.
Professor Christoph Becker from Grosshadern Clinic Center, Munich, discussed the situation within the context of coronary computed tomography angiography (CTA), with CT used for many years to triage chest pain patients.
The use of a large amount of contrast medium and excessive radiation exposure had hindered the broad application of this CT protocol, but he said that newer technology now permits scanning of the chest with ECG triggering in less than a second with minimal radiation dose.He said ECG triggered fast CT scanning also has an important role to play in screening the entire vasculature of patients being prepared for transcatheter aortic valve implantation (TAVI). By Mark Nicholls.
Professor Andrik Aschoff from the Department of Radiology at Kempten, Germany, offered some tips on reducing dose in the protocols for body CT. He suggested that one way of reducing dose to patients is to only perform unenhanced phases if they were absolutely necessary. He said: "The combination of fast scanning, adequate bolus timing and a high Iodine administration rate are the keys to optimized arterial phase MDCT and may help reduce radiation dose." By Mark Nicholls.