Article • Patient-specific parameters in ionizing radiation usage
A more tailored approach to dose reduction
Radiation exposure in diagnostic and interventional radiology is steadily being reduced by new technology and sophisticated scanning procedures – but some important parameters have hardly been taken into account so far, says Dr Kerstin Jungnickel.
Report: Wolfgang Behrends
Image source: Adobe Stock/comicsans
In particular, the medical physics expert is convinced that adapting examination techniques according to age and gender offers great potential for dose reduction. At the German Congress of Radiology, she explained how patient-specific protocols can improve radiation protection and outlined new findings on the radiosensitivity of certain body regions and their impact.
Especially in the female breast, the sensitivity to radiation is significantly higher than previously assumed

Kerstin Jungnickel
The principle of patient-specific dose reduction is anything but new territory: for a long time now, doses have been set as low as possible when examining pregnant and paediatric patients in order to avoid damage from ionising radiation. 'Research has shown, for example, that children under the age of ten are more sensitive to radiation than adults by a factor of about three,' reports Dr Jungnickel. Recent studies further found that gender plays a role1: 'Women are actually more sensitive to radiation than men. The decisive factor here is the different sensitivity of the tissue. Especially in the female breast, the sensitivity to radiation is significantly higher than previously assumed.' On the other hand, the sensitivity of the ovaries and testicles has turned out to be less pronounced than previously believed. 'Radiation protection used to be primarily about gonad protection, but we now know that a more differentiated approach is needed.'
The new findings are based in particular on the Japanese Life Span Study2; this long-term research project investigates radiation damage in survivors of the atomic bombings of Hiroshima and Nagasaki in 1945. The study, with about 120,000 healthy and radiation-exposed participants, continuously provides new insights into the long-term effects of ionising radiation in different types of tissue. The results are also incorporated into the recommendations of the International Commission on Radiological Protection.3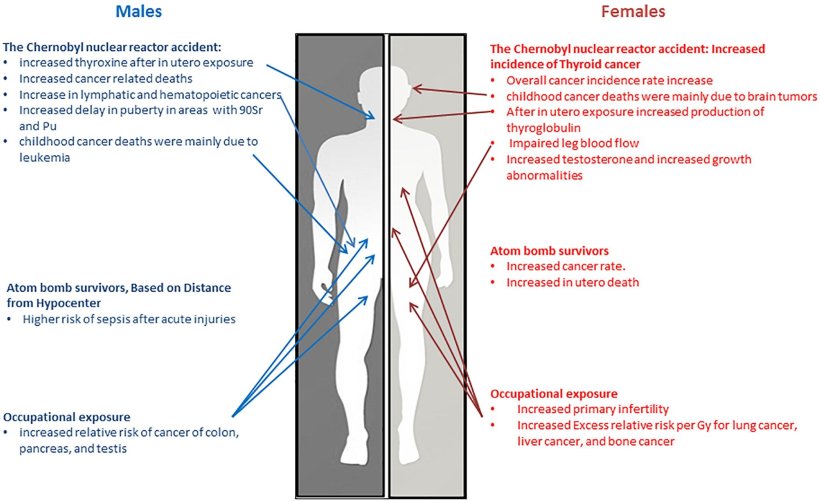 Image source: Narendran et al., Frontiers in Genetics 2019 (CC BY 4.0)
Striking a balance between radiation protection and image quality
The knowledge about different radiation sensitivities of tissues has so far only started to be put into practice. Although manufacturers of imaging systems must offer adapted protocols for the examination of children, and newer scanners even have predefined settings, such as CTs with organ-based tube current modulation, there is still room for improvement, Dr Jungnickel believes: 'It would be desirable, for example, to have a "smart" system that automatically reduces the dose during angiography examinations in the area of the female breast or explicitly protects the uterus in pregnant women. However, both sides need to work towards this goal: On the one hand, the manufacturers who offer such supportive systems, and on the other hand, the medical professionals who know and apply the organ- and tissue-specific examination techniques.'
However, personalising the radiation dose depends on many factors, making the calculation correspondingly complex: 'The necessary dose also depends on whether or not a patient is overweight and which part of the body is being examined. Last but not least, the dose must still be high enough to obtain sufficient image quality, otherwise no one benefits. This is an intrinsic problem in radiology, but I think in the next ten years there will at least be approaches coming to the market that offer patient-specific dose reduction.'
New technology: helpful, but no silver bullet
Radiologists and medical physicists should work together with manufacturers to find ways to reduce radiation exposure wherever possible

Kerstin Jungnickel
In addition to new findings on radiation sensitivity, technical innovations are the main driving force behind dose reductions. In this context, Dr Jungnickel refers to photon counting technology, which is currently considered the next major step in CT imaging: 'This will lead to further dose reduction, as was achieved a few years ago through iterative reconstruction'. However, the expert cautions that even with such innovations, radiation levels cannot be reduced at will. 'There will continue to be advances, but we will always need a certain dose to get a viable image.'
Furthermore, there are areas of application, such as emergency medicine, where radiation protection may not be the top priority: 'In the trauma setting, when in doubt, it's about saving the patient's life, so the speed of imaging clearly takes precedence.'
Nevertheless, Dr Jungnickel's concluding appeal is for all to continuously work towards dose optimisation: 'Radiologists and medical physicists should work together with manufacturers to find ways to reduce radiation exposure wherever possible. To this end, the inclusion of age- and gender-specific criteria is an important building block.'
Profile:
Dr. rer. nat. Kerstin Jungnickel is a medical physics expert at the Institute for Diagnostic and Interventional Radiology at Magdeburg Hospital and deputy chair of the Working Group on Physics and Technology (APT) in Diagnostic Imaging of the German Radiological Society (DRG).
References:
Narendran et al., Frontiers in Genetics 2019: Sex Difference of Radiation Response in Occupational and Accidental Exposure