Image source: Shutterstock/Kateryna Kon
Article • Prevention
Specimen diversion devices lower blood culture contamination
Blood cultures are among the most important laboratory tests a patient can have, especially to diagnose serious infections. Contamination is a constant concern – a patient could be misdiagnosed due to a false-positive test.
Report: Cynthia E. Keen
Even with the most diligent quality control measures to limit contamination, including rigorous skin disinfection, contamination may occur from skin fragments colonised with bacteria that are dislodged with venipuncture. However, when initial specimen diversion (ISD) techniques are used, potential rates of contamination from skin fragments can drop to near zero.
The effectiveness of using an ISD device to reduce blood culture contamination (BCC) rates and a new national movement in the USA to reduce the BCC hospital benchmark to 1%, or less, were topics of an April 2021 Dark Daily webinar featuring two experts in infection control. They discussed the impact that an ISD device that separates the initial blood draw from the laboratory samples can have in significantly reducing BCC rates in hospitals, referencing findings of numerous clinical trials.
Unacceptable: The USA's 3% BCC benchmark
If you factor a 3% contamination rate, 40% of these are false positives. As a nurse, I cannot think of any other test performed in a hospital that is incorrect 40% of the time

Barbara DeBaun
In 2007, the American Society of Microbiology recommended that BCC rates should not exceed 3%, a threshold that is now considered to be acceptable in U.S. hospitals. By 2011, articles in peer-review journals began citing this as a standard. 'This rate is woefully inadequate. It was never published as a standard,' said Dennis J Ernst, founding director of the Centre for Phlebotomy Education in Cheboygan, Michigan, USA. 'Emergency department tests for sepsis, the number one cause of death and readmission in U.S. hospitals, average about 8% positive. If you factor a 3% contamination rate, 40% of these are false positives,' said Barbara DeBaun, RN, of Cynosure Health in San Francisco. 'As a nurse,' she added, 'I cannot think of any other test performed in a hospital that is incorrect 40% of the time.'
When a patient has a false-positive test for sepsis the implications are huge, she pointed out. If a patient is given unnecessary antibiotics, these may cause kidney damage, higher risk of staph infections, and resistance in the future. A false-positive blood culture can increase an in-patient's hospital stay by two or more days, which is costly, a waste of hospital resources, and a risk to the patient of developing an infection. DeBaun stated that the average cost per false-positive incident is an estimated $4,300 to $4,700 for an in-patient.
In the USA, a national movement is underway among healthcare professionals to establish a new standard benchmark of less than 1% for BCC rates. This is attainable, according to the presenters. They believe that the U.S. Centers for Medicare and Medicaid (CMS) should make this a quality measure and reportable.
It is imperative for hospital healthcare providers to rigorously practice and enforce proven techniques and quality control measures associated with BCC prevention. These include skin disinfection, strict aseptic practices and quality control, the use of a pre-packaged blood culture kit, and ample education and training. 'But, when a hospital is doing everything right, contamination may still be caused by skin fragments. Active diversion of the initial 1.5 to 2.0 mL of blood using a closed system has been repeatedly clinically proven to reduce BCC,' Ernst said. 'Manual diversion to a waste tube will not solve the problem as effectively. In the best case-controlled clinical study scenario, the lowest published contamination rate achieved was 2%.' uality measure and reportable.
Reducing BCC rates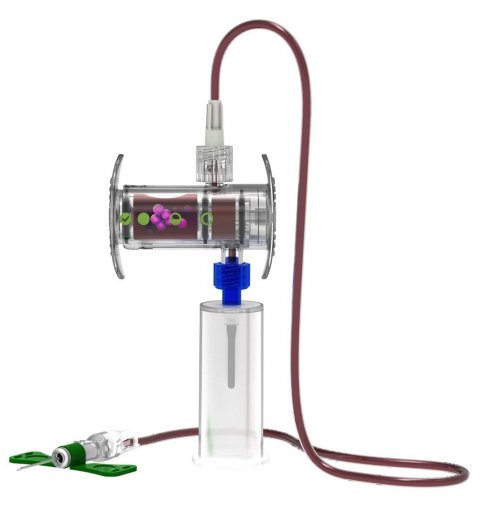 Use of a pre-assembled, sterile blood culture system (Steripath Initial Specimen Diversion Device, Magnolia Medical Technologies) designed to divert and separate the initial 1.5 to 2.0 mL of blood from the rest of the sample, combined with rigidly enforced quality control measures, can reduce BCC rates to 1% and less. This device, which is U.S. FDA approved, is preassembled and sterile. After actively diverting potentially contaminated blood, it collects cultures through a second flow path, creating a closed vein-to-bottle collection system.
Researchers at the University of Nebraska Medical Center in Omaha conducted the first clinical trial of the Steripath device in 2016, reporting their findings in Clinical Infectious Diseases. Professor Mark E Rupp MD and colleagues collected 1,808 blood cultures from 904 emergency department patients during a six-month time period. Each patient had two blood draws, one with the standard method and one with the ISDD. They reported a positive rate of 8.4% among the patients. The contamination rate using the ISDD was 0.21% compared to 1.8% for the standard method. The phlebotomists who used the ISDD reported it was easy to use. It offered the advantages of being able to easily draw additional tubes of blood and eliminated the need to transfer blood from a syringe to blood culture vials.
The presenters discussed 18 additional clinical studies using the ISDDs, all of which achieved at least a 75% reduction of BCC. One of the most impressive was a 120-day hospital-wide phlebotomy study conducted at Stanford University Hospital to compare standard blood culture collection methods with the use of ISDD. This 2019 clinical trial produced dramatic findings. None of the nearly 4,500 collections with ISDD were contaminated, achieving 0%. By comparison, the BCC rate by nursing staff using standard methods was 1.98% and 3.15% by phlebotomy.
Magnolia Medical Technologies plans to launch the Steripath ISDD product portfolio in the European Union a and United Kingdom markets in the near term, according to Bob Gerberich, the company's chief commercial officer.