Renewed
SIGNA line of scanners scales up MRI capabilities
One of the most powerful brand names in MRI imaging is back. At the European Congress of Radiology (ECR) GE Healthcare re-introduced the SIGNA line of scanners, placing at center stage a top-of-the-line performer, the 3 tesla SIGNA Voyager.

Report: John Brosky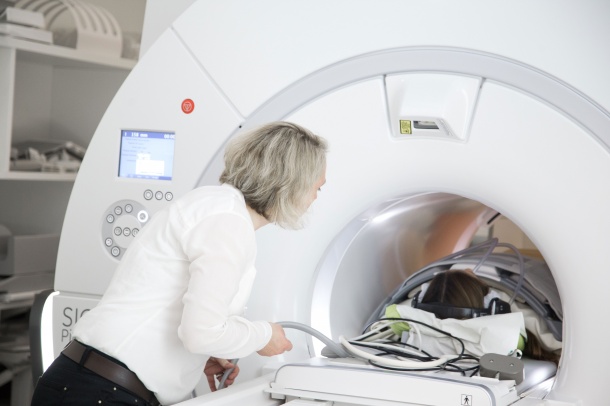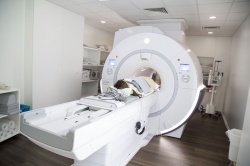 The first scanner to carry the SIGNA name was introduced in 1983 and helped GE Healthcare capture the leading market position for MRI scanners. For the past 10 years, GE scanners have been promoted under the Optima and Briva product names. Yet as it prepared to launch a new platform technology, the company found the SIGNA name continues to have a powerful hold on customers.
At the entry level GE offers the SIGNA Creator for value-oriented customers, and moving up the chain is the mid-range Explorer. For customers with earlier SIGNA scanners already installed, GE offers a retrofit package called the SIGNA Explorer Lift than overhauls the electronics while preserving the magnet to create a new platform.
"If we were to call this an upgrade, everyone would think we were speaking about the software," said MR Product Manager Zoheir Salmani. There are more than 10,000 of the proven and high-performing SIGNA magnets across the installed base that now can be rejuvenated with state-of-the-art Explorer capabilities and the highly successful GE SilentScan feature.
At the top of the line is the 3 tesla SIGNA Pioneer with wide bore, designed and developed in Japan. Twenty systems have been shipped and installed since November, Salmani said.
The more muscular SIGNA Pioneer is loaded with a unique capability called MAGiC for what GE terms one-and-done imaging. Using MAGiC, a single MRI scan can generate multiple image contrasts, including T1, T2, STIR, T1 FLAIR, T2 FLAIR and PD weighted images, even after the scan is completed and the patient has exited the MR room. GE estimates the post-processing capability cuts by one-third the time over what would be required to acquire separate sequences.
In a class by itself is the 3 tesla SIGNA PET/MR capable of simultaneous acquisition of functional molecular and morphological exams. At ECR GE Healthcare presented off the new MR compatible silicon photomultiplier detector technology that picks up the radiation signals of nuclear tracers even under the powerful magnetic field. The new PET detectors with lutetium based scintillator increase sensitivity, expand the field of view and enable a "turbo time-of-flight" reconstruction unique to SIGNA PET/MR.
More on the subject:
More on companies: