Siemens re-engineers radiography with flat emitter, new detector
In the highly competitive US market for interventional radiology, Siemens introduced a ground-breaking new imaging chain for the Artis line that sets a new standard for image quality.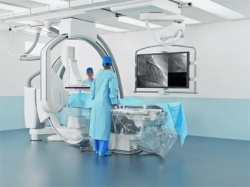 A cross all imaging modalities, Siemens introduced at RSNA technologies that boldly advance its medical imaging platforms. This tour de force includes a re-engineering of the Artis suite for interventional radiology that marks a clear departure from conventional systems.
According to Siegfried Schneider, the Senior Director Product Marketing Interventional Radiology, the new Artis Q and Artis Q.zen angiography systems represent a complete redesign of the chain enhancing the systems' ability to generate, process and then visualize real-time images for complex surgical interventions.
The new systems also further distance Siemens from the competition in a market where it is the market leader for less-invasive interventional procedures in neurology, oncology, and complex placements of aortic stents.
Siemens also holds nearly two-thirds of the US market for hybrid operating rooms, surgical theaters that can serve either for interventional or traditional surgery, he said.
The re-engineering of the Artis platform includes a re-building of both hardware and software. The system is currently awaiting a 510(k) approval from the FDA.
Extending the break-through flat emitter technology introduced at RSNA on the Artis Zee line three years ago with the Megalix tube, the new Gigalix expands coverage of quadratic focal spots providing a fuller field for generating a high level of detail in imaging-supported interventional therapy.
Visibility of small vessels in the brain, for example, is increased by a startling 70 percent.
The flat emitter replaces the conventional coiled detector used by competing interventional radiology platforms.
"This capability was developed completely internally by Siemens engineers," said Schneider, adding his assures the competitive edge is sustainable.
The second-generation redesign also includes a crystalline silicone, 16-bit detector compared to the 14-bit amorphous silicone detector on the Artis Zee.
The small-sounding advance of two bits generates a four-fold increase in gray scale resolution.
The combination of the Gigalix tube with the new detector allows Artis to apply greater power for a significantly higher image quality but, paradoxically at a lower dose for the patient.
Schneider explains that thanks to the sharp quadratic focus of this increased power is more homogenous, allowing for more effective amplification of the signal, greatly reducing the electronic noise even at ultra-low doses.
This is especially important in dose-sensitive application fields such as pediatric cardiology and radiology, or electrophysiology, which is being used on more and more patients as rates of cardiac arrhythmia increase in an aging population.
Software enhancements on the Artis Q and Artis Q.zen systems include applications for precise correlation of angiography images with ultrasound images, motion stabilization for image correction and new 3D applications with ultra rapid reconstruction to aid both in planning surgeries and during intricate interventional procedures.
"For the interventional radiologist, all of this technology enhancement simply provides a greater detail and contrast resolution than they have ever seen before," said Schneider.

More on the subject:
More on companies: