Recession fears penetrate RSNA 2008
Chicago, November - At first glance, the 94th Scientific Assembly and Annual Meeting of the Radiological Society of North America appeared to be bigger than ever and impervious to the massive economic recession of its host country. RSNA 2008 ate into every inch of Chicago's McCormick Place trade centre. To reduce crowd congestion, technical exhibitions had been expanded to include a third massive exhibit hall.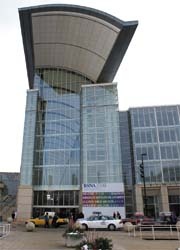 Crowding and congestion in the aisles were indeed reduced. In fact, there were 24 fewer companies exhibiting and 3,373 fewer vendor employees, a drop of 12% compared to the record vendor participant attendance of 2007. And even though more exhibit hall space was now available, the total area rented was 47,759 square metres, a reduction of 4% in rented space compared to the previous year.
Throughout the RSNA meeting, the visual effect was that each exhibit hall was sparsely populated and professional attendance had plummeted. In fact, it had not. The RSNA reported a decline in professional attendance of only 1%, or 778 fewer medical professionals and a total attendance of 58,795.
Judging by the size of the crowds in the hallways and sky bridge linking exhibition halls and seminar rooms, it appeared that a good number of professional attendees were not keen on physical expansion of the exhibits. At the RSNA, where a stroll around exhibition halls can lead to the discovery of new products and services, the three-hall layout may have had a totally unexpected, very detrimental effect. With the exception of the smaller vendors lucky enough to find their booths strategically positioned near the huge displays of Agfa Healthcare, Fuji Medical Systems, GE Healthcare, Philips Healthcare and Siemens Healthcare, many vendors were publicly saying that radiologists and their administrative staff were not visiting the exhibit halls in the way they had done during the past decade.
This does not bode well for the economic well-being of diagnostic imaging vendors. Just prior to the RSNA meeting, Philips Healthcare had announced that 1,600 jobs would be cut in 2009.
Mark L Vachon, GE Healthcare's president and CEO for global diagnostic imaging, said in an interview with international news agency Reuters that GE Healthcare probably would also reduce jobs and cut costs (see report on Page 3). Additionally, the American Hospital Association (AHA) had recently published a report stating that 45% of US hospitals surveyed stated they were delaying purchases of clinical technology or equipment, and that 3% were delaying IT investments.
With so many US companies filing bankruptcy or shutting down, some RSNA attendees also appeared very cautious about ordering products from smaller vendors. The topic of vendor survival and the robustness of the diagnostic imaging industry to withstand a recession successfully appeared to have been discussed more than the RSNA 2008 scientific programme itself.
Some programme highlights
During the opening session the focus was on the RSNA's goal to work with other international radiology societies to establish a uniform global standard of practice. RSNA President Theresa C McLoud MD, said that universal availability of images electronically, and the potential of universal access to global specialists through Internet technology, has 'flattened' the world, and made the need for worldwide uniform standards for radiology professionals of critical importance. She recommended that 'radiology training and residency curricula should reflect international changes in our specialty and the need for subspecialisation'. In addition to the implementation of a core curriculum for three years of residency training, Dr McLoud recommended that all radiologists should have two years of subspecialty training. Global certification should include a national board to oversee standardised exams, managed through the cooperative efforts of the world's radiology societies.
Professor Maximillian F Reiser MD, Chair of the Department of Clinical Radiology, Munich University, was named Honorary Member, the highest tribute the RSNA bestows to radiologists who do not work in North America. Dr Reiser was recognised for his leadership in European radiology, specifically cited for his vision and work for the European Congress of Radiology (ECR), the European Society of Musculoskeletal Radiology, and the German Radiological Society. Another new Honorary Member was neuroradiologist Dr Jian-Ping, President of Beijing Tiatan Hospital, who is also principal advisor for radiology to the Chinese Ministry of Health.
More than 1,800 scientific papers, 1,606 education exhibits and 729 scientific posters were accepted.
Ways to reduce the use of CT exams by replacing them with procedures where patients would be exposed to less or no radiation dose was emphasised, and an entire session was dedicated to paediatric CT dose reduction.
Virtual colonoscopy, cardiac CT angiography, breast imaging, and ways to use 3-D and CAD software also took up whole sessions. Breast imaging – mammography, ultrasound, MRI and positron emission mammography – were also emphasised.
The relationship of radiologists with industry vendors, the rationing of scarce radiology services and better utilisation through the use of examination results software, minimising the retake of procedures for emergency patients via the better use of DICOM CDs, better workflow allocation and performance using PACS, speech recognition systems, and structured reporting, and the acknowledgement of job stress and methods to reduce it were also key topics.
For more detailed information European Hospital readers are encouraged to visit our online magazine www.european-hospital.com or AuntMinnie.com, which provided daily on-line coverage of the
most important and provocative sessions and posters.