Quality control in minimally invasive surgery
There is a need for a national institue to co-ordinate education and certification in minimally surgery.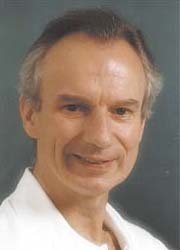 Professor Reinhard Bittner FRCS, of the Department for General and Visceral Surgery, Marien Hospital, Stuttgart, urges the foundation of a national institute to co-ordinate education and certification in minimally invasive surgery, and to co-operate with pharmaceutical companies to improve instrument technology.
Minimally invasive surgery (MIS) is, after the introduction of anaesthesia and asepsis, appropriately designated as the third patient-friendly revolution in surgery:

It dramatically changed the face of surgery by not only minimising the access trauma, but also by giving new impulses for a less traumatic method of operating. In over 3,000 studies - which include about one third controlled clinical and about 200 randomised controlled trials, as well as meta-analyses and review articles - the results were analysed and compared with those of conventional surgery. In terms of the criteria of evidence-based medicine, significant advantages of MIS methods were described, regarding all pain associated parameters, duration of hospitalisation and period of complete physical and mental rehabilitation, compared with conventional techniques. Moreover, several authors observed a reduction in the complication rate, as well as an improved oncological long-range prognosis.

Indeed, MIS advantages only appear on condition that the surgery is performed with a low complication rate. Patients with complications, particularly when converting to an open technique became necessary, show worse results throughout than patients operated on conventionally in the first place.

Whereas it was initially assumed that an experienced surgeon could adapt the new technique without difficulty, laparoscopic surgery turned out to evince a substantial learning curve, especially concerning the 'video-eye-hand-coordination'. Learning the new technique appeared to require not only time, but also patience, mental strength and persistency. Among standardisation of operating techniques, concern about a structured education came to the fore, with the objective of benefiting patients as much as possible from the advantages of MIS, as well as appropriately avoiding complications. Subsequently, in 2000, the German Society of Visceral Surgery founded an association of minimally invasive surgery (CAMIC). By organising many meetings, including video demonstrations and live operations, CAMIC fulfilled its obligation to promote standardisation and further development of minimally invasive surgery. In addition, a network of clinics was established to enable training in the new technique. These clinics need to provide a defined catalogue of structural and process quality requirements, as defined by CAMIC. External audits with adequate certification are planned for the future. Admittedly, extensive financial resources are required to realise this idea.

As a further step to improve quality, CAMIC introduced 'minimally invasive surgery' curriculum, as a certified additional qualification. To obtain this additional certification applicants must verify a certain training, as well as a specific operating catalogue defined by CAMIC. Additionally - and this is absolutely new worldwide - they need to submit three uncut original videos of different, self-performed operations. In this, an tool is created that enables estimation of the surgical abilities of an applicant comparatively, in an objective way. An expert opinion points out, in detail, the applicants' strength and weakness in technique.

In our opinion, the implementation of the curriculum is a great opportunity to standardise the technique and minimise complications in MIS. Till now, unfortunately, on a few surgeons (about 60) have used this opportunity, not least because the concept is voluntary. Further acceptance may be expected if hospital administrators do not merely assume a 'knowledge in minimal invasive surgery' but also demand the 'minimally invasive surgery' curriculum for surgeons who want to achieve a leading position.

However, to promote this process, the efforts of other scientific and medical associations are needed.

Currently, minimally invasive surgery could be viewed as a surgical 'innovation'. Broad fields of surgery are affected, which include enormous patient groups (biliary tract, inguinal and incisional hernia, appendicitis, colorectal and reflux disease). The advantages of MIS compared with conventional techniques are less pain and faster rehabilitation. One disadvantage of this new unfamiliar technique is a difficult 'video-eye-hand-coordination' due two-dimensionality and resulting loss of depth perception. The education and therefore safe performance of the operation are critical points. To ease minimally invasive surgery, a national institute that co-ordinates education and certification and co-operates with pharmaceutical companies to improve instrument technology, is urgently required.