Pushing for prevention
Anja Behringer reports
At the 11th International MR Symposium radiologists were urged to co-ordinate a campaign to detect disease earlier, and a new 'tandem' concept for diagnosis and therapy was revealed.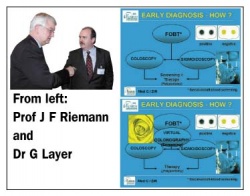 Calling for radiologists to coordinate a comprehensive prevention campaign, Hans-Ulrich Kauczor, professor of oncology diagnostics and therapy at Heidelberg University and head of radiology at the city's Cancer Research Centre, described the potential for this presented by advances in magnetic resonance imaging (MRI) systems.

Professor J F Riemann, director of Medical Clinic C, in Ludwigshafen, concurred, adding that, although colorectal carcinoma causes the second largest number of cancer deaths after bronchial carcinoma, the German public's interest in primary prevention is low. This, he said, makes preventive measures, i.e. early detection of polyps and carcinoma, even more important. 'Due to the low sensitivity of the occult blood test and high incidence of undetected lesions during sigmoidoscopy, coloscopy is now the preferred screening procedure, medically and financially.' An American national study on polyps clearly showed that consistent polypectomy for the early stages of cancer prevented the development of colorectal cancer in up to 90% of cases, he said. Thus, from October 2002, coloscopy has been included in the German medical insurers' early cancer screening programme.

The professor went on to present a concept in which radiology could be used for secondary prevention. In this, a new 'preventive' radiologist would head an interdisciplinary medical team to care for a patient. However, he conceded that the economic benefits of such a system must still be considered.

Secondary prevention is about identifying the early stages of a disease, for which risk factors are present but there are either no symptoms or non-specific symptoms. This presents the radiologist with much to examine, and for that the method of choice is virtual coloscopy of the large intestine, to detect polyps or tumours. Other possible indications: cardiovascular and neurodegenerative diseases and their differential diagnosis, plus various metabolic risk factors.

Dr G Layer explained that, since 2001, an interdisciplinary working group at Medical Clinic C and the Central Institute for Diagnostic and Interventional Radiology, had been working on an intensive diagnosis of gastroenterological diseases, and that this rare German example of 'cooperation not confrontation' has resulted in the establishment of MRI in routine gastroenterological diagnosis.
In view of the low public interest in colorectal cancer screening, specialists now wonder whether the additional offer of modern imaging procedures would generate more interest in this preventive care. Previously, a complete depiction of the colon was only possible via computed tomography (CT). Depending on the method used, this screening system offered a sensitivity of over 90% for polyps larger than 1cm, but it exposes a patient to a certain amount of radiation - and early screening programmes also include those who are clinically healthy.

Due to further developments in MRI, colonography is now possible without radiation exposure. 'However, this type of screening is still in its early stages compared with CT-colonography,' said Dr Layer. 'It needs further evaluation in prospective studies.' The underlying formula seems to be what's been said in the USA: 'MRI is good for healthy people, CT is good for those who are sick'.
The latest project at the Ludwigshafen Clinic is virtual imaging of the large intestine, as well as examination of the biliopancreatic system and small intestine. In this the patient is cared for by radiologists experienced in interface imaging diagnostics who share their endoscopic expertise with experts in gastroenterological diagnostics and therapy. 'If existing methods are to be improved and new procedures developed, the potential of MRI in diagnoses in this area can only be effectively utilised through cooperation,' said Dr Layer, who has developed, with Prof. Riemann, what they call the 'tandem' concept - which works due to their close cooperation in their fields of expertise.

In tandem - coloscopy is combined with diagnostic procedures such as MRI colonography, thus bringing the number of unpleasant examinations for a patient to a minimum and saving time for all involved. Those who come for colon cancer screening and are found to have no gastrointestinal symptoms are offered an MR colonography, after receiving initial consultation and advice. If polyps or any other pathological problems are detected, a therapeutic coloscopy follows.