Promoting international standards for breast cancer therapy
The European Academy of Senology
Senology is fast becoming a medical specialty that utilises methods and knowledge from various medical disciplines specifically to treat breast cancer. Based in Dusseldorf, the European Academy of Senology (EAoS) aims to close the gap between theory and practical applications.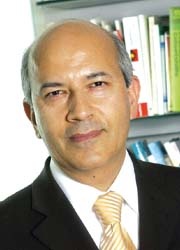 We asked EAoS founder Dr Mahdi Rezai to describe the major barriers on the route to standardised, high-quality senological care and how he and his Academy-partner Professor Umberto Veronesi, in Milan, plan to overcome such obstacles.
'In 2000, we founded the West-German Breast Centre in partnership with the Dusseldorf University Hospital,' explained Dr Rezai. 'Initially, we had planned to gather therapy data from as many hospitals as possible for benchmarking. We wanted to know what exactly breast cancer therapy looks like in Germany because, at that time, there was no systematic collection and analysis of country-wide data. We have now collected almost 35,000 data sets of breast cancer patients, most of whom underwent surgery. Using 11 indicators we analysed the data and assessed the quality of patient care. Obviously, knowledge on breast cancer is developing at a terrific pace and we wanted to devise ways and means to spread the new knowledge as widely as possible. Therefore, last year we started the European Academy of Senology with the cooperation of Professor Veronesi.'
Discovering their mutual interest after a couple of meetings, the pair discussed at length how to shape the future of senology in Europe. In October 2007, contracts were signed with Essen University Hospital and the AOK-Rhineland, a major German regional health insurer. By June 2008, the curriculum draft was ready, teaching staff had been hired and the whole administrative structure organised. 'Our concept was a huge success,' Dr Rezai said. 'Looking at the sheer number of applicants, mainly medical directors and assistant medical directors, we can say that we are booked for the next three years.'
There is, he said regretfully, no comparable institution for senology training anywhere else in Europe. Germany has, for example, 750 facilities where surgery can be performed, but there are only a few surgeons. 'Our aim is to establish an internationally renowned Centre of Excellence built on the three pillars: research, teaching and patient care. Accordingly, we created the Academy and a transnational research network with different European institutes, where physicians have the opportunity to develop their knowledge and skills.'
The EAoS training programme is geared towards preparing medical directors and assistant medical directors who will head breast cancer centres. Currently, he explained, trainees are exclusively German physicians, but applications have come in from Sweden, Belgium and Poland. As a result, EAoS will provide courses in English. Following requests from colleagues, certain modules also will be offered in Austria
Each programme participant will complete seven modules followed by a two-week assistantship, either at the breast centre in Dusseldorf, or with Prof Veronesi in Milan. 'Since we consider it very important to keep in touch with the alumni of the EAoS training programmes, we founded the Kompetenz-Club, for which we will organise further workshops and networking events, for example during the senology congress.
'We have received excellent feedback from the participants. Particularly in this initial phase of the Academy we consider professional evaluation of the training programme to be very important. This obviously included asking participants for their individual opinion – which so far has been positive throughout. Personally, I am particularly happy to see the strong emotional bonds between the participants and us. Whenever a problem occurs, they turn to us, or they present individual cases that we discuss in the group. In fact, we also perform surgeries together, either in our facility or in the participants' hospitals. This development gives me reason to hope that we may, after all, be able to establish top-quality senology care throughout the country — and indeed throughout Europe.