Positron emission mammography (PEM) improves breast cancer management
US-American researchers have shown that positron emission tomography (PET), a tried procedure, is a helpful modality to detect breast cancer.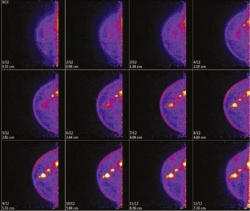 Dr Frank Müller and his team of radiologists and nuclear medicine specialists in Ludwigshafen, Germany, are the first office-based physicians in Europe to use positron emission mammography (PEM) successfully.
The medical and psychosocial aspects of breast cancer detection have long been a major focus of Frank Müller's work as he particularly aims to offer a definite diagnosis quickly and transparently in order to spare his patients superfluous examinations and therapies.
The better of two imaging worlds
PEM is a highly innovative specialist application of PET to visualise tiny breast tissue changes. The technique is based on the same principles as its 'big sister' PET: it analyses increased glucose metabolism in the cancer cells via an injected radio­tracer – usually FDG, an analogue of glucose incorporating F18, which has a very short half-life.
A special detector head identifies FDG uptake and the data are converted into high-resolution images of the breast tissue. The examination procedure itself is very similar to conventional mammography: the breasts are individually placed between two plates and compressed but, while in a conventional mammography a pressure of about 20 kg is applied, PEM requires only 7 kg.
Benefits in early detection, therapy planning, monitoring and follow-up
'PEM can detect tumours of a mere 1.6 mm – about the width of a rice grain,' Dr Müller explains. 'The most important advantage: at this early stage breast-conserving surgery is still possible. Moreover, all suspicious lesions in the breast and the axilla can be identified in one session and surgery can be planned precisely, which means that superfluous interventions can be avoided.
'If a biopsy is needed to histologically confirm a preliminary diagnosis, it can be performed right during PEM with a device attached to the imaging system. The tissue sample is immediately tested and the radiologist checks whether the sample is sufficient or whether further biopsies are required.'
The more tissue samples are analysed, the more precise the histological results. PEM offers a further major advantage: therapy response can be evaluated reliably after only two weeks. While other modalities allow assessment of therapy response only after about three months, PEM can indicate a necessary change of therapy much earlier. 'Thus patients are spared ineffective therapies with their negative side effects and they are informed early about therapy successes. This strengthens motivation and confidence in the physician's work,' Dr Müller points out.
In addition, because its performance is not affected by scar tissue, PEM is well suited for follow-up and relapse detection.
Observed PEM advantages:
• Unambiguous and fast diagnosis. Suspicious lesions can be biopsied and evaluated quickly and reliably
• Dense breast tissue and menstruation cycles do not affect the quality of the procedure
• Patient-friendly examination in a sitting position, no tube, no claustrophobia
• Higher specificity than MRI, which means fewer unnecessary biopsies particularly in smaller lesions
• Increases options for breast-conserving surgery
• Chemotherapy response can be evaluated after two weeks.
High specificity and sensitivity
Müller's own research supports study results by US-American researchers: PEM detects breast tumours with a sensitivity and specificity of more than 90 percent. In a comparative study of PEM and breast MRI in 68 women with suspicious lesions Dr Müller found PEM to show a sensitivity of 100 percent and a specificity of 94 percent with tumours of 9 mm. He is convinced: 'PEM offers superior precision at high resolution compared to other modalities, such as mammography, breast ultrasound or breast MRI. It thus offers many advantages for the patient with suspected and confirmed breast cancers.'
Profile:
Dr Frank H H Müller studied medicine at Free University Berlin. As research associate at the Institute of Human Anatomy, his dissertation focused on glucose metabolism. During specialist training in imaging diagnostics and nuclear medicine at Charité, Berlin, in 1996 he became involved in establishing its first PET service. From 2001 he led the organisation of a nuclear medicine and PET centre at Auguste-Viktoria-Krankenhaus in Berlin-Schöneberg. Dr Müller has been an office-based radiology specialist in Ludwigshafen, Germany, since 2003 and, from 2011, chairman of chairman of PET e.V.