Fujifilm's continuing global presence
New business ventures, new systems – and those include 3-D mammography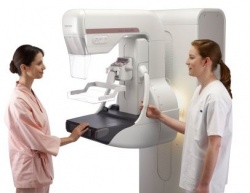 Since the Japanese firm Fujifilm, which had held a premier position worldwide for brilliant, high-resolution photographs and films, was transformed into Fujifilm Holdings Corporation, a multinational concern with almost 82,000 employees worldwide, the firm has evolved to cover a large range of technologies, ensuring the expansion of the existing business as well as formation of new business areas, such as the production of medical devices, highly functional materials and further high-tech applications. With three core business sectors, imaging solutions, information solutions and document solutions, the corporation has achieved a constant worldwide turnover of more than €20 billion annually over the last three years. With above average R&D investments of 7-8% of group turnover, the company aims for leadership in technology in many business areas, as well as for diversification into new sectors. Over the past few years, Fujifilm has indeed demonstrated its ability to change impressively.
Medical systems
Fujifilm is a pioneer in digital diagnostics and is expanding into prevention and treatment areas. The current diverse product range within the medical systems sector offers imaging systems for diagnostics, image archiving and communication systems (PACS), imaging plate systems, digital radiography, flat panel detectors, digital mammography, dry imager, X-ray systems, X-ray film, endoscopy systems and ultrasound. The erstwhile classic revenue driver X-ray film is becoming less and less important as the trend towards digitisation is irreversible and driven particularly by costconscious healthcare systems that need to achieve optimum cost savings, explains Jan Döhring, who is Marketing Co-ordinator of Medical Systems Europe. Branching into digital radiography and IT, the firm's business model has also changed from consumer goods to a more projectbased business.
'Essentially, we don't need salespeople as such, but rather consultants and specialists who are aware of customers' medical equipment, are familiar with the highly complex technology and able to install and maintain it. Success can no longer be measured immediately but develops over time. This adjustment is the turning point that the company currently has to master,' he explains. However, Fuji set the course for this development at an early stage: it had one of the first web-based archiving systems as a PACS and, with a complete line-up of panel sizes, Fuji is among the leaders in digital radiography worldwide. 'This is one of Fuji's core strategies: Wherever we were market leaders in CR; we also want to be in DR. Detectors development is progressing accordingly.'
Europe's north-south divide
In Europe, Fujifilm has the largest turnover and biggest market share in the large national economies of Germany, France, Great Britain, Italy and Spain and lately also Russia. From a technology and regulatory aspect, there is now homogenisation across Europe, but there continue to be big differences regarding radiation exposure and price. The highest prices can be gained in Scandinavia, although the country's required standards are also the highest, particularly regarding radiation protection. 'The further south you go, the bigger the price divide, although the standards required are also no longer so high. Things are more difficult in Denmark, Germany, Austria and Switzerland where high standards are required whilst prices are low,' explains Jörg Müller, DR Product Manager for Medical Systems Europe. 'However, with our systems developed for the global market, the flexibility is so high that we can generally meet these different requirements.' On the other hand, the European market is now in the lead in many areas, particularly in mammography. This increases opportunities for Europeans to impact on new technological developments that happen in Japan regarding the modalities and, in America, for the IT sector. This is a positive side effect of the increasing share of Europe in the overall medical turnover of Fujifilm worldwide.
New for mammo: FDR Amulet Innovality
At the ECR in Vienna, Fujifilm is presenting FDR Amulet Innovality, the third generation of the proven, fully-integrated mammography system, an X-ray machine connected to a detector. From the start, Fujifilm took the lead when it came to dose output and readout speed and was therefore predestined for screening. Over the last few years ergonomics and workflow have been further improved with the Amulet F and Amulet S systems. With the FDR Amulet Innovality the company is introducing a completely newly developed detector, which is also based on amorphous selenium (a-Se) but has a completely different structure compared to all other detectors available. 'We have a honeycomb structure that facilitates different readout procedures. This gives us variable resolution and allows us to read mammograms more efficiently for the normal range, the 3-D range and now also for tomosynthesis,' Jörg Müller points out.
The key is totally new geometry for the 24x30cm detector. Radiation absorption is improved significantly by the new geometry and effectiveness is increased by 20% compared to the previous model, the firm reports. The detector's structure was also optimised so that noise was reduced and the signal was much clearer, further optimising the dose and display of details. 'Our new detector currently has the highest detail display and the largest modulation transfer frequency available on the market. This means that the finest details can be sharply displayed without being affected by noise, and users can adapt an examination flexibly to each individual patient,' he explains with enthusiasm. In addition to the new system's tomosynthesis performance the first studies in 3-D mammography in various countries have shown an up to 40% reduction in false positive results with a dose requirement comparable to that of 2-D mammography. Obviously this also cuts down the number of unnecessary biopsies, lowering patient worries. 'FDR Amulet Innovality is currently the most sensitive system available and has 20% lower dose requirement for 2-D images,' Jörg Müller confirms, 'and ten percent lower dose requirement for the tomosynthesis application compared to the previous systems.'
Fuji's 3-D mammography in practice
Maria Hilf GmbH operates two hospitals – Maria Hilf and St. Franziskus – in Mönchengladbach, north-west Germany. The healthcare company's history dates back to the 1850s, when two Catholic nuns arrived in the city from the Netherlands to care for orphans and sick people. During 150 years, the hospital grew to become an organisation in the maximum care category, partly owned by the community and highly renowned for its commitment to high quality of care and holistic orientation towards patients. Advanced technology, such as Amulet 3-D, helps support this mission. European Hospital reporters asked the hospital's leading physicians about their hospitals and experiences when working with Fuji's 3-D mammography system. 'With its 800 patient beds, Maria Hilf ranks among the major care providers in the region,' explained Professor Christoph Müller-Leisse MD.
'We support rather rare disciplines, such as pulmonology and thoracic surgery, and have dedicated centres for continence and neurourology. Our radio-oncology department is outstanding in North Rhine-Westphalia. We have a large neurology department, with a service offering that includes, e.g., thrombus extractions. For cases such as acute strokes we cooperate with specialists in the field. We have general surgery, emergency surgery, and trauma departments. 'In addition, we carry out a large number of interventions, many of them image guided with the support of CT. Quite a number of cases are referred to us from a visceral practice with which we collaborate. Percutaneous interventions are part of our portfolio. Interventional radiology is a focus of Maria Hilf.'
What about working with the 3-D mammography equipment?
'Based on her work with the Amulet 3D from Fuji, Dr Mechthild Schulze- Hagen and I are currently carrying out an ROC – Receiver Operating Characteristic – analysis comparing 3-D to 2-D … something that hasn't been done yet. ROCs are diagnostic confidence rankings associated with the diagnostic categories of BI-RADS – the Breast Imaging-Reporting and Data System devised by the American College of Radiology. In this context, this new approach will compare 2-D and 3-D mammography regarding, for example, scar detection, which is not part of the ACR approach, as well as micro-calcifications. 'Each year, I read about 12,000 mammographies with a screening background. In addition, we have worked on 500 patient cases from a curative, non-screening background, using Fuji's Amulet 3-D since May 2012, and we detected 11 carcinomas. We analysed this non-screening group of patients, and have been able to demonstrate that there are a number of significant benefits of 3-D over 2-D. Carcinomas that form along lactation ducts are an illustration in point. These carcinomas manifest themselves through calcifications that are hard to discern in 2-D. Calcifications formed alongside ducts are relevant indicators for malignity.
Are there additional benefits from Amulet 3-D mammography?
Dr Schulze-Hagen: 'The technology helps reduce false positive, but also false negative diagnoses. I'll explain on the basis of oil cysts: these cysts, which have no pathogenic relevance, lead to calcifications over the long term. In 2-D there is sometimes no way of telling apart emerging oil cysts from carcinomas that form in scarred regions. In 3-D, physicians can differentiate cysts on the surface from carcinomas that are growing into surrounding tissue. And for breasts that have had surgery, 3-D also has significant advantages; in these cases, duct structures may be interwoven and highly complex, producing unclear results in ultrasound. MRI may be an option; but 3-D mammography can help resolve suspected recurrences conveniently.
How does this mammography compare with tomosynthesis?
Dr Nayhmeh Eskyhi: 'In 3-D mammography, the summation effect of 2-D images is resolved in 3-D, which makes dense tissue more transparent. 3-D serves for routine initial image acquisition. For subsequent diagnostic steps, or in follow-ups tomosynthesis is used for precise measurements. We should keep in mind that tomosynthesis comes with an exposure which is significantly higher compared with the dose from Amulet 3-D.'