Philips and Innovations in Heart Modeling*
Royal Philips Electronics provided clinicians from across the globe with a glimpse of future innovations designed to advance cardiac care, including the current management of cardiovascular disease (CVD) and associated cardiac conditions, during the 2011 Congress of the European Society of Cardiology (ESC).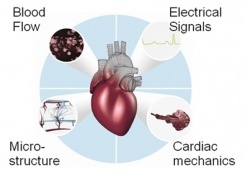 Recent innovations in medical imaging technology have provided clinicians with a wealth of information on complex anatomical structures which can assist with both diagnosis and therapy. However, while the images contain a huge amount of data, it can be difficult and time-consuming to extract the desired information.
In an effort to provide clinicians with a tool that helps to speed up and simplify the process of data extraction, and thereby assist with complex therapies and surgical interventions, Philips has undertaken innovative research into algorithms which make use of existing anatomical knowledge to create geometrical models of the heart.
Using a generic model describing the heart's shape, variability and appearance as a starting point, it is then possible to match this up against 3D images of the patient's own heart to produce a digital, patient-specific heart model which is now being used in diagnosis and interventional procedures.
Researchers have identified the potential to use this new technology with X-ray guided cardiac interventions (Electrophysiology and Structural Heart Disease), computed tomography (CT), magnetic resonance (MR) and ultrasound imaging.

Existing products using heart modelling technology
Philips EP Navigator and Heart Navigator
One of the first products to come out of Philips' forward-looking research in this area was the Philips EP Navigator which was launched in 2007. It was developed to help clinicians treating patients with atrial fibrillation, one of the most common forms of abnormal heart rhythm. Many patients with atrial fibrillation are suitable for treatment by catheter ablation where thin tubes (catheters) are inserted into the blood vessels and directed to the heart muscle. These catheters are used to deliver a burst of radio-frequency energy that destroys the tissue causing the abnormal rhythm disorder. The Philips EP Navigator generates a patient-specific heart model from a 3D CT image or an intra-procedural 3D atriography which, when combined with live fluoroscopy data from a cath lab system, shows the position of the catheters being used, as well as the detailed atrial anatomy in real time on a single image. This information is designed to support the electrophysiologist in performing complex EP procedures.
The Philips Heart Navigator similarly allows clinicians to match a 3D image of the cardiac anatomy with a live fluoroscopy image to show the position of catheters and devices (e.g. heart valve) in real time, providing live image guidance during minimal invasive cardiovascular procedures. During planning, the software suggests the best projection for the procedure and provides virtual device templates so that the most appropriate device size can be selected. This ability to accurately plan for and then guide highly complex cardiac interventions, has the potential to significantly improve cardiac care and patient outcomes.
Comprehensive Cardiac CT Package
While CT is becoming the preferred non-invasive method for imaging the heart, the challenge in terms of efficient workflow and diagnostics is inspecting the huge amount of information and imagery that is generated and extracting the required information. The Comprehensive Cardiac CT Package is designed to accomplish this task efficiently.
Through the use of heart modeling, it is possible to automatically produce quantitative measurements, such as the volume of all four heart chambers over time, and provide information about local heart wall motion. This automatic processing of information, which would otherwise need to be produced manually, has the potential to speed up the work flow and helps support the clinician in assessing heart function.
Research work in Heart Modelling*
Cardiac Resynchronization Therapy (CRT)
Approximately 30% of all heart failure patients suffer from an asynchronous (uncoordinated) contraction of the left ventricular heart muscle. These patients require the implantation of a specialized pacemaker that synchronizes the ventricle contraction and thereby improves the efficiency of the heart. However, whilst this procedure - cardiac resynchronization therapy (CRT) - is effective for many patients, up to a third do not experience clinical improvement following CRT.
In an attempt to address this, Philips is working with clinical and academic partners throughout Europe, as part of the EU Heart Project, to develop a research tool with the goal of ultimately producing better outcomes for patients with heart failure.
The aim of this research is to develop a process which will both identify those patients most likely to respond to CRT, and provide improved direction on the best methods for delivering CRT (e.g. the correct positioning of leads, the ideal pacemaker setting etc.). The research prototype system is designed to work by integrating the geometric models of the heart, developed by Philips, with simulation tools from the academic partners, to produce patient-specific physiological simulations on the basis of the patient's own clinical data. The patient-specific model is designed to highlight, for example, the existing location and severity of scar tissue on a patient's heart, which is known to have an adverse affect on the success of the procedure. Furthermore, the new technology aims to assist with the virtual placement of device leads and determination of pacemaker settings and positioning, and then prediction of intervention response before a real-life intervention is carried out.
EU Heart Project members believe that predicting an individual patient response to CRT, and identifying the best methods of treatment delivery, will potentially reduce the number of non-responders, and as a result may have a significant impact on the future treatment of heart failure.


* Heart Modeling is a topic of ongoing research for Philips, and as such, its use in planning and refining complex interventions based on an individual's specific anatomy, may or may not be realised as a product and brought to market
More on the subject:
More on companies: