PET-MRI - The right system at the right time
Thinking of the future of imaging, inevitably PET-MRI springs to mind. The fascination of this novel hybrid technology is great, seeing how it combines the best from three imaging areas: anatomy, function and metabolism. The further development of functional procedures in oncology is raising particularly high expectations. However, how extensive the use of this potentiated image information will actually be in clinical practice remains to be seen.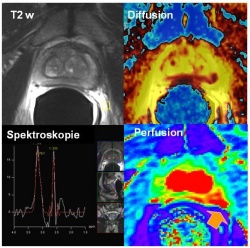 Led by Professor D Stefan Schönberg, the Institute for Clinical Radiology and Nuclear Medicine, at the University Hospital Mannheim, has been looking into the synergistic application of morphological and functional imaging for image-guided treatment for some time, and Prof. Schönberg is already certain that simultaneous image acquisition from MRI and PET will be of significant importance for tumour characterisation and treatment monitoring.
Professor Schönberg is positive about the need for PET-MRI in medicine -- and particularly oncology: 'Not just because it's so exciting to combine two technologies in one hybrid scanner, but also because modern treatment concepts for tumours depend on synergetic procedures to cover the entire diagnosis and treatment chain – from tumour staging to image-guided treatment procedures and response evaluation to the detection of recurrence as well as assessment of the prognosis. PET-MRI is a central diagnostic tool that can answer all questions on metabolism, morphology and function. There may be other integrated systems in the future that will facilitate stage appropriate, personalised medicine, for example contrast enhanced ultra-high-field MRI, but PET-MRI technology is the method of choice at the moment. It catches the spirit of the time and there are no comprehensive alternatives.'
What characterises MRI-PET compared with PET-CT?
'Apart from lower exposure to radiation, by combining MRI and PET we are adding two significant workflow components – increased efficiency through two simultaneous and synergetic image modalities and also access to new methodological concepts. As good as PET-CT may be for metabolic imaging, MRI is outstanding for the extended structural as well as functional display of information. Aspects such as tumour heterogeneity come into play here. PET-MRI, for instance, allows for the precise determination of tumour spread in image-enhanced radiation therapy. Metabolically active areas, ultra structure resolution and functional procedures, such as measuring blood and tissue density are all combined with one another.

For which oncological examinations is PET-MRI particularly suitable?
'During staging and therapy planning for prostate cancer the multiparametric use of MRI – i.e. diffusion, perfusion, spectroscopy – is the most precise procedure to detect and define prostate tumour spread (fig. 1). On the other hand, choline PET-CT is an outstanding procedure to detect recurrent lymph node metastases and detect even the smallest lesions above PSA levels higher than 3ng/ml. These data are already routinely being included in image guided radiation therapy (fig 2).
'A scanner such as the PET-MRI that combines these examinations could be of great use. The same applies to rectal cancer. Here, it is also clear that the tumour distance to the mesorectal facia displayed with high resolution MRI is highly predictive for the relapse rate and therefore for patient outcome, whereas PET has a clear advantage for the imaging of metastasisation, and therefore treatment management as well as for the detection of relapses. In the case of breast cancer, the therapeutic approach depends essentially on whether a patient is non-metastasised, or whether axillary lymph node metastasis or systemic metastasis is present. Based on the three-column model, a combination of MRI for the breast, and PET for the lymph nodes and distant metastases, is a highly integrative concept. As for tumour heterogeneity, in the case of brain tumours it has been possible to prove that the spread that can be seen on the MRI image is often different to that displayed in the PET image. PET-MRI could possibly display the differentiation of the active tumour part much more precisely through the synergy of metabolism and ultra structure and therefore further improve surgical and radiotherapy treatment.'
Can the added value justify the high costs of PET-MRI technology?
'If an imaging procedure can provide patients with a more individualised and therefore more efficient therapy through improved spread and characterisation diagnosis, and avoids unnecessary costs caused by a wrong or toxic treatment, the cost aspect of large equipment technology indeed appears to be less important. If you consider that medical care is continuously improving through more personalised treatment, then you actually realise the gigantic role that modern imaging plays in modern medicine. Specifically, the new molecular-biological based therapies, such as those using antibodies or tyrosine kinase inhibitors, require early determination or, ideally, prediction of therapy response due to the high costs involved. We are very much looking forward to seeing how the first PET-MRI installations, such as the one in the Clinic and Polyclinic for Nuclear Medicine at the Technical University of Munich, will further progress these concepts.'
So you would like to take up the cudgels for PET-MRI?
'It's rather a case of taking up the cudgels for radiologists or nuclear medics as case managers. We don't just produce images but also we largely control the entire treatment and disease process. This means that we also have to contribute increasingly towards this process by actively participating in shaping, staging, planning, response and prognosis. Integrative models that further support procedures such as PET-MRI are of vital importance.