Article • Beyond palliative care
Perspectives of SIRT – who benefits and why?
Selective internal radiotherapy (SIRT) is often only looked at from a palliative perspective. However, the procedure is now also increasingly moving into the curative field, as Prof. Dr. Jens Ricke, Chair of Radiology at the Ludwig-Maximilian University Munich and Director of the Clinic and Polyclinic for Radiology at the University Hospital of the LMU reports.
Report: Daniela Zimmermann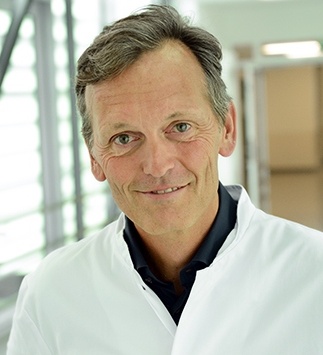 "As a locoregionally used procedure, SIRT can at most achieve a partial remission and is therefore, by definition, not a curative procedure." Combined with other procedures, however, it can potentially also be used in a curative capacity. "We use SIRT, for instance, also for induced hypertrophy prior to partial hepatectomy. The induced growth of the untreated hepatic tissue offers more scope for surgical resection – which is clearly a curative indication." Although other procedures such as portal vein embolisation also lead to hypertrophy they result in valuable time lost for the actual treatment of the tumour, making radioembolisation clearly more advantageous.
So is SIRT an alternative to systemic therapy with Sorafenib for hepatocellular carcinoma (HCC)? This is hard to determine, says Ricke, as the data is still patchy, although newer studies, such as the multicentric SARAH-study in France and the Asian SIRveNIB study, have shown that both procedures have a comparable survival rate. "However, these studies were not designed to confirm non-inferiority," emphasises the expert on SIRT. "As radioembolisation clearly has comparatively fewer side effects, and therefore achieves more quality of life, it does give us a real alternative alongside systemic therapy when talking to patients in the outpatient department." SIRT also does not preclude the option of follow-on systemic treatment, whilst the anti-angiogenic administration of Sorafenib is likely to impact the intra-arterial application of Y-90. Ricke is therefore pinning great hope on a multicentre study which he has conducted, the SORAMIC study in Magdeburg which examines the synergistic effects of Sequence SIRT followed by systemic treatment with Sorafenib. The results will be available at the beginning of 2018.
Effective against tumours on the right-hand side, but not the left
What we need now is an explanation as to why this is actually the case

Jens Ricke
The situation with colorectal cancer is also unclear. A very large international, cumulative study, prospective and randomised with more than 1,000 patients, has initially shown no improvement in survival through SIRT compared to systemic chemotherapy. However, sub-studies have brought some interesting and unexpected results to light, says Ricke: "Tumour localisation is obviously very important: Tumours primarily located on the righthand side of the colon appear to benefit significantly from SIRT, whilst those on the left side do not. What we need now is an explanation as to why this is actually the case."
The results of the second, third and fourth lines in advanced stages of the disease with metastasized colorectal cancer are also promising. Says Ricke: "Predominantly in the palliative field, i.e. in salvage situations where a patient does not tolerate chemotherapy, where a break needs to be taken from chemotherapy or where there are no further options of treatment with chemotherapy, SIRT will play an important part in the treatment of metastasized, colorectal cancer." Prospective randomised studies into other metastasized tumours are currently lacking. There are some promising results from one-armed cohort studies for neuroendocrine tumours and breast cancer. Phase-2 data shows that some breast cancer patients benefit significantly from SIRT, confirms the radiologist. "In the case of functional neuroendocrine tumours, the symptom relief is often impressive and more improved than through chemoembolisation, in the same way as the response rate, particularly in the early stages. However, we need prospective randomised studies for first-line situations."

Ricke also sees significant potential for improvement with regards to patient selection: "Which patients really benefit from SIRT? Unfortunately, we can only determine this retrospectively at the moment." New research results are also confirming a widening of the scope in dosimetry where the procedure facilitates a more targeted, and therefore higher dose application of radiation. Targetted application is one of the great strengths of treatment with beta-emitting microspheres: "Unlike healthy liver tissue, the vascular network of tumours is completely atypical," explains Ricke. "Due to this changed structure the healthy parenchyma absorbs considerably fewer microspheres than the tumours. In the majority of patients this ratio is very advantageous, enabling more precise radiation of the tumours. SIRT turns into a precision instrument by modifying the radiation dose. "When the entire dose is concentrated on just a few liver segments this almost works like surgical resection of the tumour," concludes Ricke.
Profile:
Prof. Dr. Jens Ricke, radiologist, wrote his habilitation thesis at the Charité, University Medicine Berlin, where he held a C-3 professorship for Interventional Radiology at the Clinic for Therapeutic Radiology from 2004 – 2006. From 2006 – 2017 Ricke was Professor of Radiology at the Otto-von-Guericke University Magdeburg as well as director of the Clinic for Radiology and Nuclear Medicine at the University Hospital Magdeburg. In June 2017 he moved to the Ludwig-Maximilian-University Munich where he is Professor of Radiology and Director of the Clinic and Polyclinic for Radiology.