Sponsored • Orthopaedics
Periprosthetic joint infection: a complex issue
Periprosthetic joint infection (PJI) in geriatric and/or multimorbid patients can be an enormous challenge for orthopaedists and trauma surgeons. Antibiotic-loaded bone cement is an important element in a prevention strategy. At the symposium "Prevention and therapy of prosthetic infections in fragile patients" at the German Congress for Orthopaedics and Trauma Surgery (DKOU 2021) in Berlin, three experts reported on their clinical experiences and plans with this patient cohort and their assessment of the role of antibiotic-loaded bone cement.
Demographic change has increased the number of age-related injuries. Case point: in the past decade in Germany alone the number of femoral neck fractures rose by 23% to 81,500 cases. PJI numbers grew accordingly. An infection not only increases mortality but also carries the risk of loss of mobility which in turn often causes sequelae and further complications. Moreover, these infections are a huge financial burden with each one costing approx. €13,000 according to the German radiology association DRG. And last but not the least, these infections are a major source of stress for the surgeons as Professor Dr Ulrich Liener of Marienhospital Stuttgart admitted: 'I struggle with these cases mentally.'
A comprehensive tool box
The Medical Director of the Department of Orthopaedics and Trauma Surgery and Head of the Endoprosthetics Centre presented a number of tools that help keep the situation under control. In addition to preoperative infection management, short intervention times, safety measures such as double gloving and patient blood management are effective measures to significantly reduce surgery-related risks.
An important pillar of an infection prevention programme is antibiotic-loaded bone cement. The objection often heard that this cement increases mortality is not borne out by research, as Professor Liener emphasized. An analysis of the British National Hip Fracture Database (NHFD) showed that mortality indeed does increase in the first 24 hours post-surgery but that it is much lower overall. In addition, fewer patients with cemented prostheses require a follow-up procedure. 'When the 3rd generation cementing technique is used, you are on the safe side,' said Professor Liener.
Cement loaded with a combination of antibiotics has proven to be particularly effective: according to a study published in the Bone & Joint Journal, a combination of gentamicin and clindamycin (G+C) in the cement prevents infections much better than cements loaded with (G) only.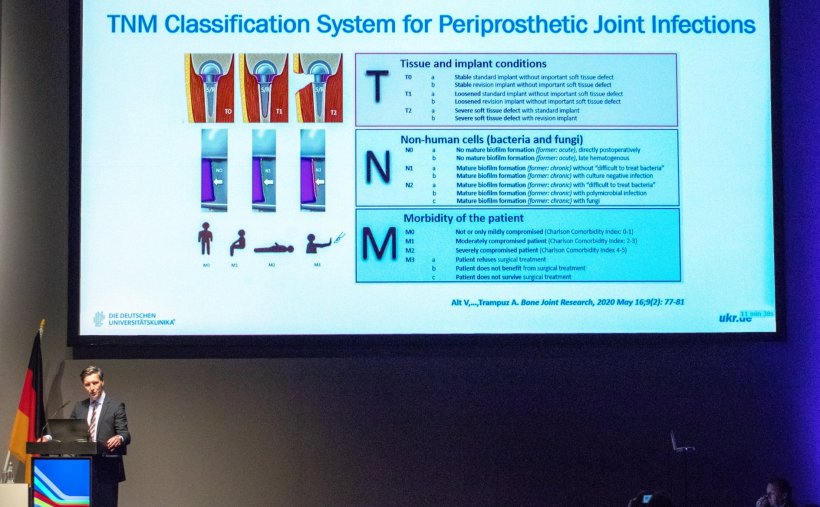 TNM-PJI: Orthopaedics draws on oncological classification system
The use of antibiotic-loaded cements helps prevent many infections. But even if an infection occurs despite the prevention measures there are several effective therapies orthopaedists can use, as Professor Dr Volker Alt reported. Drawing on TNM staging in oncology, the Director of the Department and Polyclinic for Trauma Surgery and his team at the University Hospital Regensburg developed the TNM-PJI classification. While it is 'not an oncological classification, it is inspired by that tried system,' Professor Alt explained.
PJI is a complex disease which requires specific analysis and classification in order to arrive at the best possible therapy decision

Volker Alt
'The key factors determining therapy and outcome are the implant used, the type of affected tissues, pre-existing conditions of the patients and obviously the causative microorganism,' he added. Cemented double-headed implants for example require a different approach than complete femoral replacements, a multimorbid patient requires a different therapy than a healthy patient and biofilm-forming bacteria require a different therapy than fungi. As in the oncology model, the key parameters are categorized according to severity: 'PJI is a complex disease which requires specific analysis and classification in order to arrive at the best possible therapy decision.'
The major advantage of TNM-PJI is the fact that this system provides a fairly quick overview even of complex cases. T0, for example, describes a stable implant, T1 signals slight loosening while T2 is applied to cases with severe tissue damage. The N- and M values describe type and severity of the infection as well as the overall state of the patient:
This new classification system not only speeds up documentation, it provides a good overview without the medical team having to deal with a detailed case description. 'Patient morbidity has a particularly high prognostic value,' Professor Alt underlined. One aim of TNM-PJI is facilitating discussions on interdisciplinary boards: 'The sooner the different disciplines are brought onto the team to provide their expertise, the better can an integrated therapy be developed.'
Therapy options: better safe than sorry
In this presentation, PD Dr Thomas Randau focused on the therapy of PJI. Senior physician at the Department and Polyclinic of Orthopaedics and Trauma Surgery at the University Hospital Bonn and senior surgeon at the hospital's Endoprosthetics Centre, he pointed out the risks of underestimating the disease: 'The 5-year survival rate is in parts comparable to oncological diseases. With knee PJI it is at 72%, with hip PJI even at 67% – that's about the same as for breast cancer patients.'
Not all periprosthetic joint infections are created equal, therefore we have to look at each patient individually before we make a therapy decision

Thomas Randau
He also underlined that conserving the implant is neither possible nor recommendable in all cases. Thus it is crucial to consider the entire range of therapies in order to ensure the best possible outcome. From arthrodesis through permanent resection or suppression down to amputation all risks and benefits have to be carefully assessed. A primary goal should be to maintain patient mobility but in severe cases a pain-free life might take precedence. 'Not all periprosthetic joint infections are created equal, therefore we have to look at each patient individually before we make a therapy decision,' he demanded as 'particularly with older patients or patients with existing conditions complications are frequent. The surgeons should not overestimate their possibilities.' In addition, he said, patients need to be informed precisely about the different therapy options and their risks and benefits. In his experience, many patients refuse drastic measures such as an amputation even if such a surgery would save them many follow-up interventions, much pain or even their life, Dr Randau concluded.
Find out more about risk for infection patient in arthroplasty >>