Only a fraction of mammography systems are digital
A report by Keith Halson, our correspondent in France.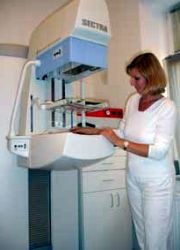 After successful random trials during the 1980s, an initial breast cancer screening programme was rolled out across the country in 1989. Managed by each departement, and based on existing radiological structures, screenings consisted of one image per breast, with two readings, every three years.

In 1999, the screening was modified to include two images per breast and two readings (corrected).

In 2001, this protocol was changed to include a clinical examination by a radiologist, two (or three) images per breast and two readings if the examination was normal (corrected). The second reading is centralised and made by a specialised radiologist (corrected). At the beginning of 2004, the screening programme was effectively made national.

Under it, women aged between 50 and 74 years old are invited to have a mammogram (breast X-ray) every second year. More than eight million women undergo such examinations every year.
Mammograms aim to detect cancers early and can reveal changes in breast tissue before they develop into lumps large enough to be felt with the fingers. They are usually used for women over 35 years old because in younger women the breast tissue is more dense, which can make it difficult to detect any changes.

The low-dose analogue X-ray screening system normally involves taking at least two (sometimes three) images from different angles of each breast. The film is then carefully scrutinised and double-checked for any abnormalities.

However, because the process can be somewhat uncomfortable – the breasts must be firmly compressed by a clear flat plate to hold them still during screening – a number of French GPs have noted reluctance among some of their female patients to attend mammography clinics.
Growing concerns over the dangers to women's health from even the low dosage of X-rays used by the analogue system have led to the development of 'micro-dose' systems that use digital technology.

Although in 2004 the status of ultrasound and digital mammography was left undefined, today only a fraction of the mammography systems used in France are digital, since only film-based systems are approved for screening conditions. However, it is expected that, from the beginning of 2007, digital mammography systems will be approved.

One such system has been developed by Sectra, based in Linköping, Sweden, one of the world's major diagnostic imaging system (PACS) providers.

More than 800 hospitals in Sweden and worldwide use the system daily – amounting to over 40 million radiology examinations a year. In Scandinavia, the company is the market leader with over 50% of all film-free installations. According to Sectra, its MicroDose system is an easy-to-use programme that handles the complete process from examination through to documented diagnosis. It also provides the lowest radiation dosage on the market and offers safe, stress-free and rapid examinations to patients.

Recently the system was installed in Le Centre Melunais d'Imagerie Médicale, set up and run by a group of 11 private radiologists based in Melun, south of Paris. This is the first French order for Sectra.

Dr. Fiocconi, radiologist and general manager at the centre, said: 'We chose Sectra MicroDose mammography because of its throughput and ergonomic advantages, but most importantly because we will avoid exposing women to higher radiation than necessary. The system's levels are three times lower than those used by any other product.'

The centre, one of the few private clinics devoted to women's health, has set up a Maison de la Femme, which a woman can attend for a total healthcare check. With the installation of the Sectra system, it will develop mammography operations for both clinical and (when approved) screening specialities. Because digital mammography screening is not yet permitted in France, the centre will continue to operate its analogue system.

A French health ministry official recently confirmed that digital mammography systems 'were being studied' but would give no date for their possible authorisation.
More on the subject:
More on companies: