Article • Imaging biomarkers, AI support and beyond
New tools for Covid-19 assessment
As knowledge about Covid-19 advances, so does the arsenal of techniques to predict, diagnose and follow up on the disease. At this year's ECR, researchers presented a range of promising imaging modalities to keep track of Covid-19 symptoms, severity, and mortality, often including AI support to enhance or accelerate diagnostics.
Report: Wolfgang Behrends
Two and a half years into the coronavirus pandemic, Covid-19 still holds challenges for diagnostic imaging experts. With its various, often unspecific symptoms, it can be hard to tell apart from other, visually similar diseases, such as non-infectious pneumonitis, cautioned Dr Andreas Brendlin from the University Hospital Tübingen, Germany. A clear differentiation between the diseases is important to avoid applying the wrong therapy, the expert explained: 'Non-infectious pneumonitis patients are usually treated with immunosuppressants – which might aggravate viral infections.'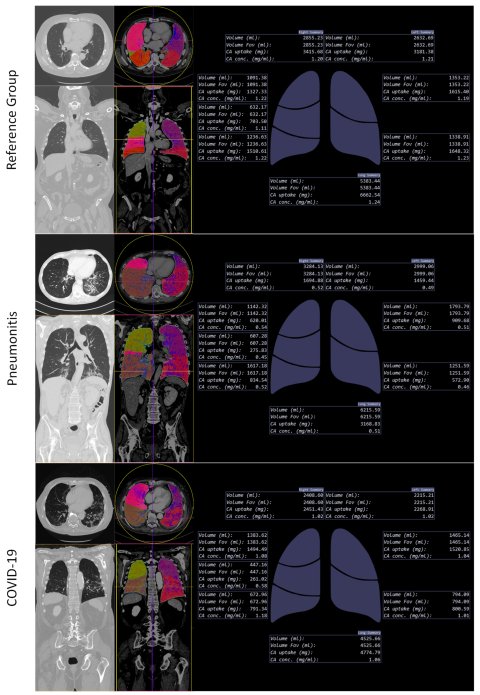 Brendlin presented a new, AI-based approach to provide more clarity in clinical practice. His team designed a prototype algorithm for automatic lung segmentation and perfusion metric extraction of dual-energy CT imaging to distinguish Covid-19 infiltrates in the lung from visually similar findings caused by other pathologies.1
The algorithm, tested retrospectively on datasets from 105 patients, provided results that were on par with the radiologists' manual evaluation, but required much less time. 'The AI lung segmentation extracted valid perfusion metrics that distinguished Covid-19 infiltrates from similar pneumonitis findings more accurately than visual assessment and more rapidly than when using manual segmentation,' Brendlin concluded. Based on these findings, the algorithm is a promising tool for clinical decision support but should be further evaluated in larger cohorts and including further Covid-19 variants.
Repurposed techniques predict Covid-19 mortality
Another algorithmic approach to the coronavirus disease was presented by Chiara Romei, M.D., from Pisa University Hospital, Italy. A software, originally designed to evaluate interstitial lung disease, could also be used to assess mortality in Covid-19 patients, she proposed. In a retrospective study, the tool, called CALIPER (Computer-Aided Lung Informatics for Pathology Evaluation and Ratings), was tasked to analyse chest CT images from 570 Covid-19 patients2 – with promising results: the software successfully identified lung vessel volume as a predictor of mortality. 'Our results indicate that changes to the vascular-related structures (VRS) increases with the required intensity of care,' she pointed out, adding that mortality increased significantly in older patient groups.
Recommended article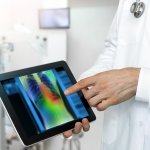 Article • Current and emerging imaging applications
Physicians use AI-powered technology for faster and earlier detection of diseases. At ECR Overture, Dr Steven Schalekamp, PhD, discussed the application of AI for chest radiography in paediatrics.
The range of predictive markers extends beyond the lungs, as described by Raşit Eren Büyüktoka from the Bozyaka Educational and Research Hospital in Izmir, Turkey. Using CT-derived body composition assessment – a technique commonly used in sarcopenia patients – his team found that several parameters were indicative of Covid-19 severity: paraspinal muscle atrophy, a high fat-to-muscle ratio and low muscle-to-spleen density ratio were linked to more complications, increased need for intubation and higher mortality in patients. 'Most centres use chest CT to diagnose Covid-19 and its complications,' the radiologist concluded. 'These parameters can be easily assessed when chest CT is available – we therefore suggest that they can be used for both triage of Covid-19 patients and diagnoses.'
A similar approach was presented by Filippo Monelli: His team at the University of Modena and Reggio Emilia, Italy, explored the correlation between the inflammatory burden associated with post-acute Covid-19 and body composition changes. Especially pectoral muscle loss and fat loss in visceral compartments were found to hint at increased inflammation.
"Tree-in-bud" sign hints at disease severity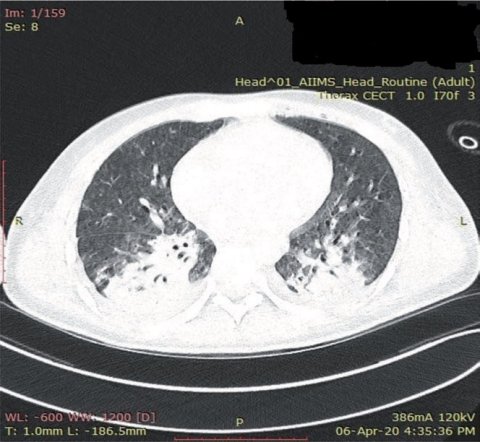 The session also heard from Saeid Esmaeilian, MD, who detailed the characteristics of chest CT-scans and outcomes in pregnant patients with Covid-19. An overview of disease-related pulmonary vascular manifestations in CT angiography was provided by Dr Farhana Fadzli, who pointed out the predictive potential of the "tree-in-bud" pattern. Anna Zakharova, MD, focused on the long-time effects of a Covid-19 infection. She reported that patients with extensive pulmonary involvement displayed reduced pulmonary blood flow several months after recovery, significantly limiting functional capacity of the lungs. Lastly, Meghavi Mashar explored the diagnostic value of CT-derived pulmonary enhancement. This, however, did not yield convincing results in its current form, she reported – a more granular technique might perform better, the radiologist concluded.
References:
1 Brendlin et al.: AI Lung Segmentation and Perfusion Analysis of Dual-Energy CT Can Help to Distinguish COVID-19 Infiltrates from Visually Similar Immunotherapy-Related Pneumonitis Findings and Can Optimize Radiological Workflows; Tomography 2022
2 Romei et al.: Lung vessel volume evaluated with CALIPER software is an independent predictor of mortality in COVID-19 patients: a multicentric retrospective analysis; European Radiology 2022