New concepts for breast care
Creating a centre of excellence in NRW was not a painless procedure
The new Emscher-Lippe Breast Care Centre, based in the Marienhospital in Gelsenkirchen, but serving six hospitals* and four private practices, was established following a directive issued by Germany's North Rhine-Westphalia regional government.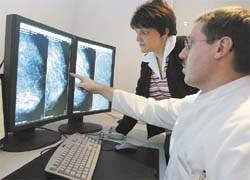 The concept aims to raise the quality of breast cancer care by creating a centre of excellence and uniting many of the region's oncology units and experts.
According to official guidelines, the breast cancer centre participants hold case study videoconferences at least once a week. For this, the hospital has a central videoconference server and all locations in the breast cancer centre scheme have the same equipment. All those 'attending' can access the digital images supplied by the radiology and pathology departments involved in each case. This is achieved despite the fact that, although the Marienhospital has foil-storage digital mammography, most private practices in the Centre's catchment area still work with conventional film. The Centre uses a scanner to digitise their film images then feeds these into the digital archive.
Daniela Zimmermann, of EH, interviewed Dr Uwe Keske, Head of the Department for Radiology and Nuclear Medicine at the Marienhospital Gelsenkirchen, Prof Dr H. Otto, Head of the Radiology, Nuclear Medicine and Radio-oncology Clinic at the Evangelische Kliniken Gelsenkirchen and Prof Werner Schlake, Director of the Institute of Pathology Gelsenkirchen, about the pros and cons of the new system, first asking how the concept is financed. This elicited unexpected answers.
'The breast care centre is a clinical institution, so we receive no compensation
from medical insurers for any outpatient services,' Prof Schlake explained. 'From an accounting perspective, nothing changes between surgeries and hospitals. So far, there has been no way we can charge for outpatient treatment, and I don't foresee any changes, which presents a big problem. Without compensation for outpatient services – and we cannot provide free treatment – we have to admit patients to wards.'
This is the same for the investments made at Marienhospital, Uwe Keske added: 'The directive states that we must set up these breast care centres, but no subsidies are available.'
There is no financial gain, H. Otto continued, but added: 'The only advantage is that, out of 250 clinics, which, as recently as six months ago, carried out breast cancer operations in North Rhine-Westphalia (NRW), there are now only 50 clinics left that can operate on breast cancer patients. 200 hospitals didn't receive the extra pay for breast cancer care and they will not have those operations financed. This is the new model in North Rhine-Westphalia.'
The system is an enforced 'clean-up' through the Ministry, Prof Schlake said. 'The NRW government initiated this process by deciding where to set up breast care centres. Not everyone in the State can call themselves 'Breast Care Centre', unlike in other parts of Germany. We – the individual hospitals – received ministerial notification that we were going to be networked by setting up the breast care centre.'
All the hospitals linked via the breast care centre (named at the end of this article) were listed in that ministerial decree. All the other hospitals in the area can no longer provide breast cancer care. It has been dropped from their budgets, explained H. Otto. 'If they still continue to operate – and you can't really ban them from doing so – medical insurers will retract their care contracts and not pay. On the one hand we were forced into this but, on the other, it has ensured that we can actually continue with this work. For patients, the advantage is that now we really can put interdisciplinary concepts into practice, and can develop an exchange of competencies not only between different medical disciplines but also between different hospitals. Despite all the criticism, putting it very bluntly, the politicians had quality improvement in mind when they decided that experts in these operations should carry out as many as possible. With limitations, this is correct, although not quite in this form. The case per surgeon ratio for NRW currently stands at 50. In other parts of Germany there are other figures, which still ensure a high level of quality.'
The difficulty, said Prof. Schlake, is mainly that the regional government initially wanted key services to be provided in one place. 'This would have meant that radiological examinations could only have been carried out at the Evangelische Kliniken, or that chemotherapy could only be carried out at the Gelsenkirchen-Horst clinic. It would have meant that each patient would have had to go from Dorsten or Ückendorf to Gelsenkirchen-Horst. In reality this was unreasonable and unfeasible, so the regional government reconsidered, then issued a directive that we must ensure all processes are provided in a standardised manner within the breast care centre, and that someone is responsible for each key medical field, and the people entrusted with that responsibility realise those standards. We have already achieved this. Someone must be responsible for quality, and it also makes sense in terms of the format and resolution of transmitted images, otherwise you can't work with them. A lot of progress has been made in the standardisation of pathology. It is critical that all cooperating medical disciplines are united. No matter where and at what stage a patient is admitted to a cooperative breast care centre, there must be a safeguard that she will receive the same, standardised treatment, independent of who is treating her. For example, in oncology there are haematological oncologists with a background in internal medicine, but also gynaecologists who work in oncology, and there is a compelling need for harmonisation between those two disciplines. That's the advantage of the breast cancer centre: we are forced to achieve a harmonisation. These days, to guarantee the best possible standards for patients, team spirit is vital.'
* Hospitals served by the Breast Care Centre: Marienhospital Gelsenkirchen; Evangelische Kliniken Gelsenkirchen; St. Marienhospital Gelsenkirchen-Buer; St. Elisabeth-Hospital, Dorsten; the Institute of Pathology in Gelsenkirchen and the St. Barbarahospital in Gladbeck