Neurology departments
MR applications provide greater efficiency
Siemens Healthcare has launched a range of new MR applications to help hospitals reduce the time needed for MR imaging within neurology. It is estimated that 20 to 25 per cent of all MR examinations are neurological, with the number expected to grow in 2016 (1). The applications have therefore been designed to help organisations increase patient throughput in order to maintain an efficient workflow.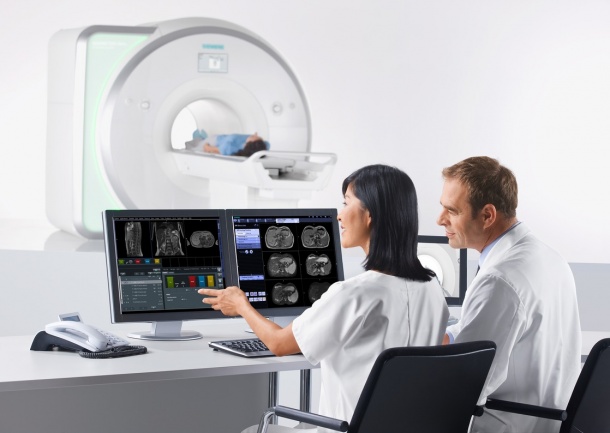 One of the applications, Simultaneous Multi-Slice (SMS) EPI, employs an innovative technique to acquire imaging slices simultaneously rather than sequentially, reducing 2D acquisition times with acceleration factors up to eight. Simultaneous Multi-Slice (SMS) EPI can bring DTI and BOLD into clinical routine. This can particularly benefit surgical neurology cases through surgical mapping, potentially helping to reduce post-surgical deficits, and ultimately leading to improved efficiency in the utilisation of operating room resources.
A further application, GOBrain, enables clinically validated brain examinations in just five minutes. Facilitated in part by Siemens' high-channel density coils and DotGO software, clinically essential image orientations and all relevant contrasts can be acquired rapidly. In turn, this can improve patient throughput, and costs per scan can potentially be reduced. Shorter scan times can also be better tolerated by patients, and can help reduce the need of sedations and rescans, which can be time-consuming and costly.
Alistair Piggot, MR Business Manager at Siemens Healthcare comments, "It is paramount that imaging techniques used to assess neurological conditions continue to advance at a fast pace, as diseases such as dementia are on the rise. Siemens Healthcare's new range of MR applications are a step forward in neurological radiology and can help hospitals maintain an efficient workflow. We are seeing an increase in demand for diagnostic imaging within neurology, and a priority is to ensure patients receive their tests within the recommended turnaround time."
In addition to speed and quality, standardisation across systems is also an important element for hospitals when it comes to meeting healthcare efficiency demands. Siemens Healthcare has introduced the syngo MR E11 software platform, a uniform application platform for the MAGNETOM® family and the Biograph mMR MR-Pet system. The focus, in addition to expanding the application offering, is achieving consistency across the entire fleet of systems and managing these effectively.
This and other planned improvements show the potential of the Biograph mMR, as it utilises the MR information to improve PET beyond its current capabilities. The BodyCOMPASS application is designed to enable motion-free PET images with MR-based motion compensation beyond gating, which could be particularly beneficial in delineating abdominal and lung lesions.

(1) Calculation represents assumption based on numbers from 2014 IMV Market Report

Source: Siemens Healthcare
More on the subject:
More on companies: