MEDICA 2008 opens its doors
When from 19 to 22 November the world's largest medical fair takes place in Dusseldorf, the entire city is in a kind of emergency state: hotels are bustin' out of their seams, traffic periodically comes to a standstill and at night exhibitors and visitors alike crowd the narrow streets of the Altstadt and the fancy hotel bars and enjoy whatever entertainment North Rhine-Westphalia's capital has to offer.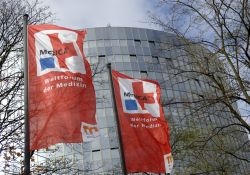 With 4,300 exhibitors from 66 countries and more than 135,000 visitors, MEDICA, the World Forum for Medicine, has become a mainstay of the industry. Diversity is its recipe for success: no other event offers a similarly comprehensive and structured overview of the newest healthcare products, from medical technology and electro-medicine to lab technology and diagnostics, from physio-therapy products and medical supplies to information and communication technology for healthcare institutions. "At MEDICA you will simply find everything a doctor's office or a hospital needs. Thus, this event is unlike any other around the world," Wilhelm Niedergöker, managing director of Messe Düsseldorf GmbH, summarizes the appeal of MEDICA.

A major focus of this year's MEDICA will be the ever increasing efforts to link all players in the healthcare system into one tightly knit network provided by medical IT, be it through electronic patient records, telemedicine applications or remote monitoring of chronically ill patients. In the medical technology sector the attention will center on compact devices - devices which offer smaller footprint, enhanced performance and more functionalities.
"The congress which will take place parallel to the trade fair will address typical health issues associated with an aging population and presenting major challenges to public health, such as type 2 diabetes, cancer, cardiac diseases, stroke, osteoporosis and dementia," explains Dr Julia Rautenstrauch, secretary-general of MEDICA – Deutsche Gesellschaft für Interdisziplinäre Medizin e. V. "The congress furthermore attempts to showcase technical innovations which will benefit societies that are undergoing a demographic change. Thus we will be offering a seminar on endoprosthetics of large joints and on the diagnosis and therapy of patients with state of the art pacemakers, " Dr Rautenstrauch continues. "A further highly innovative field is regenerative medicine which deals with tissue replacements for liver diseases, cell therapy for stroke and myocardial infarctions or different techniques to produce stem cells."
The programme will be complemented by many special shows under the MEDICA roof, for example MEDICA MEDIA (telemedicine / hall 16), MEDICA VISION (presentations by research institutions / hall 3) und the Physiotherapy Forum (hall 4), which in the course of the years have developed into MEDICA pillars. In previous years, the MEDICA Congress attracted 10,000 participants, and the German Hospital Conference is the country's leading event for hospital decision makers. In 2008, the German Hospital Conference will look at "the price of quality": "Insufficient hospital financing as far as both operations and capital investments are concerned will be the topic of our opening discussion on Wednesday at 10 am," says Gerd Norden, managing director of the Gesellschaft Deutscher Krankenhaustag (GDK). "Throughout the four-day programme, physicians, administrators, owners, technicians, IT experts, financial controllers and nursing staff will find a wealth of information regarding their particular disciplines."
State-of-the-art hi-tech will be starring at Compamed 2008, the international lead fair for medical suppliers, which takes place at the same time as MEDICA. The comprehensive range of hi-tech solutions presented at Compamed is geared to those involved in developing and manufacturing medical-technology products. New materials and components, preliminary products, packaging solutions and services are showcased, as are complex micro-systems and one-stop shopping contract manufacturing solutions. 519 exhibitors from 30 countries are set to crack last year's record and continue the growth in halls 8a and 8b.
The trade fairs in the Düsseldorf trade fair centre are open every day from 10 am to 6:30 pm.
For further information please visit www.medica.de