Latest advancements in Radiology from GE
Increasing access. Improving quality and efficiency. Lowering costs. When GE launched its healthymagination initiative last year, these were the long-term goals and at RSNA 2010, GE Healthcare highlighted a variety of technologies developed to support this strategy and help improve patient care worldwide.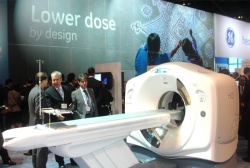 "Since the launch of healthymagination, GE Healthcare has worked with caregivers and organizations around the world to develop innovative technologies to better address the needs of healthcare providers and their patients," said John Dineen, President and CEO of GE Healthcare. "This year, the company will showcase the results of this shared commitment in several areas of care including CT, X-ray and Healthcare IT, among others, all meant to foster providers' ability to deliver better healthcare to more people at a lower cost."

Innovations in CT
For decades GE Healthcare has invested in leading, state of the art technology for significantly lowering dose in computed tomography (CT) procedures. GE Healthcare's exclusive ASiR (adaptive statistical iterative reconstruction) low dose reconstruction technology, available on the GE Discovery™ CT750 HD and LightSpeed VCT, can reduce dose by up to 40-50% while maintaining image quality and can be implemented as a cost-effective upgrade for existing GE LightSpeed VCT customers.
GE is also highlighting the newest low-dose technology in the company's CT portfolio–a model-based iterative reconstruction (MBIR) technology called Veo currently available in Europe. It is 510(k) pending at FDA and not yet available for sale in the U.S. When compared to previous GE reconstruction methods, Veo's capabilities "change the rules" of CT imaging by applying revolutionary new modeling techniques to deliver lower noise, resolution gain, improved low contrast detectability and artifact suppression.

Healthcare IT
The latest addition to the Centricity family, Centricity PACS 3.2 delivers more impact, with a smaller footprint. Centricity* PACS version 3.2 boasts a feature set that can optimize radiologist efficiency, enhance image interpretation, and enable growth from the PACS that stores one of every five digital exams in the United States.

Interventional Radiology
The company is introducing introduces the Innova* 3100-IQ (Optima* Edition), a reliable, high-performance interventional combo lab that offers excellent image quality and the industry's highest DQE detector at a lower price point and total cost of ownership to help put interventional procedures within financial reach of small to medium-sized rural hospitals.

MR
GE Healthcare will be introducing new MR scanners, applications and coil suites designed to deliver premium clinical and research performance, improve the patient experience and boost productivity of radiologists and technologists alike.

Nuclear Medicine
GE Healthcare is announcing the FDA clearance of the use of an innovative technology that may assist in assessment and early detection of breast cancer in women who are at high risk for the disease. The Discovery* NM750b Molecular Breast Imaging system with CZT detector, which is not yet available for sale, utilizes a small FOV gamma camera dedicated for breast imaging based on accumulation of a radioactive tracer in hypermetabolic cancer cells.

Surgery
The company is showcasing new mobile surgical C-arm, the Brivo OEC 850, recently launched in China, is a cost-conscious, high quality imaging system that will expand the reach of orthopedic minimally invasive surgery.
Additionally, the company is introducing Brilliant, an educational program designed to help mobile C-arm users manage radiation dose while producing optimum images to enable great patient care. The educational program, which complements the company's existing customer training offerings and dose reduction product features, includes radiation safety classes, an iPad application and handy reference tools.

X-Ray
Designed for digital use based on customer input, GE's new X-ray technology, FlashPad, is a flexible, wireless detector that features two handles that make it easier to position and maneuver. It is equipped with GE's most advanced X-ray detector technology, and its unique design provides up to eight percent more coverage for key applications and maintains high image quality at low dose levels. FlashPad is a reliable, long-term investment for future Radiography and Fluoroscopy systems, compatible with a variety of GE X-ray products today and is the only wireless digital detector capable of supporting advanced applications.

More on the subject:
More on companies: