US Event
International powerhouses launch medical expo and conference in Houston
Next April, 28-30, an unprecedented event will make its debut on this side of the world.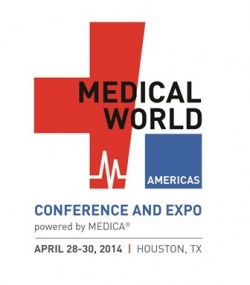 Thousands of medical professionals from across the Americas will gather in Houston for Medical World Americas, an innovative conference and exposition that will allow participants to efficiently source a variety of medical products, equipment, technology and services for everything from prevention and diagnostics to therapy and rehabilitation.
The Greater Houston Convention and Visitor Bureau (GHCVB) is producing the event in partnership with Messe Dusseldorf North America (MDNA), U.S. subsidiary of one of the world's leading organizers of international trade shows. Messe Dusseldorf is the organizer of MEDICA, the world's largest annual medical trade fair, boasting over 4,500 exhibitors and 130,000 attendees in Dusseldorf, Germany, after which Medical World Americas has been modeled.
"The Americas represent some of the most significant players, if not the largest and fastest growing, in the global medical market," said Joachim Schaefer, Managing Director of Messe Dusseldorf, "and therefore are a natural extension of the MEDICA brand and its commitment to innovation in the international health industry."
The conference component will be developed in collaboration with Texas Medical Center (TMC) specialists and faculty members, to align with the system's leading-edge knowledge and innovation across a variety of specialized categories including:
 Cardiology
 Oncology
 Infection Control
 Hospital Occupational Health & Safety
 Hospital Disaster Readiness
The collaboration of TMC with Medical World Americas is unique and unprecedented in the prestige, collective wisdom and buying power that it will deliver. As the largest medical center in the world, it will draw its 52 member institutions constituting a workforce of 92,000 and exemplary programs including: University of Texas MD Anderson, The Texas Heart Institute and Baylor College – all ranked very highly in their respective specialties by U.S. News & World Report.
Dr. Robert Robbins, CEO of the Texas Medical Center, sees the value in this conference and beyond. "Medical World Americas gives the Texas Medical Center and all of the institutions an opportunity, a platform, to tell the story about the work being done here in Houston. We have an opportunity to become known as a global hub for medical meetings and expos. We are already the best at what we do. Now it's time to be known as the best."
In addition to the member institutions of the Texas Medical Center, Houston is a hub for science and biotechnology companies, cutting-edge hospitals and health clinics, and some of the U.S.'s top research facilities; resulting in the ideal venue for Americas' most important medical trade event.
The launch of Medical World Americas is part of Houston's ongoing strategy to develop new events that showcase the city's world-class industries and facilities. Greg Ortale, president and CEO of the Greater Houston Convention and Visitors Bureau, emphasizes that Medical World Americas is not a one-time opportunity. "It is representative of a new initiative in our organization to capitalize on the business strengths of Houston and draw appropriate conventions and events, particularly in the energy, healthcare and aerospace industries."

Medical World Americas will bring together hospital administration and executives, procurement specialists, physicians, nurses, scientists, pharmacists, researcher technicians and educators from across the Americas. Event details, educational sessions, participating exhibitors and more will be available over the next months on the event website, www.MedicalWorldAmericas.com, through social media channels, the industry press and a robust direct marketing campaign. Interested participants are encouraged to mark their calendars, visit the website and sign-up to receive show updates.
Messe Düsseldorf North America (MDNA), located in Chicago, Illinois, is the U.S. subsidiary of Messe Düsseldorf Germany - one of the worlds' largest organizers of international trade fairs for the machinery, medical, fashion and leisure industries. Messe Düsseldorf became the first German trade show organizer to establish a permanent, fully staffed office in the U.S. when it opened MDNA in 1982.
Texas Medical Center is the largest medical center in the world, comprising 14 renowned hospitals and two specialty institutions, three medical schools, six nursing schools, and schools of dentistry, public health, pharmacy, and virtually all health-related careers. Its 52 member institutions make up a work force of 92,000 and are highly regarded as leaders in their specialties. Within the TMC system are such exemplary programs as: Texas Heart Institute, ranked #4 in U.S. News & World Report's Best Hospitals in Cardiology & Heart Surgery; University of Texas MD Anderson, ranked #1 Hospital for Cancer by the same publication; and Baylor College of Medicine, named one of the top 25 medical schools for research in 2011, also by U.S. News & World Report.
The Greater Houston Convention and Visitors Bureau is the primary sales and marketing arm of the city of Houston and Harris County. The mission of the GHCVB is to improve the economy of Greater Houston by attracting conventions, tourists and film projects to the area through sales and marketing efforts.