High rating
Immunotherapy brings striking successes
Checkpoint inhibitors can achieve a lasting treatment response in around 20% of some kinds of advanced cancer cases. 'Immunotherapies are given the highest possible rating on the Magnitude of Clinical Benefit Scale of the European Society for Medical Oncology (ESMO), which assesses the actual clinical benefit of tumour treatments,' emphasises Professor Christoph Zielinski MD, Head of the University Clinic for Internal Medicine I at the Medical University of Vienna.

Report: Michael Krassnitzer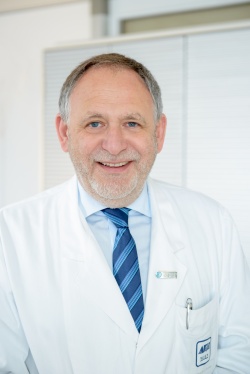 'We are on the brink of a revolution in treatment. The new concept is astonishingly logical as it is aimed at activating the immune system through switching off suppressive mechanisms against a tumour,' says the Viennese researcher who was involved in the development of immunotherapy for bronchial carcinoma, which is currently making international headlines. At a November event held by the CCC, Zielinski explained that new immunotherapies no longer only work on tumours long-associated with the immune system: 'In patients with advanced non-small-cell lung cancer, who had received extensive previous treatment, we have achieved a one-year survival rate of 42%, a two-year survival rate of 24% and a rate of 18% after three years through treatment with the monoclonal antibody Nivolumab.'
At Vienna's University Clinic for Dermatology the new generation of checkpoint inhibitors (Nivolumab and Pemprolizumab) have recently begun to be used as first line treatments. Various studies, in which the clinic has participated for almost a decade, have confirmed that seven to nine percent of all melanoma patients see a complete remission of their tumours. 'Many more patients experience at least a lasting remission,' emphasises melanoma specialist Professor Christoph Höller MD. 'This is remarkable given the bad prognosis for this disease overall.'
Buoyed by the success achieved so far, the Viennese scientists are continuing to work on improvements of this treatment. Höller: 'We are continuing to run studies on immunotherapy. We're researching the combination of the checkpoint inhibitors PD1 (Nivolumab) and CTLA4 (Ipilimumab). We are also starting a study where a PD-1 antibody will be combined with a genetically modified herpes virus.' The virus will be injected into the metastases and results in the disintegration of the tumour cells. The fragments of the tumour cells then provoke a strong, local immune reaction, which is further increased by the administration of the antibody. The basic principle of immunotherapy is to activate the patient's immune system and to direct it against the tumour cells. The so-called immune checkpoints play an important part here.
These are receptor proteins found on the surface of T-cells (white blood cells boosting immune defence). When specific signal substances (ligands) bind to the checkpoints the T-cells are slowed down. This mechanism serves the natural regulation of the immune system and prevents it from overshooting – as happens in the case of autoimmune diseases – and attacks the body's own, healthy cells.
However, tumour cells can also form ligands, which then inhibit the immune system via the checkpoints. If the checkpoints of the T-cells can be blocked, thus preventing the ligands from binding to the receptors, this activates the T-cells and triggers an immune reaction and combat against the tumour. This blockade occurs via the much-quoted checkpoint inhibitors, i.e. humanised monoclonal antibodies administered via infusion.
'For some types of advanced cancers treatment with checkpoint inhibitors can achieve a lasting response to treatment in around 20% of patients,' Zielinski stresses. New combination therapies are likely to significantly improve these results further still.
PROFILE:
Christoph Zielinski MD is head of the Oncology Department and is Chairman of the Board at the University Clinic for Internal Medicine I, Medical University of Vienna, where he also heads the Comprehensive Cancer Centre, as well as the Vienna General Hospital. A specialist in internal medicine and oncology, he spent three years at the Cancer Research Centre of Tufts University, Boston. Today his research lies on breast and lung cancer, the clinical development of drugs, translational research, personalised medicine in oncology, and immunotherapy for cancerous diseases. With around 500 scientific publications to his name, and memberships in international medical societies, he is also President of the Central European Cooperative Oncology Group (CECOG) and a member (2014-2015) of the Executive Committee of the European Society for Medical Oncology (ESMO).