Bad blood
Haemolysis must be avoided
Blood sampling via intravenous catheters frequently occurs because patients in intensive care already have intravenous catheters in place, and patients admitted to accident and emergency units are immediately set up with intravenous catheters – providing easy access to blood.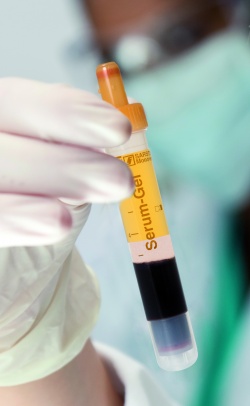 However, studies have identified this route as a cause of haemolysis (rupture of erythrocytes causing haemoglobin release into the plasma or serum), as well as meaningful biases in blood/gas analyses. Poor blood sampling will not only delay treatment, waste lab time, result in incremental material costs for re-testing and, potentially, cause discord between doctors and nurses – usually responsible for blood collection. Therefore, understanding why samples can become useless is vital for better healthcare. They found the risk is even greater in blood collection when intravenous catheters are used combined with primary evacuated blood collection tubes, and less with blood collection tubes with manual aspiration.
An essential part of the clinical decision-making is laboratory diagnostics, given that the total testing process goes along with a high degree of quality. Several lines of evidence attest that the manually intensive activities of the pre-analytical phase are more prone to uncertainties and errors than those belonging to the analytical and post-analytical phases. This inherent vulnerability is mostly attributable to inappropriate, incorrect or mishandled procedures used for obtaining blood specimens (Lippi et al ClinBiochem 46 (2013) 561-564).
The researchers pointed out that among various pre-analytical non-conformances that can be encountered in routine laboratory practices, sample haemolysis represents the primary source of problems, in terms of prevalence and likelihood of sample rejection. The in vitro haemolysis is occurring during, or after sample collection, once potential sources of haemolytic anaemia have been ruled out.
Although artefactual (in vitro) haemolysis recognises several patient- and operator-dependent causes that have been comprehensively reviewed elsewhere, several lines of evidence consistently attest that collection of blood tubes using intravenous catheters may be associated with a high likelihood to generate erythrocyte injury. Nevertheless intravenous catheters are used regularly in A&E departments and even at other procedural units or shorter stay. Nurses frequently draw blood from newly established intravenous lines, which is. faster and more convenient than searching for another venipuncture site.
Although the observed frequency of haemolysed samples varies widely throughout different healthcare settings, it can be estimated that these are around ~3% of all serum or plasma samples referred to central laboratories for routine or stat testing. In a recent critical review of the literature, Halm and Gleaves reported that haemolysis occurs in 3.3 to 77% of blood samples obtained through intravenous catheters, whereas the frequency is nearly 20 times lower when blood specimens are drawn by direct venipuncture. When combining intravenous catheters and vacuum tubes, artifactual haemolysis can be as high as 77%, while the use of syringe draw is effective to decrease the rate of haemolysed specimens by nearly half. Regardless of the specific cause, the generation of catheter-related haemolysis generates a variety of clinical, organisational and economical issues, which are mainly attributable to specimen rejection and / or recollection, suppression of those tests most sensitive to artifactual haemolysis, delayed diagnosis and overcrowding due to increasing length of stay of patients in A&E, as well as frequent inquiring between the A&E and laboratory personnel.
The greatest number of haemolysed specimens is taken in A&E where the relative prevalence can be as high as 10-30% (Lippi et al ClinBiochem 46 (2013) 561-564, cited literature 4-6). The reasons for poor sampling include difficult venipuncture(s), use of unsuitable blood collection devices, poor handling (i.e. vigorous mixing) and transportation (freezing or trauma) of blood tubes.
Regardless of specific causes, the receipt of haemolysed specimens is always a problem, wherein test results of some analytes, such as potassium, lactate dehydrogenase (LD), aspartate aminotransferase (AST) or cardio-specific troponins, among others, should be suppressed, reported with comments, corrected or recalculated or even provided with semi-quantitative comments indicating likely range of results.
The results of the meta-analysis – which is limited to published data and the A&E setting – attest that sample collection through intravenous catheters is associated with significantly higher risk of haemolysis as compared to standard blood drawn by straight needles, and that this risk is further amplified when intravenous catheters are associated with primary evacuated blood collection tubes, as compared with blood collection tubes S-Monovette (Sarstedt AG & Co., Numbrecht, Germany) used in the aspiration mode.
Blood collection is the most vulnerable step throughout the testing process. Although sample collection via venipuncture rather than through intravenous catheters should be considered as a standard of care throughout healthcare [17], the latter procedure is virtually unavoidable in procedural or short-stay units such as A&E or cardiac intensive care units.
A potential option to reduce the chance of collecting unsuitable samples entails work in the aspiration mode rather than using vacuum force for drawing blood from intravenous catheters, since the former practice causes a larger shear stress due to the negative pressure when blood is collected by the vacuum technique, as well as turbulence due to difference of pressures between veins, catheter needles, valves and evacuated collection tubes.
Results show that the S-Monovette collecting blood by the aspiration technique may be effective to dramatically reduce the likelihood of erythrocyte injury when drawing blood from intravenous catheters. The frequency of samples with a haemolysis degree equal or greater than 0.5 g/L has been reduced by more than 10-fold using S-Monovette in aspiration mode.
In conclusion, the use of S-Monovette presents several advantages, especially for drawing blood from intravenous catheters or cannulae. The device can be used with either vacuum or aspiration principle of collection, thus virtually mirroring the functioning of a syringe. This latter approach allows blood aspiration with limited shear stress, whereas the closed connection for line draws is effective to abolish the hazardous blood transfer from syringe to blood collection tube.