GE unveils avance CS2 Anaesthesia Delivery System
Leveraging more than 100 years of anaesthesia expertise, GE Healthcare introduces ecoFLOW technology option to help guide clinicians in agent delivery, while providing economic and environmental benefits.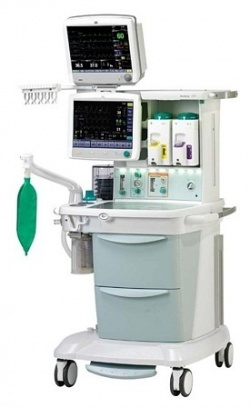 GE Healthcare will showcase its continued clinical advances with the introduction of ecoFLOW technology option on the Avance* CS2** anaesthesia delivery system at MEDICA 2012 (Booth: Hall 10/A56). The ecoFLOW technology helps skilled clinicians visualize proper oxygen levels and agent use; this can aid clinicians to minimize anaesthetic costs and help reduce anaesthetic agents' environmental impact. The technology builds on GE Healthcare's more than 100 years of anaesthesia innovations.
Anaesthesia agents are costly, and scientific evidence1 suggests that excess inhaled agents released into the atmosphere have the potential to affect the environment. Avance CS2 with ecoFLOW option now displays a pre-set target marker for fresh gas flow rates, which can help clinicians precisely manage oxygen levels for patients. Clinicians can use this information to reduce agent and gas waste that is in excess of patient consumption. The ecoFLOW technology option also displays the calculated cost per hour of agent used, so clinicians can quickly see the impact of flow rate adjustments.
"Avance CS2 with ecoFLOW advances GE Healthcare's commitment to organize data streams and transform them into valuable intelligence for clinicians," said Pierre Delzac, Acute Care General Manager at GE Healthcare. "Delivering streamlined information at the point of care helps guide confident clinical decision-making and supports efficient delivery of anaesthetic agents. This can have a positive impact on the hospital's bottom line, while supporting quality of care and a reduced environmental footprint."
Avance CS2 with ecoFLOW option displays valuable fresh gas, agent flow and cost information on a large, 15-inch screen. It features the same touchscreen technology found on consumer digital devices today, which makes navigation and monitoring intuitive for clinicians, helping clinicians focus maximum attention on patient care.
With the Avance CS2, clinicians can realize the benefits of GE Healthcare's commitment to clinical accuracy. The ventilator technology inside the Avance CS2 enables clinicians to deliver precise pressures and volumes, similar to ICU ventilators. It helps clinicians tailor anaesthesia delivery for difficult-to-treat patients, from neonatal to adult. With the rise of chronic diseases such as diabetes, obesity and cardiovascular disease, these features are critical to help support surgeries for patients with underlying conditions. Additionally, the technology's digital ventilation and anaesthetic controls can replace time-intensive manual processes and enable precise agent delivery.
The Avance CS2 is now available in the European Union, and is compatible with the GE Healthcare CARESCAPE* Monitors. Both technologies leverage a similar user interface and combine to create a clinical Carestation, for coherent workflow, familiarity, ease of training and use. For more information go to www.gehealthcare.com.

More on the subject:
More on companies: