GE Healthcare launched Discovery NM/CT 670
GE Healthcare announced the European launch of Discovery NM/CT 670, a hybrid imaging platform designed to improve workflow, dose management, and overall image quality.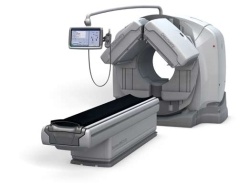 The system combines GE Healthcare's state of the art BrightSpeed Elite16 slice CT, a newly designed SPECT gantry for greater positional flexibility, and the latest advancements in Nuclear Medicine detectors.
"We have a history of innovation in Nuclear Medicine, including introducing the world's first SPECT/CT nearly ten years ago," said Nathan Hermony, general manager of GE Healthcare's Nuclear Medicine business. "With the Discovery NM/CT 670, we are providing clinicians the ability to discover and explore new capabilities while continuing to perform advanced hybrid and standalone CT procedures."
The Discovery NM/CT 670 platform incorporates flexible and proven workflow technology advancements from ten years of Infinia Hawkeye innovations and installations with a modular gantry, designed to embrace tomorrow's technology today. The BrightSpeed Elite, providing proven multi-slice CT performance, completes the academic system.
"With the combination of advanced CT and SPECT technology available on the Discovery NM/CT 670, we will be able to optimize both our SPECT and standalone CT protocols," says Professor Ora Israel from Rambam Medical Center, Israel. "In addition, the innovative technology has the ability to improve localization and overall clinical confidence in routine scans and research applications."
The Discovery NM/CT 670 also has the capability to shorten acquisition times, improve dose management, and enable more convenient patient scheduling in comparison to separate, conventional SPECT and CT exams.
"We understand that a clinician does not want to compromise," said Hermony. "We are providing the latest in SPECT and CT technology so clinicians can explore new dimensions of disease and provide the best possible treatment and monitoring of the patient."
Keeping the patient in mind, the revolutionary system can reduce scan time dramatically. Bone imaging protocols, including planar whole body, 3D SPECT and CT attenuation correction/localization, are amongst the most frequently performed Nuclear Medicine procedures. With conventional nuclear hybrid imaging, a traditional bone imaging protocol can take up to 55 minutes. With the Discovery NM/CT 670, the imaging time is reduced to as little as 25 minutes. This reduction in time can be less painful, and possibly reduce patient movement due to the pain or uncomfortable positioning, minimizing artifacts in the scan. A shorter, more comfortable scan also has the potential to improve image quality, allowing clinicians to be more confident in their diagnosis.
The Discovery NM/CT 670 is 510(k) pending at FDA. It is not available for sale in the United States.

More on the subject:
More on companies: