First EU Women's Healthcare Centre opens
The Diagnostic Breast Centre Gottingen has opened the first European Women's Healthcare Centre (WHC). Professor Uwe Fischer, head of the new centre, said: "We have set ourselves the objective, with the help of ultra-modern systems and high-quality processes, to diagnose breast cancer in the very earliest stages."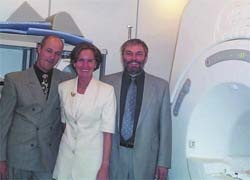 Our medical team has a combined experience of over 40 years in mammography, and the centre also consults with senior physicians at the University Hospital.'

Bernd von Polheim, Vice President of GE Medical Systems Central Europe added: 'GE Medical Systems has supported the opening of WHCs in the USA for many years... and the firm is working in close co-operation with doctors, universities and other healthcare representatives to initiate further women's prophylaxis centres.'

Senographe 2000 D, a full field digital mammography system, plus ultrasound and MR mammography have been installed at the centre, where comprehensive training courses are being provided to keep abreast of the latest imaging technology.

Karin Samorra, Women's Healthcare Manager at GE Medical Systems, said the firm would like to see further development of the Women's Healthcare Centres '... horizontally and vertically' - meaning proliferation across Europe, with the Gottingen centre used as a kind of prototype. 'Our aim is to offer woman in all phases of life everything that is medically necessary under a single roof,' she explained, adding that the focus would not only be on breast cancer prophylaxis, but also on gynaecology, cosmetic therapies and health through exercise/sports.
More on the subject:
More on companies: