News • Going digital
Faster and better diagnosis of cancer with digital pathology
Leeds Teaching Hospitals NHS Trust and the University of Leeds have announced a critical milestone in going digital, by scanning every glass slide they produce.
The milestone represents a major step towards achieving faster and accurate diagnosis for cancer patients in the future. The Pathology Department, located in St. James' Hospital in Leeds, is one of the largest in the UK processing over 1,000 pathology slides a day, and is now digitally scanning every slide thanks to their partnership with Leica Biosystems. The step-by-step process each slide goes through at Leeds has been rigorously tested and received ISO15189 (International Organisation for Standardisation) accreditation laying the foundations for national guidelines on using digital pathology.
Demand for pathology services will continue to increase, and digital pathology has the potential to improve workflow and pool resources across hospitals to help improve the patient experience

Basharat Hussain
"The way we are digitising pathology services in Leeds enables us to produce the quality images pathologists need to diagnose patients quickly and safely. Going digital not only allows the pathologists to do their work on a computer, but it also unlocks the possibility of using the computer to help make the diagnosis, offering huge potential for the future" says Dr Darren Treanor, Consultant Pathologist, Leeds Teaching Hospitals NHS Trust and University of Leeds.
Pathology slides contain sections of tissue, specially stained so they can be assessed by a pathologist, who can identify whether the slides contain evidence of cancer or other diseases. These images help pathologists and physicians diagnose cancer, assess the severity of the disease and work out the best course of treatment for patients. The traditional approach used by pathologists to diagnose cancer has been to view glass slides under the microscope. This method has presented challenges including transportion of slides, storage, and sharing of information with other pathologists for a second opinion. Digital pathology overcomes these challenges and allows this process to be carried out electronically.
Digital pathology is also a key area for the use of artificial intelligence (AI) to speed up or improve diagnosis. In the future, computer programmes could help to detect small areas of cancer that have spread to lymph nodes, better quantify and measure tumours, and rapidly direct pathologists to areas of abnormality in the tissue sample. This digital transformation has been made possible thanks to a partnership with cancer diagnostics company, Leica Biosystems and has also been backed by £1m from Leeds Cares, the charity that supports Leeds Teaching Hospitals to provide exceptional healthcare. "As a global leader in Digital Pathology our mission is to advance cancer diagnostics and improve lives. In that spirit we invest in innovations which enable clinicians to rapidly and efficiently provide a highly confident diagnosis. The mainstream adoption of digital pathology fits squarely within that framework. We are proud to have worked with the Leeds team and enabled 100% digitisation of their histopathology slides," says Melissa Aquino, President of Leica Biosystems.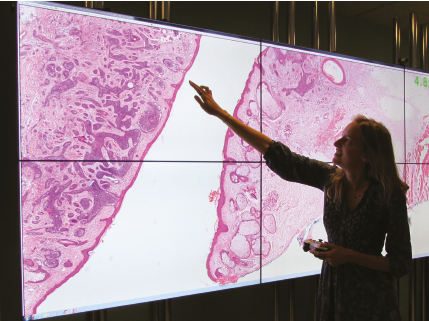 To date, 200,000 slides from patients at Leeds Hospitals have been digitally scanned using technology developed by Leica Biosystems. In addition, there is an archive of 386,000 anonymised digital slides housed by the University of Leeds for research and teaching. This slide library represents the largest collection of digital slides in the UK. "We pride ourselves on the rigorous, evidence based approach we have taken to digitising our laboratory, to ensure that our pathologists can use digital slides to make diagnoses efficiently and safely," says Dr Bethany Williams, Digital Pathology Fellow, Leeds Teaching Hospitals NHS Trust.
Pathology Departments are under growing pressure with pathology requests increasing by nearly 5% every year and a declining workforce with a third of pathologists nationally reaching retirement age in the next 5 years, according to a recent report by the Royal College of Pathologists. "Demand for pathology services will continue to increase, and digital pathology has the potential to improve workflow and pool resources across hospitals to help improve the patient experience," says Basharat Hussain, Programme Manager Leeds Teaching Hospitals NHS Trust.
Source: Leeds Teaching Hospitals NHS Trust