Euro 900 million for molecular imaging R&D
The Technology initiative "Molecular Imaging" aims to strengthen the synergies of science and industry in research and development of new technologies in order to significantly improve diagnostic and treatment options, for example for cardiovascular diseases, cancer or Alzheimer's.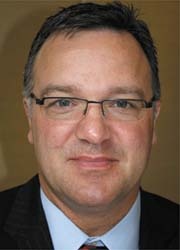 It has been agreed by the German Ministry of Education and Research with medical technology and pharma heavyweights Bayer-Schering Pharma, Karl Storz, Carl Zeiss, Boehringer Ingelheim and Siemens. Over the next few years the ministry will provide ?150 million for collaborative projects, and the industrial firms will contribute ?750 million to develop new processes.
During the launch of the alliance we asked members of two of the participating companies about their roles.

Be it imaging or therapy – a suitable marker is the key to success
The Bayer Schering Pharma task could be compared with seeking a pin head on a sandy beach: the modified molecular structure of millions of cells has to be identified and made visible with a marker. However, as the firm's research director Professor Andreas Busch pointed out, each marker found will advance imaging and therapies.
AB: Much in molecular imaging is still a vision of the future, including the identification of suitable markers. But there is high potential that can and will be exploited. That means we are working towards a clearly defined goal and we have the tools to reach it. The initial steps are very similar to those in therapy development: we look for highly specific targets. When researching therapies we also must first know which protein or which receptor will be targeted in order to achieve the desired therapy results. Imaging diagnostics works the same way: we are looking for target structures associated with a certain disease. If we can mark them – the objective of our research – we will be able to detect anomalies at a very early stage. We need molecules that bind to specific locations and carry a signal that can be detected with imaging modalities such as a PET-CT.
EH: As a pharmaceutical company how do you benefit from imaging modalities?
Obviously, our thoughts go beyond mere imaging. Wherever possible we'd apply newly acquired knowledge for therapies, for example, in cancer. Today we already use antibodies – that is, proteins with the potential to detect and bind highly specific cell structures. If you combine those antibodies with a signal transducer the result can be used in imaging. Linking imaging and therapy would allow the steering of the agent to the specific direction of affected tissue. The combination of these possibilities is particularly promising: Imaging can predict whether a drug will impact on the affected tissue. If so, in a second step the drug would indeed impact on the tumour cells and the surrounding healthy tissue would remain unaffected.

The development of new imaging procedures and new therapies has to be hand in glove and is closely linked to research. Consequently we want to involve molecular imaging very early in the development of new products and – the other way round – use new research findings. Key questions are: Which imaging modalities can accelerate the approval process of new drugs? How does the further development of new therapies impact on imaging procedures? These issues will stay with us even beyond our objective – namely to detect diseases early with molecular imaging. We will find the answers, I'm sure.

Karl Storz GmbH & Co. KG, which has specialised in endoscopes and related equipment for over 60 years, produces an endoscopic system that applies both external markers and auto-fluorescence processes to detect early malignant and pre-tumour cell clusters in many organs. Dr Martin Leonhard, the company's director of technology management explained that the advantage is that endoscopy allows diagnosis and minimally invasive removal of malignant cells in one session.
EH: If diagnosis and therapy could happen in one step, why would a patient need endoscopy?
ML: Obviously, the different procedures have different foci. The aim of imaging procedures is to provide best possible detection. The current scientific consensus is that optical procedures are the most sensitive. It's highly unlikely that procedures that aren't even known yet will be developed within a six-year programme. There is no detection technology beyond fluorescence, PET-CT or MRI in the pipeline. However, the future might well bring about interesting technologies.
The most important aspect of this initiative – for Karl Storz – is to have constant
exchange with developers and manufacturers of new markers, or even CT scanners. There are two different worlds in the medical galaxy: the world of pharmacological markers that can detect substances and tumour-specific mechanisms and add certain labels; in the other world are procedures and modalities to detect and visualise those markers. The latter may be the task of an endoscopic fluorescence-optical procedure.

Don't you already work with markers and tracers?
Currently we are looking at the first generation of molecular imaging. With a fluorescence-optical procedure we can visualise a substance that already exists in the human body and whose concentration was increased to affect the tumour via a molecular mechanism. When it comes to localising minute tumours, fluorescence-optical procedures are superior to MRI, CT and even PET. Additionally, this procedure offers the advantage that a tumour can be removed immediately upon detection. We developed and have an approved system for urology that enables early detection of bladder cancer – in one step we can diagnose and remove a tumour.
We have developed procedures not only for the bladder but also for other organs, including a fluorescence-optical procedure to detect lung cancer and for neurosurgical applications. Procedures for cancer of the colon, oesophagus and ENT are under development. Our vision is to be able to use markers to visualise certain tumour types more specifically. That's also the aim of our partners. There is room for improvement in the precision of the procedures as well as instruments: more sensitive optical detection tools must be developed, miniaturised and made available for medical applications.

Do you co-operate with Zeiss in this respect?
A Karl Storz fluorescence-optical procedure established for endoscopy was transferred in a joint project with Carl Zeiss to surgical microscopes used in neuro-surgery. With this co-operation we want to use locally available expertise in Germany today and in the future. That's positive for all of us involved in the initiative. We consider ourselves a public initiative, which is open to all German firms. Everybody who participates in the initiative will benefit, not just the five founding members. The launch of the initiative may well be regarded as a public call for participation addressed to other companies.

What about competition?
The funded projects will be pre-competition projects. No doubt suitable consortia will be formed. In any publicly-funded project you have to face competitors. For us in endoscopy
fluorescence diagnostics our market position is very strong – research shows our market share is 80% for these new technological procedures. We don't need to fear competition.

If this initiative is successful, will politicians also have to follow through?
Indeed. Our competitors are not just across the street; they're all over the world – particularly in the USA. So German research platforms need to be supported.
I strongly urge everyone to look at a healthcare system not just in terms of costs but also in terms of market opportunity. It is a large market that affects the labour market, which is important for Germany's economy as a whole and exporting in particular. The overall economic significance of the medical technology industry is often underestimated. It is important that developing technology from such a pioneering consortium can and will be sold in this country. That is a crucial aspect that has to be taken into account in health policy concepts.