Optical molecular imaging
Shahram Hejazi is President of the Molecular Imaging Group at Carestream Health, Inc. (formerly Eastman Kodak Company's Health Group). He predicts that, when optical molecular imaging enters clinical practice, imaging will begin to shift from radiology departments to other specialty areas and healthcare will change forever.
Carestream's molecular imaging group focuses on life sciences, developing high-performance digital imaging systems, imaging agents, film and accessories for the research and drug discovery/development markets.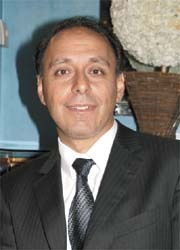 The company recently introduced advanced In-Vivo Imaging Systems and novel XSight Imaging Agents, expanding its presence in life science research, while strengthening its position to enter the future clinical molecular imaging market.

During a decade (I was there about 6 years) with Siemens, as head of business development and working on various technologies and sectors, Shahram Hejazi soon became interested in molecular imaging and, specifically, optical molecular imaging. In 1998 and '99 he pioneered market research into its feasibility. 'I knew there was a big thing there.' A few years later he received a call from Kodak's molecular imaging division and decided to move in that direction. 'When it comes to optical molecular imaging,' he said, 'no one has the breadth and the depth of Kodak – now Carestream. Kodak is an expert in optical, CCDs, in lenses. In chemistry, the firm has had 50 years of expertise in dye chemistry for lights; it has 50 years experience in nano particles, because of film. The basic technologies have been owned by Kodak for decades. Some of the stuff that's used in molecular biology research in fact was invented by Kodak, and was licensed out, but all those scientists, all that expertise, sat in the Kodak laboratory. So we brought these under one umbrella, put some R&D resources behind it and got them to develop that. This is not something someone can do overnight. It requires a lot of resources and investment. That's why we feel we have the best – what no one else has,' he told us during a recent EH interview with Daniela Zimmermann.
'Molecular imaging is a technology that can detect diseases earlier and help treat them faster. Using optical molecular imaging you could look at a cancer tumour, after it has developed for only a few days, and study the cellular functions and cells that have become cancerous. (Whereas, with CT you'd have to wait for the tumour to grow for months, maybe years, to be large enough to be seen on an image). You can also see changes in the cancer almost on a daily basis. So you don't have to wait for a month for it to grow. You see it from one day to the next day. Because biologists can actually look at cell function, this is a great tool for research – to develop drugs. Traditionally, if you inject a cancer drug you have to wait for a tumour to die and become smaller, which would take a few weeks, or months, and then you can image it again with a CT. With optical molecular imaging you inject a drug, which goes to the cancer site and, after a few hours, you can see what happens. Molecular imaging is very powerful.'

Where does 'optical' molecular image come in; what's needed for that?
'Among our three different businesses is our newly established reagent business – in the pre-clinical world it's called an imaging agent, in the medical clinical world a contrast agent. The first is injected into animals, the other into humans, but it's pretty much the same thing. The reagent is only for research. It does not have FDA approval for use in humans,' he explained. 'So, first you need an imaging agent to inject into an animal's bloodstream. It goes to the area that you want to investigate, such as a tumour, and lights it up. Then you need a system to take a picture of the area. Then you need software to analyse what's happening. Those are the three things you need to develop a molecular imaging diagnosis or process, and that's what we have at Carestream – all three of those: the imaging agent we've just developed internally at Kodak – now Carestream. We own everything. This is very unique for us, because we've been working on this for many years, and now we've just developed this. We also build and develop these systems, and have optical molecular imaging systems across the world.'

The system has some sort of camera?
'You could say it's a digital imaging camera – but a very specialised, highly sensitive one that needs to be in a dark area – which has been integrated into a very complex system, to be able to image a very large area with very high sensitivity. This is scientific instrumentation. Also, our optical molecular imaging system is a multi-modality. Kodak, or Carestream, is the only company that has developed multi-modality optical molecular imaging, which means you can take an optical image and, at the same time, take an X-ray and, at the same time, if you have injected a radio-isotope into the animal, you can also take a radio-isotope image. So you can combine optical, X-ray and radio-isotope images in the same system. This is like a PET CT, in which you take a PET and you take a CT. The PET gives you functional information and the CT gives you anatomical information. You combine them. That's exactly what we do. We take an optical molecular image for functional information, an X-ray for anatomical information. Combining the two tells you exactly where the signal is coming from. In addition our system also can take a radioisotope image, so you can also inject it with a radio-isotope and get three of the images at the same time. This is like PET CT in some ways, but it's not three-dimensional, it's a two-dimensional picture.'

This is not done with slices?
'There are no slices, just one picture. In that, it's very specialised.'

Presently it is used to develop drugs. Will ever go into clinical use?
'That's a good question. Right now we have spent a lot of resources to develop this system and the imaging agent. Today, optical molecular imaging is used to develop drugs, but it is also used for research into diseases such as cancer, cardiovascular, dermatology, and neurology, such as Alzheimer's and Parkinson's.'

Where will you make money?
'Our vision is that, when these technologies become applicable to humans, that's where the big potential lies; it will entirely change healthcare. All our investment is with that in mind. We want to bring these technologies into the clinical world – and feel that is not too many years away.'

Are any competitors doing the same thing?
'The big three companies – Siemens, GE, and Phillips – are not in optical molecular imaging, so we don't compete with them in this. Our competitors are smaller companies. One, called Xenogen, acquired by Caliper so it's now Caliper/Xenogen, has been in optical molecular imaging for many years. We compete with them.'

What about the optical industry, Zeiss, Leica?
'That industry is not into this, apart from very recently, Olympus, which has just come up with a system that does only optical and is extremely expensive – about three times the price of ours and it's very specialised. But they don't do everything that we do. They don't have multi-modality capabilities – which is very important – and they certainly don't have the chemistry, the imaging agent that goes along with it. We are really the only company that provides the tools for looking at diseases starting from basic research in a laboratory, looking at cell lines, all the way to proteins in a living organsim, such as mice. Therefore we actually build in-vitro based systems. We also have systems for looking at those diseases or cells inside animals. That's our in-vivo based system and chemistry. Then the vision is to bring these technologies to the next step, on the human side.
'However, bringing in a new modality into medicine is very difficult and expensive. That's not the path we think this technology is going to take. The path, in which we lead, is through drug development and pharmaceutical companies – almost every large one is a customer. Our systems or products are in all of them, and as they use them to develop their drugs, they'll help the market adoption. This adoption will help us with the US Food and Drugs Administration (FDA) and will put this in the workflow. The adoption, which is the biggest barrier, will be that.'
'There is no reimbursement at all. This, especially in the US, is a huge barrier. It will take many years longer to get to reimbursement than FDA clearance. There is no reimbursement at all, because the pharma companies pay to use our systems and will eventually use them on humans. We are looking towards this.'

So instead of going through the front door towards clinical use, you are going through the back door, via its use by the pharma companies?
'Exactly. It's faster, less expensive, and all the idea leaders who are going to do this today are working with microbiologists and biochemists on animal research. Because the way drug development and discovery is done in the industry is that they begin by looking at cell lines in animals, and then they do it in humans. That's the path that we're taking to shift these technologies into clinical hands.
'Of course, in anything, you must be quick nowadays. But what sets us apart from the rest is that we already have patented technologies, chemistry and imaging agents that no one else has.'

Then, if it comes in to clinical use, you can make that clear to the world.
'Exactly. The point is, how can you get to the clinical field as quickly as possible to make big business? Second, that's where molecular imaging is going to be significant in changing the entire healthcare landscape, through better screening and detection of diseases, as well as improving drug developments and making them much cheaper. Also, it's very important to remember that molecular imaging will take diagnostics and therapies into the hands of specialists. Today, you have to go to a large centre for cancer diagnosis. If you have molecular imaging with personalised medicine, this will go into specialists' hands, for example a dermatology suite. The market is not just in radiology; on the human side it's much larger. Optical molecular imaging will extend medical imaging out of radiology into other specialist departments.'

Radiologists won't love you for that.
'Molecular imaging will open up the field of radiology. I think it will be a better world for both radiologists and patients.'

And what of the pharmaceutical industry if drugs become cheaper?
'Well, drug development will become cheaper to develop, not necessarily the sale price. Today, it takes a billion dollars to develop a drug. If you could cut that by ten times, it would be $100 million dollars. How they then want to sell is another story.'

Will you develop 3-D for optical imaging?
'Yes, eventually there may be some need for 3-D because it may give better quantification; in drug development, for example, you want to know the size and depth of a tumour. But right now I think it's about more of a determination than a quantification. Don't get me wrong; you need to quantify what you're looking at, but the first step is to figure out whether something is there, and is cancerous.'
Finally, Shahram Hejazi was keen to point out that the use of Carestream's imaging agent is not restricted to optical molecular imaging. 'It not only creates light, but can take on MR contrast agents – iron or gadolinium – or take on PET radio-isotope on top of them. You can add whatever you want, in one nano particle; you can have complete image fusion combined with optical. Each of these modalities provides a different benefit. You can have MR and optical.'

Then you just have to correctly interpret what you see.
'Exactly.'
More on the subject:
More on companies: