PointMan DNA
Enrichment technology for highly sensitive lung cancer mutation detection
EKF Diagnostics, the global in vitro diagnostics company, announces that two research posters supporting the application of its PointMan DNA enrichment technology, for rapid and sensitive detection of lung cancer mutations, have been delivered at key conferences.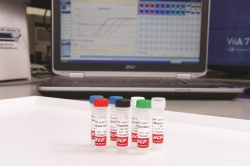 At the recent International Association for the Study of Lung Cancer's 16th World Conference on Lung Cancer held in Denver USA, GILUPI GmbH and EKF Molecular presented a poster entitled: 'An effective in vivo Liquid Biopsy tool for high yield isolation of circulating tumour cells' [1]. The researchers used EKF's PointMan KRAS DNA enrichment technology to analyse circulating tumour cells (CTC) from blood samples taken from lung cancer patients using the GILUPI CellCollector. The team concluded that the combination of isolation and enrichment technology overcomes blood volume limitations of other CTC extraction approaches and that mutations in isolated CTC DNA can be analysed using PointMan technology. The Gilupi device allows CTC enumeration, molecular characterisation, and biomarker expression analysis, which could help guide treatment strategies and monitoring therapy efficacy.
PointMan also featured in a poster at the 9th Circulating Nucleic Acid in Plasma and Serum meeting in Berlin [2]. Here Kimura et al. from the Department of Respiratory Medicine, Kanazawa University Hospital, Japan, presented data on EGFR T790M DNA enrichment of specimens from a cohort of 52 lung cancer patients.
T790M is an important biomarker as its presence indicates patients are becoming resistant to the drug regimen being used in the treatment of their late stage lung cancer. Being able to accurately, rapidly, cost effectively and non-invasively detect EGFR T790M in plasma DNA early will assist in informing clinicians that a change in treatment is required. This poster expands on work previously presented at AACR in April and concludes that the PointMan assay is a useful and rapid technique for detection of T790M in circulating DNA as an alternative specimen to solid tissue biopsy for detecting tumour-derived mutations.
"These posters presented at two of the world's most prestigious meetings of researchers and clinicians treating lung cancer add to the ever increasing body of scientific data confirming the utility of PointMan and its key role in the molecular analysis of circulating tumour cells and DNA in liquid biopsies," said Julian Baines, CEO of EKF Diagnostics. "The global diagnosis of lung cancer is estimated at approximately 2 million per annum, of which 85% are non-small cell lung cancers and therefore would benefit from using PointMan to indicate more targeted and effective treatment options for clinicians and patients."
Both posters are available for download at:
http://www.ekfmolecular.com/KRAS_11.aspx
http://www.ekfmolecular.com/EGFR_12.aspx
For more information on EKF Molecular and PointMan DNA enrichment technology, please visit www.ekfmolecular.com.
Source: EKF Diagnostics