England prepares for Ebola
Dropping in from sea and sky
More than 750 British military personnel as well as RFA Argus – the country's medical ship – have arrived in Sierra Leone, for front line duties in the battle against Ebola. In the meantime Britain tested its readiness for a possible Ebola virus epidemic.
Report: Brenda Marsh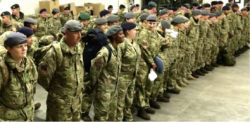 In a deep darkness before dawn uniformed medics, each bearing a red cross on one arm and some a beret embellished with the polished metal badge that includes the caduceus and crown of England, symbol of the Royal Army Medical Corps, gathered at RAF Brize Norton.
Awaiting their flight each already looked tired; but these people are the 'right stuff', a term coined to describe astronauts decades ago, but now certainly applicable to these highly trained, highly committed medics.
Sitting placidly in their bulky army uniforms, women had pulled back long hair to twist into a neat bun. Sleepy, they looked serious and quietly committed. These are full-time army personnel, doctors, nurses, consultants, who serve with the Catterick-based 35 Squadron, 5 Armoured Medical Regiment and Royal Army Medical Corps and they have already undergone extensive training ready for their vital roles in Sierra Leone. In Strensall Barracks, York, a hangar converted into a mock-up of a field hospital, they have worn full protective suits to treat simulated casualties.
Their purpose is to staff an Ebola Training Academy along with 90 personnel from 22 Field Hospital already in Sierra Leone.
The training academy is not the only establishment created there. A British-funded 92-bed treatment facility is also ready for use in Kerry Town, in the Western Area province.
Meanwhile, in Falmouth, Cornwall, the towering, grey, fully-equipped hospital ship, Royal Fleet Auxiliary (RFA) Argus, housing critical care and high-dependency units, had loaded up with vital supplies (aid, food, water, medical equipment and three Merlin helicopters).
Following the 10-day journey to the Ebola battle zone, no viral cases will be taken aboard, to ensure containment on land. What these highly trained people will do is provide transport and support to medical teams and aid workers.
As medics, marines, aircrew, engineers and sailors waved farewell from the decks of the Argus and slowly disappeared from the seascape, one couldn't help feeling a tug of pride as well as empathy for them for what they will experience in stricken Sierra Leone.
---
Preparing for the worst scenario
In dramatic tests of Britain's readiness for a possible Ebola virus epidemic, in mid-October actors portrayed symptoms of the infection in various areas, during an eight-hour exercise involving emergency services, hospitals, laboratories, local authorities and government ministers.
As actors collapsed in public places or presented with symptoms at medical establishments, they were taken to isolation rooms in hospitals and their samples were transported for urgent testing at the government's science laboratories at Porton Down, Wiltshire.
Methods to trace contacts of a suspect 'patient' were also tested.